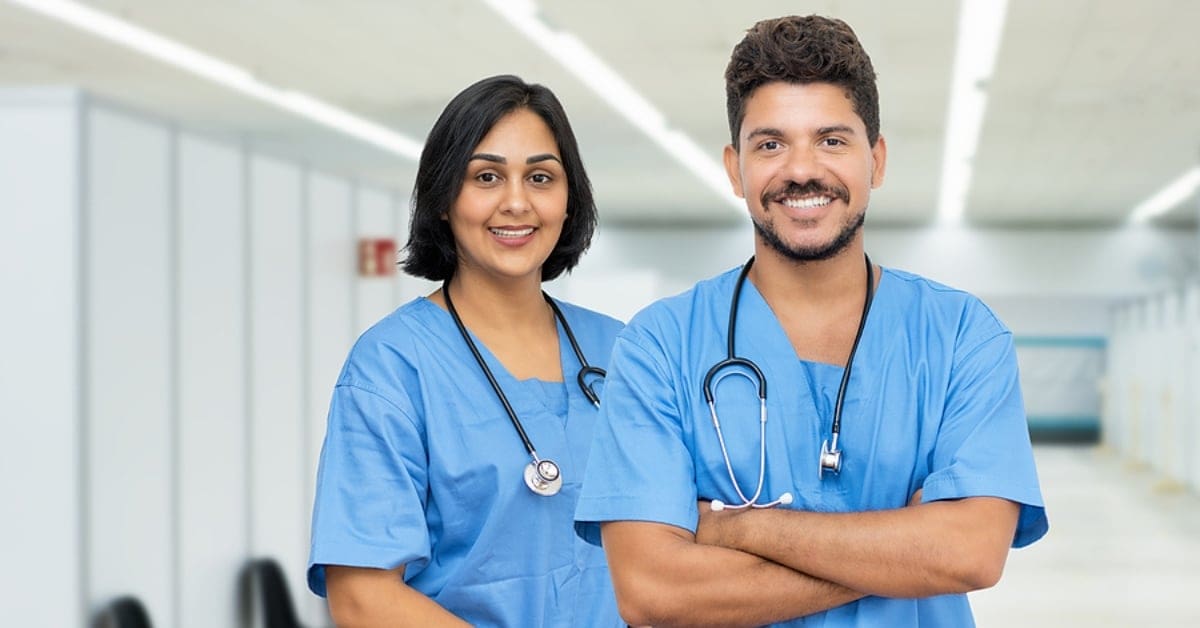 5 Min Read |
Travel nursing has received more attention in recent years as a shortage of healthcare professionals around the country has been exacerbated by COVID-19. As a travel nurse, you can potentially make good money, but you might wonder if you'd still qualify for student loan forgiveness.
There are definitely student loan forgiveness programs that travel nurses can participate in. Here's what to know about student loan forgiveness as a travel nurse.
Federal student loan forgiveness programs
There are federal student loan forgiveness programs for travel nurses, the profession being one of the highest-paying nursing jobs on the market. However, to qualify for most of them, you'll need to meet specific requirements and typically have eligible federal student loans.
Here are some of the programs to consider.
Income-driven repayment plan forgiveness
If you qualify for an income-driven repayment plan, you might be eligible for loan forgiveness after 20 or 25 years, depending on the program. With income-driven repayment, your monthly student loan payment is limited to 10% or 15% of your discretionary income, helping you improve your cash flow. Then, after you've been paying for 20 or 25 years, any remaining balance is forgiven.
You need to recertify your income each year to ensure that you still qualify for the plan, however.
Federal Perkins loan cancellation
If you received a Perkins Loan from your school, you might be eligible for loan forgiveness after five years of service. Your service commitment must be direct care to patients in a full-time capacity.
A percentage of your Perkins Loan is canceled after each year you work.
NURSE Corps loan repayment program
There are also loan forgiveness programs through the NURSE Corps program. You can have up to 85% of your federal student loans forgiven when you work at a facility within a critical shortage area. As a travel nurse, you must spend at least 32 hours a week working in an eligible facility.
Public Service Loan Forgiveness
Since travel nurses are typically employed by a for-profit agency, not a nonprofit hospital, their employment doesn't generally qualify for Public Service Loan Forgiveness (PSLF). However, if your specific situation involves being employed by a government or nonprofit entity, PSLF can be a useful program.
PSLF is designed as an incentive for more people to work in a public service capacity. It provides loan forgiveness on your remaining Direct Loan balance after making 120 qualifying payments.
Other options for travel nurse student loan forgiveness
If you don't qualify for those federal loan forgiveness programs, look into other programs that offer nurse student loan forgiveness. Some of these programs can be used by travel nurses to have some or all of their remaining balance canceled if nurses meet the requirements.
National Health Services Corps Loan Repayment Program (NHSCLRP)
The National Health Services Corps offers a variety of program options for health care professionals that work in a shortage area. For example, you could receive up to $100,000 in loan forgiveness if you dedicated three years to working as a nurse full-time in a rural, approved site.
There are also options for working part-time, or in non-rural sites. You get less in loan forgiveness, but it can still amount to tens of thousands of dollars.
Employer-based nursing loan forgiveness
In addition to loan forgiveness from federal and state programs, you might be able to work for a travel nursing agency that offers tuition reimbursement or some other forgiveness.
Check with your agency to see how much loan forgiveness is available and its requirements. Depending on your employer, any private loans you borrowed while studying for your nursing degree might be eligible for reimbursement.
Alternatives to student loan forgiveness for travel nurses
Perhaps you aren't eligible for nurse loan forgiveness programs or you still have a balance left after receiving a portion of loan forgiveness. In those cases, look into alternatives to student loan forgiveness for travel nurses.
Refinance
One way to obtain relief is by refinancing your nursing school student loans. When you refinance your student loans, you can potentially reduce your interest rate to receive a lower monthly payment and pay off your debt faster.
Refinancing can work for travel nurses who make too much to qualify for income-driven repayment, for example, or who don't spend enough time in a shortage area to qualify for other loan forgiveness programs.
You can refinance both private and federal student loans. However, if you decide to refinance federal student loans, you lose your ability for many federal loan forgiveness programs and access to benefits like income-driven repayment. Carefully consider whether refinancing federal student loans is the right move for you.
Create a debt repayment plan
It's also possible to put extra money toward your student loans to pay them off faster and reduce how much you pay in interest overall. You can create the debt repayment plan in conjunction with refinancing as well.
Decide how much extra you can put toward paying down your student loan debt and then add that to your principal each month. You might need to specify with your student loan servicer or lender that you'd like the extra amount applied toward reducing the principal balance.
Check with your lender or servicer to find out how it applies extra payments.
Which travel nurse student loan forgiveness program is right for you?
Nursing school can be costly, depending on the program and the types of loans you take out. Travel nurse student loan forgiveness is a possibility, depending on your situation and the available programs.
If you're not sure which program is right for you, or if you need help navigating the different forgiveness and refinancing options, consult with a student loan professional to help you determine the best course of action for your situation.
Refinance student loans, get a bonus in 2023
Lender Name
Lender
Offer
Learn more

$1,000 Bonus

For 100k or more. $200 for 50k to $99,999

Fixed 5.24 - 9.59% APR

Variable 6.24 - 9.99% APR

$1,000 Bonus

For 100k or more. $300 for 50k to $99,999

Fixed 4.96 - 10.24% APPR

Variable 5.72 - 10.24% APR

$1,000 Bonus

For 100k or more. $200 for 50k to $99,999

Fixed 5.19 - 9.74% APR

Variable 5.99 - 9.74% APR