Thanks to a tip from a veterinarian reader of this blog, I recently learned of the US Department of Agriculture's program for veterinary student debt relief. The USDA's Veterinary Medicine Loan Repayment Program (VMLRP) is similar to the programs out there for rural healthcare providers. It pays up to $25,000 a year in exchange for agreeing to serve in a designated shortage area for three years.
For some veterinarians, this benefit could be just what they need to start rapidly paying back their student loans. For others, this could be an unnecessary encumbrance on their lives and careers.
Here are some things to consider if you're applying for a Veterinary Medicine Loan Repayment Program benefit.
Will Your DVM Student Loans Get Paid Back One Day?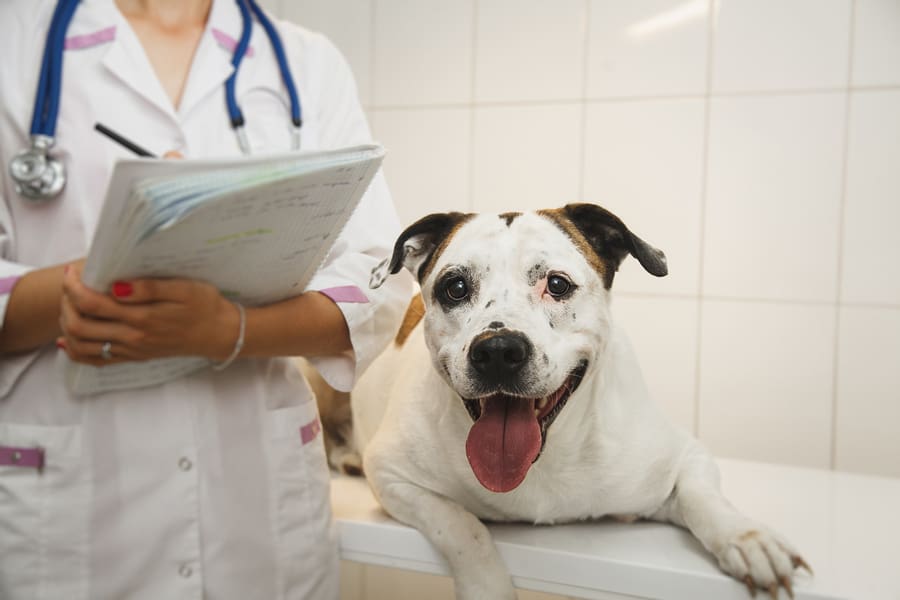 The first question I'd ask anyone seeking this award is how fast will they be able to pay back their student debt? The most recent report on the VMLRP available is from 2015. The USDA states that the average debt held by the veterinarians who received the award was about $112,000. Only about 31% of the veterinarians received their DVM within three years.
That means a lot of the veterinarians receiving help under the Veterinary Medicine Loan Repayment Program took out student debt when tuition costs were lower.
Unless you are from a rural area or have a passion for food supply work, you sacrifice location and career flexibility to receive this benefit.
I've had several professionals with specific service requirements contact me to express regret. Others say they've loved their decisions and want to tell other veterinarians about this awesome way to pay down your debt.
Here's my take. If you have less than $200,000 in vet school loans, then the VMLRP is probably well worth the loan repayment benefit. However, if you owe more than that, you probably will be on a loan forgiveness track unless you're married to someone with a high income and no student loans. 
If you're planning on the vet school tax bomb, then when you have a loan repayment benefit, the dollars come off your forgiven balance. That means your yearly benefit of $25,000 applied now could be worth 40% of that in 20-25 years because it comes off the forgiven balance that's taxed. That translates to about $10,000. Then you need to discount that number for inflation.
Clearly, there's a reason you would want to accept the VMLRP in its current format if you owed a ton of vet school debt. If you went to an in-state school and have a modest balance, it could be a game changer.
Applying for the VMLRP: What Are Your Chances?
Even though many vets have never heard of VMLRP before, the process is very competitive if you want to use it to pay off veterinary debt. About 34% of applicants get accepted.


Source: USDA, FY 2015 (most recent data available)
In terms of schools represented, the lower cost vet schools with low tuitions clearly have the edge, particularly Kansas State and Iowa State, which account for about 25% of the awards overall.
You need to agree to live in a designated shortage area. The programs define the three categories as following:
Type 1: 80% or More Private Practice Food Supply
This can be rural or non-rural. You just need most of your practice to be focused on food supply veterinary medicine.
Type 2: 30% or More Private Practice Food Supply + Rural Area
These jobs have sparse populations and desperately need food supply veterinarians but admit there might not be enough work to sustain a practice. They make an exception to the time spent on food supply in your practice to allow you to do companion animal work as well because of the rural location.
Type 3: 49% or Greater Public Practice
These jobs consist of public veterinary medical work. Think FSIS meat inspector, state public health veterinarian, etc.
Where are the Veterinary Shortage Areas Located?
You can check the map here for a list of regions that qualify as a shortage area. You can see that almost every state in the country has a shortage area available. Sorry though, there aren't any spots open in Hawaii or Las Vegas.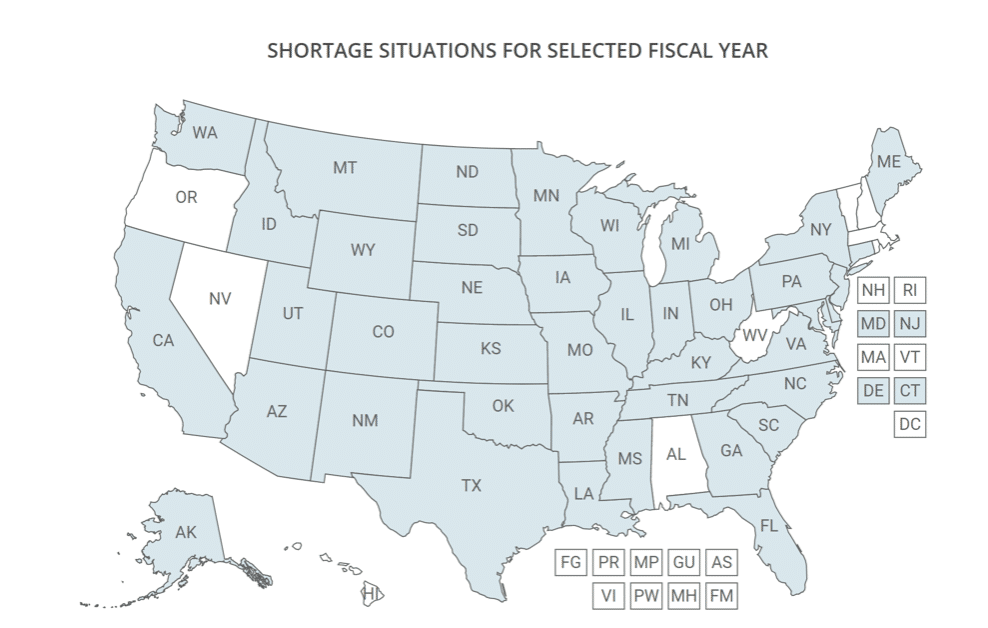 Source: USDA
I was pretty shocked to see veterinary services shortage situations available even in high-density population states like New Jersey Maryland, Delaware, and Connecticut. Don't overlook searching for an area that you could see yourself living in. 
When Can You Apply for the VMLRP Program?
The application deadline seems to vary each year but is typically in the March to June time frame. The cycle for 2018 is closed, and new awards tend to be announced in the fall.
If you're interested, you should check the VMLRP website in mid-fall to read about the details for the next year's application cycle.
Other Ways to Get Loan Forgiveness as a Veterinarian Besides the VMLRP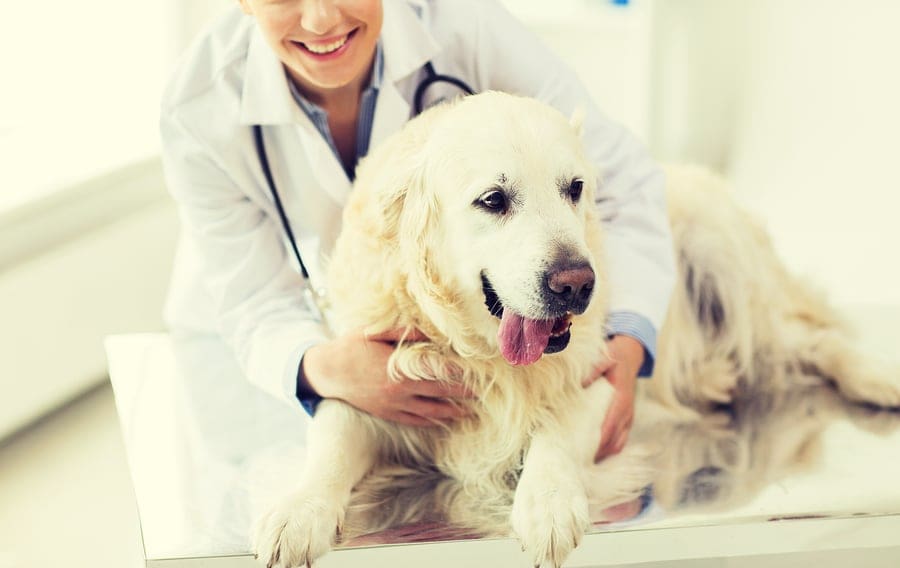 Your state or employer might offer some form of a loan repayment benefit. It's always worth checking with your state veterinary organization or AVMA if there are any unique opportunities for loan forgiveness.
One interesting fact though is for public sector veterinarians, the VMLRP is overshadowed by the Public Service Loan Forgiveness program.
Unlike the competitive VMLRP application, the PSLF program is open to everyone who meets the requirements. All you have to do is pay your loans for 10 years on an income-driven repayment program, and at the end of those 10 years the government pays off your balance tax-free.
That benefit is even more powerful than a $25,000 a year payment on your loans, as it helps veterinarians who owe a huge sum.
For veterinarians in the type 3 shortage area who do public veterinary work, I would prioritize qualifying for the PSLF program over the VMLRP.
Here's how a FSIS veterinarian could benefit if she went to University of Pennsylvania and graduated with $380,000 of student debt.
We'll assume Alanna has a 7% interest rate and earns $80,000 per year. We'll assume she's single and saves the maximum of $18,500 in her TSP because she heard she needs to reduce her Adjusted Gross Income to get the most out of the PSLF program.
Alanna's other option is to refinance her student loan at 5%, or she could use the Pay As You Earn program to pay her loans for 20 years and pay the big vet school tax bomb. Here's how these options compare.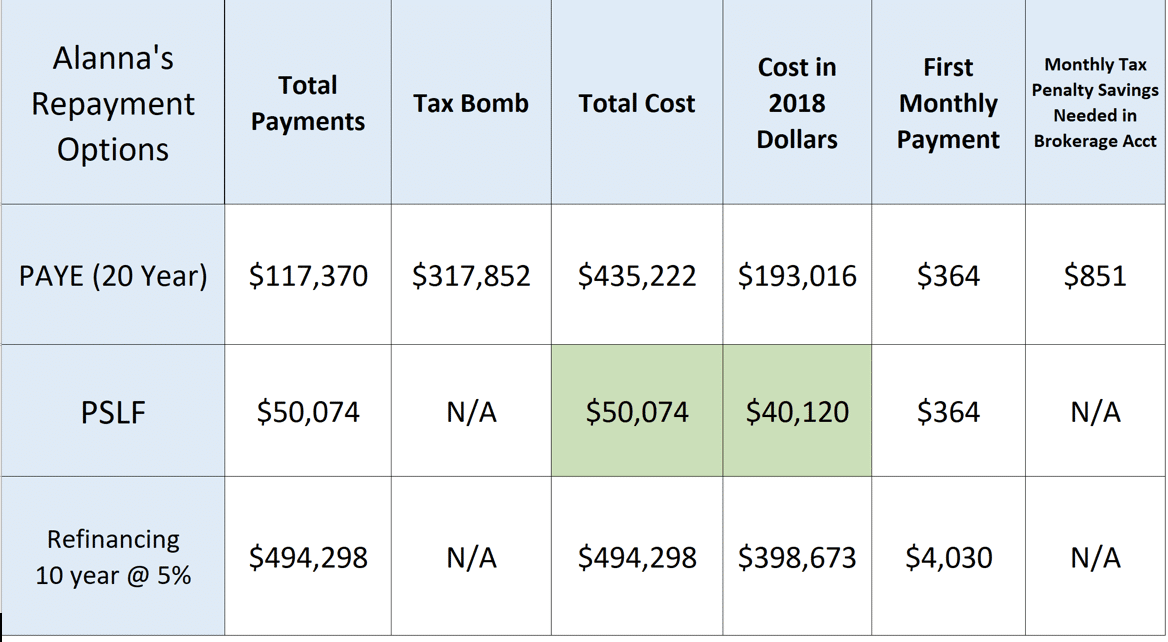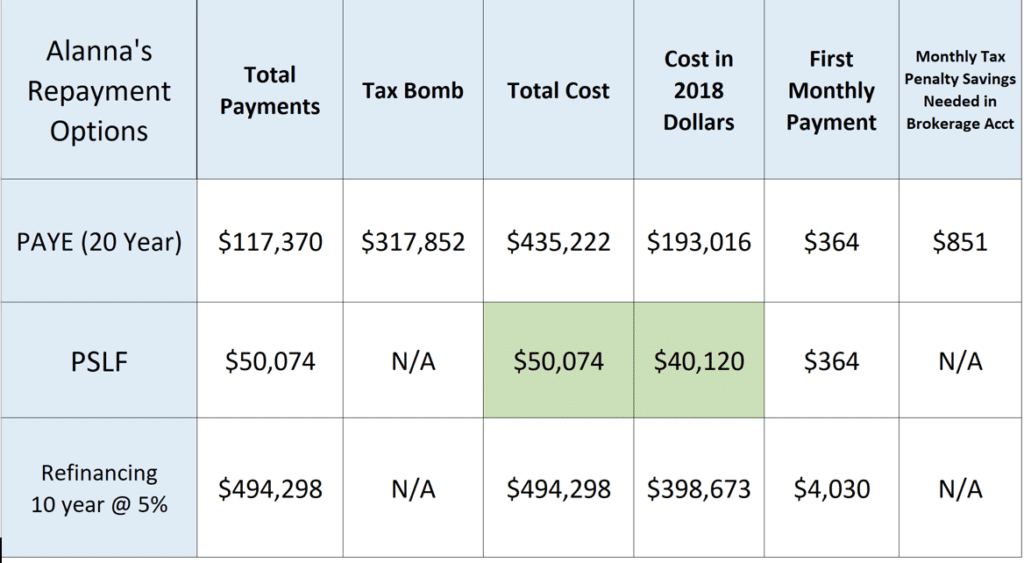 We can see that at a cost of only $50,000, PSLF is the clear winner if Alanna doesn't mind doing public service. She has more options too than just doing food supply work.
I've had clients of my vet student loan planning service that have been zoo veterinarians, animal shelter directors, wildlife veterinarians for state governments, and more.
Even if Alanna received the max VMLRP benefit, it wouldn't really help her that much. She could work for private practice and do PAYE for 20 years, but then she'd owe a tax bomb of $317,000.
Apply for the Veterinary Medicine Loan Repayment Program If You'd Do That Work Anyway
In reality, I think the only vets who should go for the Veterinary Medicine Loan Repayment Program benefit are the ones who owe a modest amount of debt and are not making a huge career or life sacrifice by working in one of the three designated shortage areas.
Life is too short to do something just for the money. After all, if money was your goal you would've taken your top grades in your science classes and gone into another profession.
The VMLRP is an important option for veterinarians with modest amounts of debt to consider. If you're from a rural area or want to go into the public sector anyway, even better.
The issue is that new loan forgiveness programs that Congress created are simply better and more flexible if you owe a lot of student debt from vet school.
No matter what path you're on in your journey with paying back vet school loans, we've helped hundreds of doctors make a custom plan just for them and their families. We'd love to help you too.
If you have any strong feelings or experiences with the VMLRP, would love to hear in the comments!