Wisconsin isn't just the home of the Green Bay Packers, but also has a wide selection of respected colleges, including 13 universities on 26 campuses within the University of Wisconsin system.
According to recent data from The Institute for College Access and Success (TICAS), 64% of Wisconsin college graduates in 2019 completed their bachelor's degrees with an average of $31,550 in student debt. That's a 91% increase compared to graduates in 2004.
With the federal student loan limit set at a total of $31,000, it's possible you'll have to make up the difference in funds with private Wisconsin student loans. The cost of education jumps even more for students seeking post-graduate degrees.
Students can minimize the amount they need to borrow through lowering their cost of living. After graduation, if you're buying a home, keeping the price manageable will lower your mortgage payments, freeing up funds to pay down student debt faster. Moving to an area of the state with a reasonable cost of living (but a healthy income) will also help move the needle.
Read on to learn some of your choices for private student loans if federal funding doesn't cover everything. You'll also see below some of the best choices for those who need to pursue Wisconsin student loan refinance options.
Wisconsin student loans from national lenders
You'll find several national lenders that work with students in Wisconsin. Student Loan Planner has vetted each of the following companies, and you can consult with several of them to compare their options.
To be even more thorough, check out Student Loan Planner's complete list of 11 private student loan providers. Getting quotes on student loan rates from multiple lenders will give you the most comprehensive view of your options.
State-specific Wisconsin student loan refinance options
There's no state student loan refinancing authority in Wisconsin. Instead, the state partners with credit unions and other financial institutions to make private refinancing available to those with Wisconsin student loans.
LendKey, one of our lending partners, offers useful data for comparing multiple lenders at once, including local credit unions. Student Loan Planner clients with loan balances over $25,000 are eligible for up to a $1,250 bonus when refinancing through LendKey.
Wisconsin student loan refinance options from national lenders
If you prefer to refinance your Wisconsin student loans through a national lender, we've got you covered. Here are a few of Student Loan Planner's top student loan refinancing companies:
Your Wisconsin student loan refinance process can even include researching all 11 of Student Loan Planner's refinancing partners.
How much Wisconsin students could save by refinancing
It's always a wise idea to calculate expenses in advance to learn how much you'll take out in Wisconsin student loans. Consider an undergraduate student at UW-Madison. For the 2021-2022 academic year, a full-time student will pay $10,766 in tuition and fees.
Unfortunately, that's not the whole picture. The school's financial aid office estimates total costs per year at $27,530 when factoring in tuition, housing, meals, transportation, textbooks and other fees. Some of these costs vary depending on lifestyle, but it gives you a good starting point.
Multiply the $27,530 estimate by four to get the approximate cost of a bachelor's degree from UW-Madison: $110,120. Remember this ignores annual tuition increases, as well as interest that will accrue on any unsubsidized student loans.
With the addition of interest accrual and tuition hikes, let's estimate a total of $115,000 in student loans for this bachelor's degree. Our Student Loan Planner Refinance Calculator is a great tool: plug in the total of loans with the average interest rate of 6% and see how the payments drop by refinancing to a 3% rate.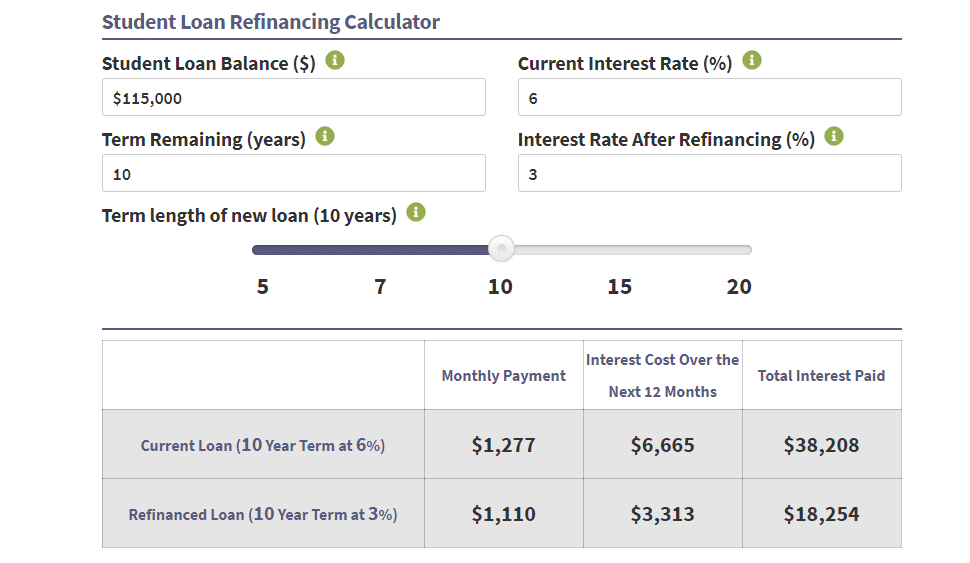 Monthly payments after refinance would drop from $1,277 to $1,110, saving you money in the short term. Plus, refinancing would save you $19,954 over 10 years compared to the higher interest rate.

Before proceeding with a Wisconsin student loan refinance plan, be sure that it makes sense to refinance. Under federal loans, you can take advantage of borrower benefits like income-driven repayment (IDR) for forgiveness of your Wisconsin student loans.
Private loans can come with hefty interest rates and lack the protections of federal loans. If you have significant private loans, refinancing can be a great option. Be sure you're confident of your income and ability to continue repayment under the new terms before you refinance.
When borrowers talk about Wisconsin student loan consolidation, they often mean refinancing. Student loan refinancing combines multiple loans — whether federal or private loans — with varying interest rates into one loan.
Related: Should You Refinance Federal Student Loans? 5 Key Factors to Consider
How to qualify for student loan forgiveness in Wisconsin
Another way to save money on your student loans is to explore loan forgiveness possibilities.
Public Student Loan Forgiveness

(PSLF)

:

This option requires the borrower to work full-time for a qualifying public employer after graduation. You'll have to make 120 qualifying payments on time and fulfill all other requirements.

Teacher Loan Forgiveness:

Wisconsin educators might be eligible for loan forgiveness or cancellation after teaching full-time for five consecutive years in a low-income school. Types of loans included in this program are Direct Subsidized Loans, Direct Unsubsidized Loans, Subsidized Federal Stafford Loans, and unsubsidized federal Stafford Loans.

Teacher Loan Cancellation:

For teachers with federal Perkins Loans, cancellation may be an option. Those teachers must have served full-time in certain fields like special education or in a school reaching low-income students.

Wisconsin Minority Teacher Program

:

Forgiveness of student loans is also available to minorities who teach a high-demand subject area. The forgiveness equals 25% of your total loan balance and interest per year that the teacher meets the employment requirements.

Wisconsin Office of Rural Health:

Healthcare professionals might be eligible for up to $50,000 in loan assistance through the Health Professions Loan Assistance Program (HPLAP) and Rural Physician Loan Assistance Program (RPLAP).
If you're a student looking to secure Wisconsin student loans or a graduate hoping to lower your interest total through refinancing, check out these strategies. A bit of extra effort can save you a significant amount of money on the cost of a degree.