Acupuncturists use ancient Chinese healing techniques, such as inserting tiny needles into the skin, to help alleviate all kinds of human conditions. While this practice originates in the East, the acupuncturist's career field is more like the Wild West. Acupuncturist salaries vary widely based on years of experience and location.
Acupuncturist salary breakdown
How much do acupuncturists make? That's hard to determine because acupuncturists didn't receive an occupational code from the Bureau of Labor Statistics (BLS) until 2018.
They are lumped into the category of Miscellaneous Healthcare Diagnosing or Treating Practitioners, and average acupuncturist salaries can vary quite a bit:
The BLS reports the median annual wage at

$73,960

 (within the "Health Diagnosing and Treating Practitioners, All Other" category).
Payscale reports the average salary for acupuncturists to be only

$49,598

.
The People's Organization of Community Acupuncture reported an average gross income of

$58,000

 in 2017.
Glassdoor estimates the average acupuncturist salary to be 

$75,979

.
You can see why it's the Wild West for acupuncturist salaries — the industry's pay ranges are huge. Payscale reports a salary range from $30,000 to $81,000 and Glassdoor reports a range of $42,000 to $112,000.
We do know that acupuncturist salaries' are defined by years of experience. Entry-level acupuncturists will earn an average of $28 an hour. Acupuncturists with 20 or more years of experience, however, earn an average of $77 an hour.
This rise over time is also attributed to opening and growing a business. Most acupuncturists are self-employed in their own practice. It takes time to build a client base and increase earnings.
Career length accounts for only part of the wide salary range. Location is the second major factor in determining how much an acupuncturist earns.
Top 5 states with the highest and lowest acupuncturist salaries
To get a better idea of your future salary, you can look at the BLS annual wage report organized by state. Annual wages in this table account for the multiple professions categorized under "Health Diagnosing and Treating Practitioners, All Other."
Top 5 states with the highest reported salaries
*As of 2018
Although these states report higher earnings, the cost of living can match. Cost-of-living expenses should be a consideration when figuring out your future salary.
There are some states that truly tank when it comes to acupuncturist salary. Below are the states that reported the lowest annual salaries.
Top 5 states with the lowest reported salaries
*As of 2018
Acupuncturists, dental hygienists, and healthcare professionals without an occupational code are all included in this data; acupuncturist-specific data is not currently available from the U.S. Department of Labor.
This data is still helpful, however, in revealing states with the highest and lowest acupuncturist salaries.
Acupuncturist take-home pay is even further impacted by student loan debt. Considering you will need to attend grad school and probably take on student loans, it's best to find a position in a state that supports your cost-of-living and your loans.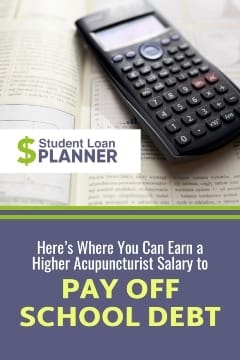 Acupuncturist salary might not cut it with student loans
Acupuncturists must complete an accredited graduate program and an exam to practice in most states. Since acupuncturist grad programs can take at least 3 to 5 years, student loan debt that comes with this degree can be harsh.
Related: Student Loan Debt for Acupuncturists…a Real Stress Point
Acupuncturist programs start in the five figures, some as low as $67,000. But Student Loan Planner® has seen multiple acupuncturists with student debt close to $300,000.
How does the cost skyrocket from the advertised tuition? There are several factors that lead to six-figure student loan debt for acupuncturists:
Tuition increases every year
Fees aren't included in tuition estimates
Living expenses increase each year
Student loan interest accrues while in school
Lastly, totals increase when loans taken out for undergrad are added to grad school loans. This can quickly push student loan debt into the high $100,000 — $300,000 range for acupuncturists.
To get a better sense of actual cost, review the regulations for the state you're considering starting a practice in. This will give you a good idea of how much education you'll need to invest in.
You should also add up your current student loans so you know how much debt you're starting with.
Is the acupuncturist salary worth the student loan debt?
Six figures of student loan debt and a low starting salary is recipe for financial stress. Whether spending that much money is worth it or not is really up to you. If it's your passion and you love your job, then the answer may be yes. If you think the stress of debt will outweigh the job, then it may not be worth it.
The good news is that the job outlook for acupuncturists is looking bright in the United States.
You'll most likely be self-employed, so you need to be ready to work long hours and have debt while you build your business. But ideally, in a few years, your salary will increase.
More good news is you can find other ways to pay back your student loan debt. If you can, prepare to pay for some or all of grad school out of pocket, rather than take out more loans.
This isn't possible for everyone, so the next step is to have a plan in place to repay your student loans.
Acupuncturists student loan repayment option
You have several options for paying back your student loans. Our student loan calculator is a good way to compare them side by side.
Let's walk through an example with these assumptions:
You leave grad school with $250,000 in student loans at 7% interest.
You earn $45,000 your first year working, which will increase over time.
You're single and don't have plans to get married.
The thought of paying off $250,000 on a salary of $45,000 may seem impossible. And it very well might be if you choose the standard 10-year repayment plan where your first payment is $2,903 a month.

If you enroll in Revised Pay As You Earn (REPAYE) forgiveness plan, your monthly payments will be much more affordable at $223 per month. After 25 years of on-time payments, your remaining loan balance is forgiven. Under this plan, you should set aside an additional $310 per month to account for future taxes owed on the forgiven amount.
In total, under REPAYE, you'd direct $533 of your monthly income toward student loans. This example should give you hope. Despite the low starting salary for acupuncturists, you can find a way to manage the student loans often required by this occupation.
If you're worried about taking on major student loan debt, we know the feeling. That's why we created the pre-debt consult to give you a chance to run through the numbers with a professional.

Lends at most
degree programs
Check rates
in 2 minutes

Large autopay
discounts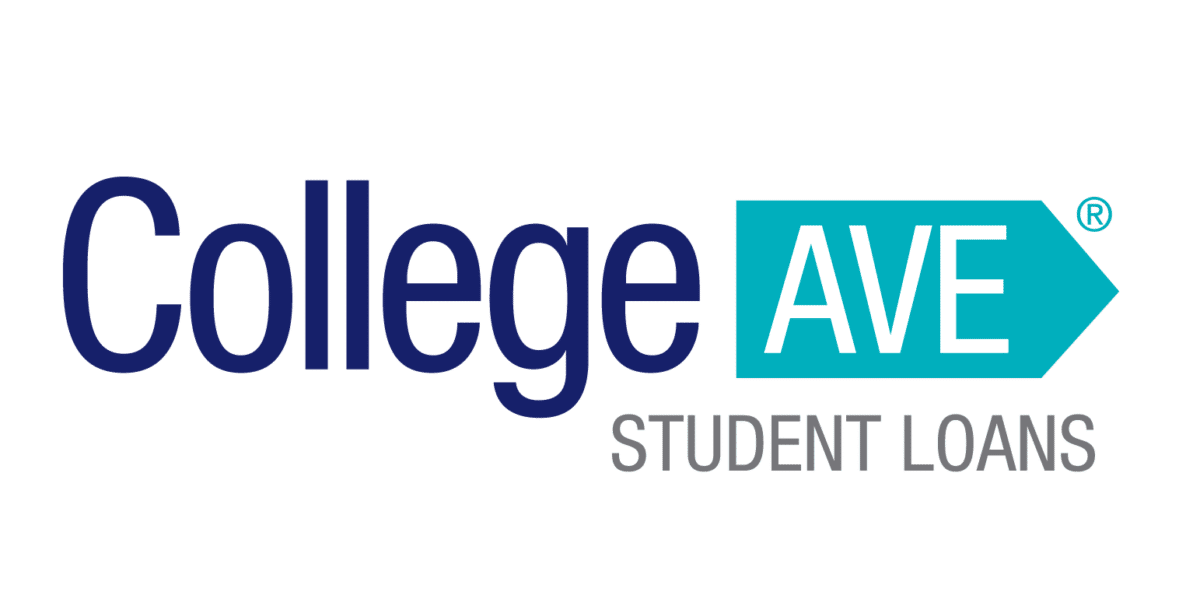 Flexible repayment options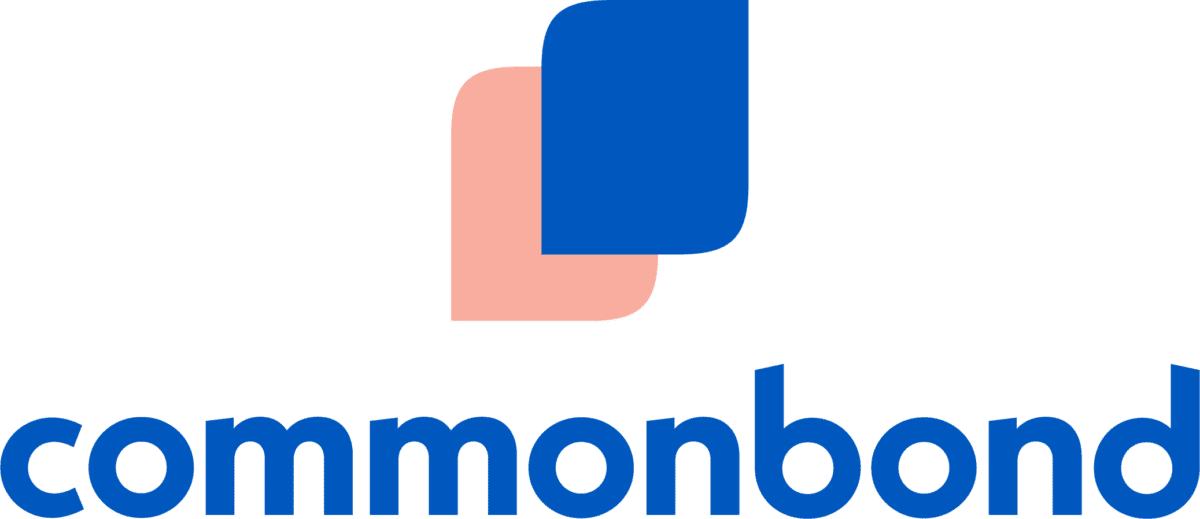 Focus on
graduate students
TAKE THE PRACTICE OWNERSHIP QUIZ!
Take our 15 question quiz to see in 2 minutes if you're ready to own or grow a practice (we'll give you a $500 Amazon gift card if you fund a loan with one of our referral partners too).
Take Our Quiz