As a veterinarian, you spend your time and emotional energy caring for animals of all sizes. But if you have loved ones at home, they might also depend on your care and the financial security of your veterinary salary. If you have a family depending on your income, you need term life insurance.
In the event of your unexpected death, your family might face many challenges but they don't necessarily have to be financially devastating. Term life insurance for veterinarians is affordable and straightforward, allowing you to have protection in place for the season of life you need it most.
Your employer or another organization, like the American Veterinary Medical Association (AVMA), might provide some coverage, but you might be underinsured or paying more than necessary for a policy that you can get cheaper on your own.
Read to learn about term life insurance for veterinarians, including the coverage veterinarians have through employers and cost estimates for a personal term life policy.
What type of life insurance do veterinarians have?
Life insurance shouldn't be complicated. But thanks to complex, commission-inflated financial products, like whole life insurance, many people don't realize how underinsured they are. Nor do they recognize how affordable life insurance protection can be.
To get a better understanding of what kind of life insurance needs veterinarians have, we surveyed more than 1,500 readers and clients for our 2022 Student Loan Planner Insurance Survey.
Of that sample, 88 were general practice veterinarians and seven were board certified. Here's what we learned about the veterinary profession overall.
Veterinarians undervalue the importance of life insurance
Our survey found that only 64% of general practice and 57% of board-certified veterinarians believe they need a term life policy. This suggests that many veterinarians don't understand the importance of having life insurance as an essential piece of their financial plan.
Only 35% of our general practice veterinarians carry their own policy. Even more concerning, only 24% of general practice veterinarians had some level of coverage through their employer.
It's clear that many veterinarians are either underinsured through their work policy or, worse, don't have any term life insurance coverage at all.
Do veterinarians need life insurance?
At a minimum, if other people depend on your income, you need enough money to help your loved ones fund a mortgage, utilities and groceries. In the low probability event of your untimely death, life insurance would help cover costs for abrupt funeral arrangements, ongoing living expenses for dependents, current debts they'll need to service (e.g. mortgage and car loans), and future expenses, such as your child's college education.
Term life insurance for veterinarians is an affordable safety net that practicing veterinarians should carry. Most people, regardless of profession, start exploring life insurance options before or after a major life event.
For example, you might be engaged, expecting a child, or entering a new phase of your life. Maybe your spouse or partner has decided to switch careers or become a stay-at-home parent, resulting in you becoming the breadwinner or sole income provider of the family.
Life insurance is easy to put off, but these milestones should serve as a trigger to reassess your existing life insurance coverage.
The portability of term life insurance serves veterinarians well
Considering the veterinarian job outlook is great, with the Bureau of Labor Statistics projecting 17% job growth from 2020 to 2030, you'll likely have ample opportunities to secure higher-paying positions or pivot within the veterinary profession throughout your career.
One of the biggest benefits of having a personal term life policy is its portability.
With an individual term life policy, your coverage isn't dependent on your job. That means you're free to move to a new animal clinic or veterinary environment at will without worrying about losing your life insurance coverage in the transition.
This portability is particularly helpful given that most veterinarians have little to no coverage at work.
Keep in mind term life premiums exponentially increase with age and as your health declines. So, don't wait until you lose your employer coverage to explore your options. The sooner you purchase an individual term policy, the lower rate you'll lock in.
How much term life insurance do veterinarians need?
Figuring out how much life insurance you actually need can get complicated quickly considering you're estimating future expenses. To have adequate life insurance coverage, we recommend a policy that's at least 10 times your salary.
However, if you happen to be the breadwinner of your household, then it's better to buy 10 to 15 times your salary. This also applies if you have multiple children since they'll need continued financial support growing up and help with college costs.
Basic formula: Salary x 10 = Minimum Coverage (rounded up to nearest 500K) = Policy Amount
Once you've determined your salary multiplier, we recommend rounding up to the nearest $500,000 to be safe.
Term life coverage for the average veterinarian
Let's look at how much term life coverage you might need based on the average veterinarian salary of $99,250.
Here's the formula in action: $99,250 x 10 = $992,500 (rounded up to the nearest 500K) = $1 million
So, the average veterinarian needs at least $1 million in term life insurance.
Board-certified specialists, urgent care veterinarians, or high-earning practice owners could easily need $2 million or more. This is particularly true if you're the breadwinner for your family. Banks might also require policies in place if you have a practice loan.
Breadwinner veterinarians need additional term life coverage
Our survey found that 86% of board-certified and 69% of general practice veterinarians are the breadwinners of their household. Recall that primary income earners (or those with large families) should look to get 10 to 15 times their income in term life insurance.
In which case, the average breadwinner veterinarian needs a $1 million to $1.5 million term life policy. Higher earners might seek $2 million to $3 million. You'd probably want to select a 20-year term to ensure adequate coverage until your last dependent finishes college.
If you're a breadwinner veterinarian relying on your employer's term life coverage to protect your family's financial future, you're likely severely underinsured without realizing it. Here's why.
What life insurance benefits do veterinarians get through work?
An employer-provided term life policy can protect your beneficiaries in the event of your death. But these group plans have very limited death benefits, which means your loved ones might not be covered to the extent they realistically need for a lifetime without you.
Most workplace life insurance policies have a capped benefit that is the equivalent of one to two times your salary or a set amount, usually $50,000.
Let's say the average veterinarian in our previous example has a benefits package with term life for two times her salary. If she passes away prematurely, her family will receive a death benefit of less than $200,000. Even if she has a top-tier employer policy that comes with three times her salary, her family will still be limited to less than $300,000.
Although that payout is a nice chunk of money for her spouse and children, it's simply not enough. To be adequately covered, she needs at least $1 million and possibly up to $1.5 million, depending on if she's the primary income earner.
Considering many of our surveyed veterinarians are relying on employer term life coverage, it's clear there's a strong need for supplemental coverage within the veterinary profession.
How much does term life insurance cost for veterinarians?
Term life premiums are determined based on your age at purchase, gender, coverage amount, policy term and health history.
Our survey found that veterinarians in our community are currently paying an average of $47 per month for general practice vets. However, premiums ranged from about $13 to $99 or more.
To give you a better example of what to expect when purchasing your own term life policy, we ran cost estimates through various life insurance companies.
Below are coverage cost estimates for a 20-year term policy of $1 million versus $1.5 million for a veterinarian in excellent health.
As you can see, term life coverage is affordable overall. A healthy 25- to 35-year-old veterinarian can get a $1 million policy for about the monthly cost of Netflix and Hulu combined.
Additionally, these cost estimates show that increasing your policy by $500,000 won't make a significant dent in your budget. Get the coverage that gives you the most peace of mind given your family's financial situation.
If you'd like a free life insurance quote for your policy scenario, use the SLP insurance quote tool.
Options for term life insurance for veterinarians
If your loved ones count on your income for financial support, it's time to explore term life insurance for veterinarians.
Start by taking a look at your existing employer coverage (if you have any) and determine how much you need to purchase to be adequately covered. Keep in mind that term life is relatively cheap. It shouldn't be a huge financial strain to purchase coverage that will ensure your family is sufficiently taken care of in your absence.
If you're a member of a professional association, you might have access to insurance partnerships as part of your member perks. However, these group benefit plans can often be more expensive than a competitive personal term life policy.
For example, the AVMA offers 10- and 20-year term life policies underwritten by New York Life. Coverage is available from $100,000 up to $2,000,000.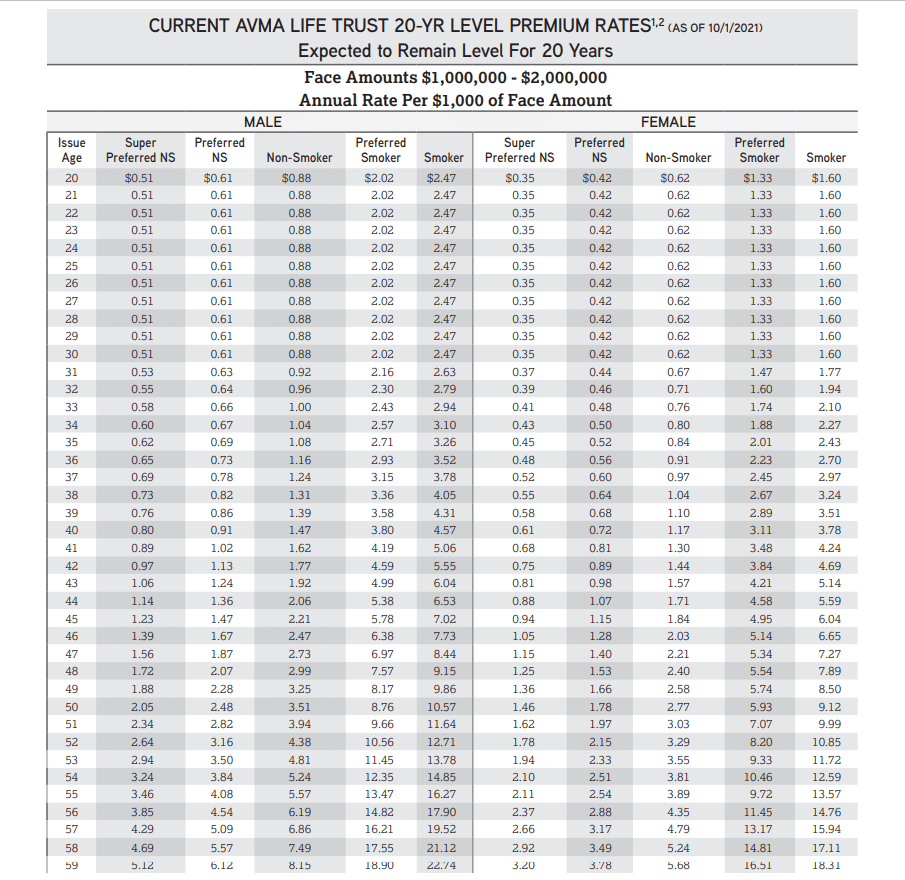 Source: AVMA Life
According to AVMA's most recently published premium rates, a healthy 25-year-old male veterinarian seeking a $1.5 million policy can expect to pay $765 annually ($63.75 per month).
For comparison, our cost estimates for an individual policy with these same parameters showed $42 per month. We highly recommend shopping around for your own individual term life policy and comparing rates to get the best deal.
Since term life premiums stay the same for the life of the policy, getting the same coverage for $20 less per month could result in thousands of savings over your lifetime for only a few minutes of work.
To compare over a dozen term life insurance options, start the free life insurance quote process today and make sure your veterinarian income is protected for your family.