If you work in the public sector and are working toward Public Service Loan Forgiveness (PSLF), the main action to stay the course is submitting the Public Service Loan Forgiveness Employment Certification Form. In this post, we'll cover what the PSLF Employment Certification Form is along with how to complete and submit it.
Note: this form just became extremely important for millions more people thanks to the Biden administration's PSLF order. You need to submit your PSLF ECF form by October 31, 2022 to qualify. For non-Direct loans (like FFEL and Perkins), you'll first need to consolidate them into a Direct Consolidation loan before submitting your Employment Certification Form. Unfortunately, you need to be proactive in submitting this ECF document as it's a requirement to gain additional relief from this executive action.
Public Service Loan Forgiveness Employment Certification Form
The Public Service Loan Forgiveness Employment Certification Form is an official form from the Department of Education. It's used to help borrowers stay on track with their employment under the PSLF program.
Under PSLF, borrowers must work for a nonprofit or government agency for 10 years and make 120 qualifying payments in order to receive student loan forgiveness. Once you submit the PSLF Employment Certification Form, your loans are transferred to FedLoan Servicing, which manages the program.
FedLoan will review your PSLF Employment Certification Form and let you know how many qualifying payments toward forgiveness you've made.
How to complete the PSLF Employment Certification Form?
As you can see, the Public Service Loan Forgiveness Employment Certification Form is important for you to fill out so you know where you stand in the program. Here's how to complete the form in four steps:
Step 1: Fill out personal information
After downloading and printing the PSLF Employment Certification Form, fill in your personal information. This includes your name, address, Social Security number, etc.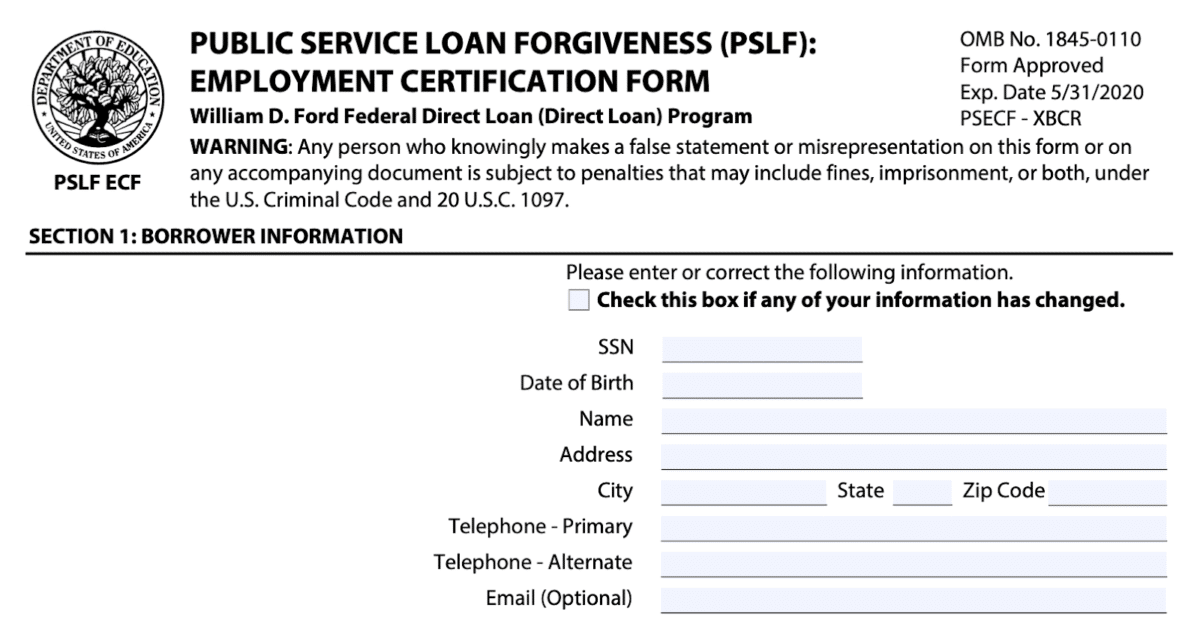 Step 2: Sign the terms and conditions
The second part of the form is basically the fine print. You'll authorize that you understand how the program works and how to qualify.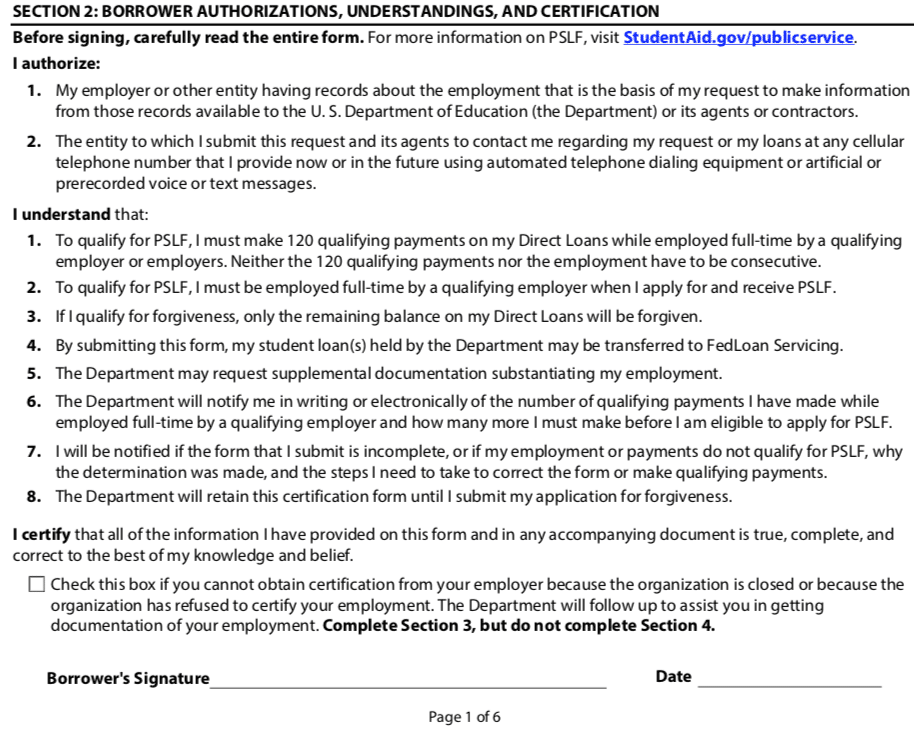 Step 3: Give the form to your employer to fill out Sections 3 and 4
Section 3 of the PSLF Employment Certification Form can be filled out by you or your employer. Since your employer will have all the necessary information and will need to certify the form, you can have them fill out this section, too.
So once you've filled out the first two sections, bring the form to your employer and ask them to fill out the third and fourth part of the form. Your employer will provide basic information about your start date, employment status, hours and the type of organization they are.
Once they complete Section 3, an official from your organization will need to sign, date and certify your employment in Section 4.
Step 4: Send in the completed form
Once you've completed the PSLF Employment Certification Form, you'll need to send it to FedLoan. You can do this by mail, fax or through FedLoan's website:
Mail:
U.S. Department of Education, FedLoan Servicing
P.O. Box 69184
Harrisburg, PA 17106-9184
Fax:
717-720-1628
Online:
You can upload the form online at MyFedLoan.org/FileUpload, if FedLoan is currently your loan servicer.
After certifying the first time, you should complete this form once a year as well as each time that you change jobs.
Why recertification is important
Certifying your employment the first time is important because you can make sure your employment qualifies and get your loans transferred to FedLoan, which manages the PSLF program. Note that if FedLoan fails to get back to you about your certification status, you can ask for a manual recount of your payments.
But recertifying each year is important, too, for a number of reasons. First, it can help you track your payments so you know you're on your way to making 120 payments. On top of that, if you change jobs, you can ensure that your new employment still qualifies for the program so there are no surprises.
And as your loans will be serviced FedLoan during this process, you'll have practice filling out forms for when it's time to officially submit the full application.
If you don't recertify, there are no hard consequences — but you'll have to submit the PSLF Employment Certification Form for the previous 10 years of work. Might as well stay on top of it as you go through the process.
Mistakes to avoid with the PSLF Employment Certification Form
There's been press about borrowers not receiving student loan forgiveness through PSLF, but some of that is user error. To ward off any issues, here are some common mistakes to avoid:
Not filling out the form completely. Any blank space should be filled in.
Forgetting to sign and date the form.
Not turning in the form every year of employment.
Not recertifying when changing jobs.
Not having an official from your employer fill the form out.
Not following up with your employer about filling out their part.
Not submitting the form to the right place.
Not keeping copies for your own records.
Opting for student loan forgiveness under PSLF can be great for the right borrower. You can get your loans wiped away after 10 years and won't have to pay taxes on the amount forgiven — but you must stick to the process to actually have this happen.
If you avoid these common mistakes, you can stay on track with your student loan forgiveness under PSLF. Submitting your form each year can make the process easier and prevent issues down the line. If you have any additional questions, be sure to contact FedLoan about the process or your status.