Congress decided not to extend the interest freeze on federal student loans. It was left out of the CARES Act extension passed by the federal government.
President-Elect Joe Biden can still extend the interest and payment freeze via executive order when he takes office, but at some point this year, payments will most likely resume on federal student debt. It could be February, it could be April, it could be September.
So the question is, should you refinance your student loans? Is now a good time or should you wait until payments resume?
Interest rates are near all-time lows
We're in an unprecedented time in many ways, including interest rates.
A sluggish economy during the coronavirus pandemic combined with low inflation and a search for quality investments has driven interest rates downward from already historic lows.
Student loan refinancing interest rates are following suit. Borrowers are securing interest rates below 3% if they have good credit and a low debt-to-income ratio. Many are securing rates below 4%.
These low interest rates mean that student loan borrowers who refinance to a lower rate have more of their money going toward the principal balance rather than toward interest charges.
Normally, low interest rates are a great time to refinance, especially in the case of private student debt.
Refinance private student loans
Knowing whether to refinance federal student loans requires more analysis which we'll get into soon. But anyone with private student loans of 4% or higher should explore refinancing to see if they can get a lower rate.
Private debt has to be paid back in full no matter what. It's best to get the lowest interest rate possible, and pay debt off quickly. That's how to save the most money.
There are closing fees like you'd have when refinancing your mortgage. You can look into refinancing student loans as often as twice a year.
Right now, Student Loan Planner® is offering some of the best cash-back bonuses, so check out the top student loan refinancing options to see if you can secure a lower rate.
Who should refinance federal student loans?
Let's start with the basics.
It makes sense to keep your loans in the federal program if you owe more than you make, and have prospects for Public Service Loan Forgiveness (PSLF) or other loan repayment/forgiveness programs, in most cases. Refinancing could be more costly than those programs.
But if you're a great candidate for refinancing, it can be tempting to lock in a historically low rate and forgo 0% for the next few months. It might even make financial sense.
Just remember that by refinancing, you not only give up the 0% interest, but you also give up the $0 monthly payments during the CARES Act forbearance period.
Plus, you're giving up the very flexible repayment terms that federal student loans — income-driven repayment (IDR), deferment and forbearance to name a few.
In addition to understanding who's a good candidate to refinance (as I mentioned above), student loan borrowers should have predictable cash flow, low to $0 credit card debt, and an emergency fund set up before refinancing, especially during COVID-19.
Should you stick with 0% interest on federal student loans or refinance now?
Assuming refinancing is a solid long term repayment strategy, when is the right time to refinance student loans?
Right now, the payment and interest freeze will expire on August 31, 2022, meaning that payments will resume in February. If this is a certainty, then refinancing now could be a good move if you can secure a lower interest rate.
We'll know for sure in the next few weeks, so it probably makes sense to wait for more information before refinancing.
If the CARES Act extension on student loans is issued …
Let's say that he does extend the forbearance to a time when the coronavirus vaccine is projected to be widely available and the economy is expected to get back on its feet.
Interest rate quotes through the Student Loan Planner® refinancing page are good for 30 days. In other words, you can lock in a lower rate a month before the interest freeze expires, but wait to complete the refinancing process until the actual expiration date.
Perhaps student loan payments start back up again in April or May. If that's the case then it could make sense to explore refinancing options in February or March.
If the interest freeze is extended until September, then it probably makes sense to ride out the 0% interest relief a little longer and target your student loan refinance for summertime.
This could make some nervous if they think interest rates will rise between now and then. But how costly might it be if rates rise before going through the refinancing process?
What happens if interest rates increase by 1% while you're waiting?
Let's say that Sara is an attorney working at a private law firm making $125,000. She has $100,000 in law school debt at 6%. Right now, she could qualify for a 3.5% fixed interest rate with a 10 year term.
If she were to refinance now, here's what her monthly payments and total cost of loan repayment would be:

Her monthly payments would be $989 and the total cost of paying off her student loan would be $118,663. That would be very affordable for Sara given her income.
Now let's say that the interest freeze is over in May and she waits to refinance until then. Hypothetically, let's imagine that rates rise by 1% to 4.5%. How much extra would she pay due to the higher interest? Let's compare the interest rates, monthly payments, and total cost of loan repayment.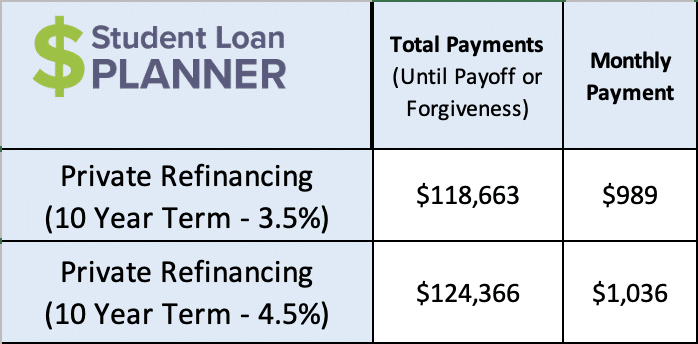 The 1% increase in interest rates makes her monthly payment jump up by $47 per month and the total cost jumps by $5,703 over 10 years. That's nothing to sneeze at, but it's also not a stark difference either.
The bottom line is that if Sara has a solid emergency fund, no credit card debt, and the extra cash flow to cover the payment, waiting to refinance could be a good way to go.
But if Sara doesn't have all of that lined up, or has job uncertainty, then she should take care of the payment suspension and interest freeze to make progress toward those other foundational financial goals instead.
That said, if the freeze is extended through September, then it could make sense for her to wait until the summer to refinance even if she's in solid financial shape.
How to refinance student loans
Now is as good of a time as any to refinance your student loans if that's the best long term plan for you.
Just make sure you owe less than your income, have no prospects for student loan forgiveness, have a solid financial foundation, the cash flow to cover the payments, and job stability during the pandemic before doing so.
Taking advantage of low interest rates is one piece of the puzzle. The other is to see if you qualify for some great cash-back bonuses, too.
Right now, Student Loan Planner® has some of the best refinancing partners out there and you might be eligible for a bonus. It's best to compare a handful of rate offers to find the best deal possible for you.
Look at not only the lowest interest rates but also the best loan term and other criteria for you. For example, some private loan companies offer forbearance and flexible repayment options that could come in handy.
In the end, we want to provide you with a solid student loan plan that fits around your life and career goals rather than fitting your life around your student loans.
If you owe six-figures of student debt and aren't sure if you're a solid candidate for refinancing, schedule a student loan consult. We can project whether refinancing or staying in the federal program is the best repayment strategy for your student loans.