Anesthesiologists are physicians that practice anesthesia and evaluate and monitor a patient's care throughout the surgery process. An anesthesiologist is tasked with administering the appropriate amount of anesthesia to manage pain and ensure a patient's safety throughout an operation.
Since the job of an anesthesiologist is extremely specialized, they have to complete a four-year anesthesiology residency after graduating from medical. Many anesthesiologists choose to pursue an additional fellowship for a year or two to further specialize in this field.
When compared to the traditional three-year residency, anesthesiologists commit to an extended educational timeline, and likely, more medical student debt.
If you're an anesthesiologist with an uncomfortable amount of student loan debt, there are refinancing options that can help. Refinancing can help you lower your interest rate and reduce the total amount you pay over time.
Here's what you need to know about student loan refinancing for anesthesiologists.
Average debt vs. salary for anesthesiologists
Medical school's an expensive proposition for any physician. Anesthesiologists aren't an exception to this rule.
According to the AAMC's 2020 Education Debt and the Cost to Attend Medical School report, 73% of medical school graduates left school with educational debt. In 2019, the average educational debt for a medical school graduate with debt was $200,000.
Although that might seem like a big number, anesthesiologists could graduate with even more debt. Three recent Student Loan Planner® anesthesiologist clients reported student loan balances from $232,000 to $482,000.
With the reported mean annual salary for anesthesiologists at $267,020, according to the U.S. Bureau of Labor Statistics, there's room for hope. The high salary could justify the educational debt you'll take on in pursuit of this profession.
Where you work as an anesthesiologist matters
The average salary for an anesthesiologist can vary dramatically based on your state. Anesthesiologists in the highest paying states, like Nebraska and South Dakota, can expect to earn over $290,000 annually. But a salary closer to $280,000 is more likely in other areas of the country.
Medical malpractice insurance premiums should also be taken into consideration. Since the majority of anesthesiologists carry expensive medical malpractice policies, you'll need to factor this into your costs. According to a recent report, anesthesiologists pay $23,481 for a policy with limits of up to $3 million.
But the costs of medical malpractice insurance can vary significantly by state. For example, a doctor in New York should expect to pay five- to seven-times more than a doctor in California for the same medical malpractice insurance.
Before you make location decisions for this career, do some research into the malpractice insurance premiums compared to your expected salary.
Student loan refinancing for anesthesiologists
Anesthesiologists can potentially benefit from student loan refinancing. Student loan refinancing offers the opportunity to lower your interest rate and monthly payments. Additionally, you can combine multiple federal and private loans, or release a cosigner from a current loan, through refinancing.
Let's walk through an example. Brad has $400,000 in student loans at a 7% interest rate. Currently, his monthly payment is $4,644. He pursues a refinance with a 10-year term and a 5% interest rate.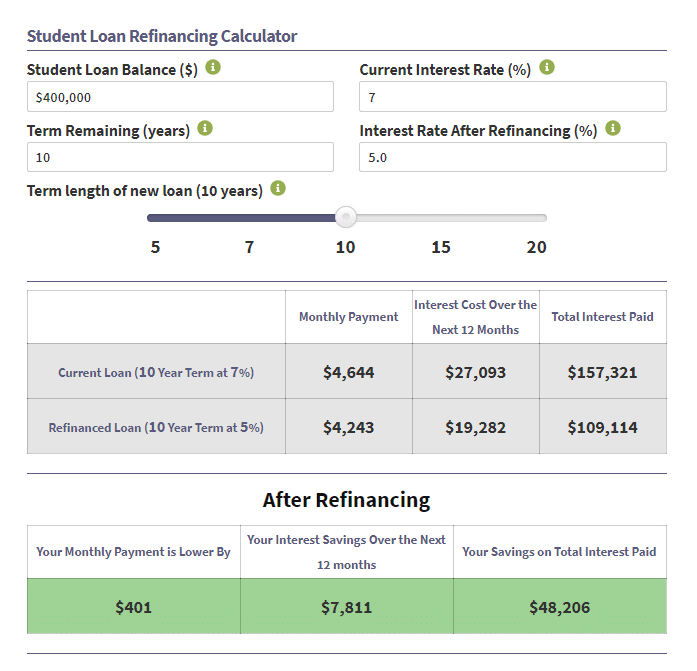 After the refinance, Brad's monthly payment is $4,243. That's $401 less each month! If he continued to repay the refinanced student loan at a fixed refinancing rate, he'd save $48,206 over the life of his loan.
Of course, a $4,000 monthly payment might not fit into his budget. With that, he could go for a longer loan term of 20 years.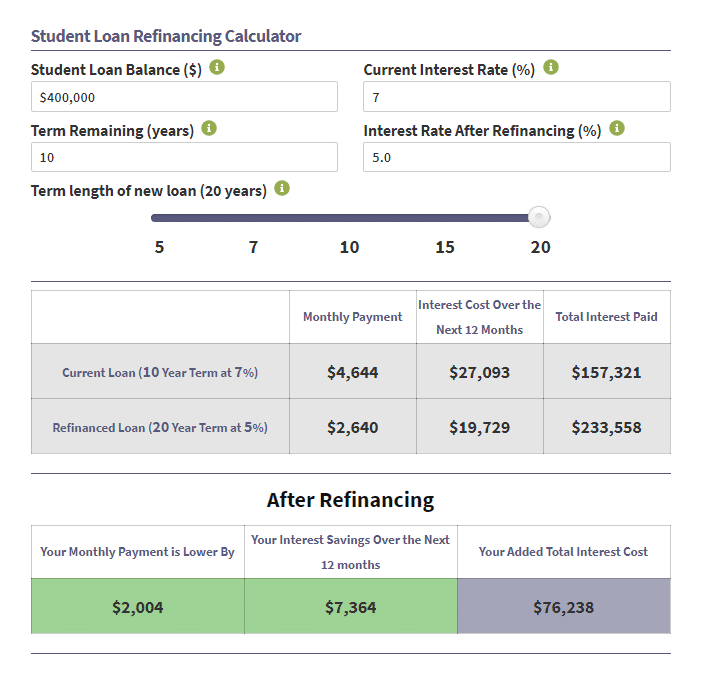 With the same 5% interest rate, he could lower his monthly payment to $2,640 and save over $2,000 in his budget every month. However, the added interest cost would grow to $76,238.
Take advantage of the Student Loan Planner®'s Refinance Calculator to find out how much you could save through refinancing your anesthesiologist student loans.
Disadvantages of anesthesiologist student loan refinancing
Refinancing your student loans could allow you to build your flexibility into your budget or pay off your loans faster. But it might not be the best move for your situation.
If you have federal student loans, refinancing with a private lender will eliminate certain federal protections that could come in handy. For example, you'd lose access to flexible income-driven repayment (IDR) plans and access to forbearance or deferment in times of financial hardship.
Additionally, you'll lose any opportunities for federal student loan forgiveness programs. With that, it's important to consider all of your options before moving forward with student loan refinancing as an anesthesiologist.
Is student loan forgiveness a better option for anesthesiologists?
If you're working in the more lucrative private-practice world, you might not need to worry about income-driven repayment options. But if you work in the public or nonprofit sector, loan forgiveness with Public Service Loan Forgiveness (PSLF) should be a serious consideration.
PSLF is one of the more popular loan forgiveness programs and is available if you work for a public or nonprofit employer. Another good option is an IDR plan that provides long-term loan forgiveness after 20 to 25 years of qualifying payments.
As an anesthesiologist with a large student loan burden, loan forgiveness might be worth pursuing. Here's an example.
Let's say Ryan is an anesthesiologist earning $260,000 per year who has $400,000 in student loan debt with a 7% interest rate. You might consider signing up for Pay As You Earn (PAYE) or refinance your loan for a 10-year loan with a 4.0% interest rate.

In this case, you would save by choosing the PAYE option. However, you'd have to plan for a major tax burden when the loan is forgiven since the forgiven amount is considered taxable income. Use our free Student Loan Repayment Calculator to run the numbers for your own situation.
What student loan repayment strategies can an anesthesiologist use?
Depending on your situation, it might make the most sense to combine student loan repayment strategies.
You might start by taking advantage of an IDR plan, such as the Revised Pay As You Earn, while completing your residency. This could lock in a low monthly payment while you have a lower salary. After you break into your career as a full-fledged anesthesiologist, you might decide to refinance your loans and make payments supported by your higher salary.
If you choose to refinance your student loans, check out these top refinancing lenders which offer cash-back bonus through Student Loan Planner®. Look for the best terms for your situation.
Get expert help for anesthesiologist student debt
Although refinancing student loan debt could be a good choice for some anesthesiologists, it's not the right move for everyone. It can be tricky to determine whether refinancing is the best choice for you.
When wading through the decisions, our team of student loan experts can help. With expert help, you'll have a repayment plan crafted especially for your financial situation and goals. Schedule a one-hour consultation today.