If you're dealing with the stress of having your federal student loans in default, you may wonder how you can get out of this mess. At this point, your loan servicer may send your student loan debt to collections and your wages can also be garnished (yes, really.)
In order to avoid escalating the issue, you'll want to get in good standing with your student loans and get out of default as soon as possible. You can do that through student loan rehabilitation vs consolidation.
Read on to learn more about whether student loan rehabilitation or student loan consolidation is the right one for you.
How to get out of student loan default
If you're in default, first off you should know you're not alone. According to Urban Institute's Underwater on Student Debt report, 22% of borrowers have defaulted on their student loans. It's also not a life sentence if you take action.
The American Enterprise Institute reported that 70% of borrowers who defaulted on their loans got out of default within five years' time. Rehabilitation and consolidation each have their own pros and cons that you should consider before working to get out of default. Let's review.
Student loan rehabilitation
Student loan rehabilitation essentially means getting your federal loans in good standing. In order to do that you'll need to agree to make nine payments during a 10-month period.
How much you'll pay amounts to 15% of your yearly discretionary income, which factors in your adjusted gross income (AGI) and family size. That number is then divided by 12 to come up with your monthly rehabilitation payments.
What you'll pay each month is determined by a student loan rehabilitation agreement. Making on-time payments toward rehabilitation can remove the default from your credit history. So while getting out of default may be a lengthier process through student loan rehabilitation, getting the default status removed from your credit history could pay dividends for your financial future. It's important to note though, that late payments will still likely be on your credit report from before your student loans went into default. To review, here are the pros and cons:
Pros:
Default status removed from your credit history
Your monthly payment amount is capped at 15% of discretionary income
Cons:
It's a longer process to get out of default
Late payments may remain on your credit report
The student loan rehabilitation program might not be the right course for everyone. Depending on your personal situation, student loan consolidation might make more sense.
Student loan consolidation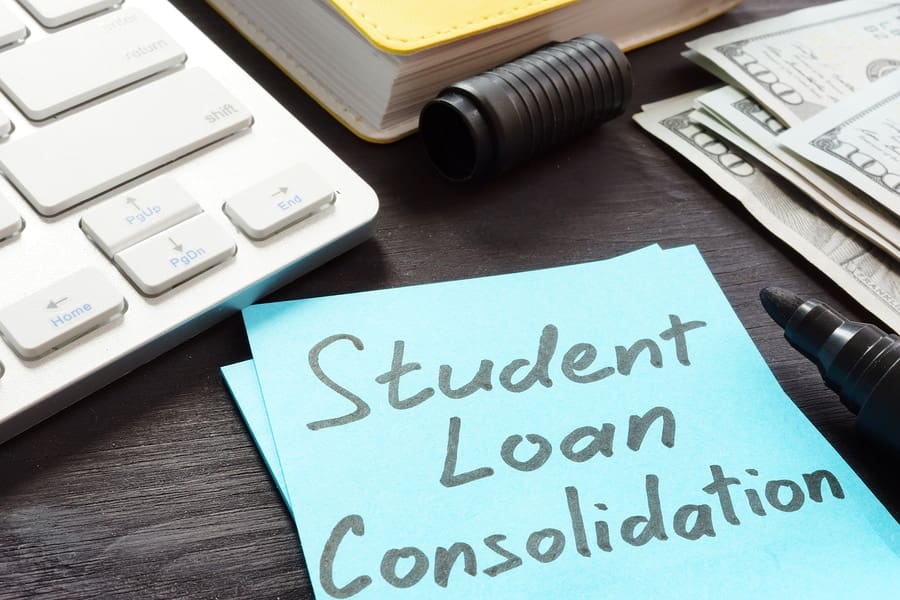 In order to get out of default through student loan consolidation, you have two options:
Take out a new Direct Consolidation Loan to pay off your current loans. You'll be left with the new loan which you must agree to pay back with an income-driven repayment (IDR) plan.
Make three full monthly payments on your defaulted loans first before pursuing consolidation.
If your wages are currently being garnished to pay back your defaulted student loans you cannot consolidate your student loans. Only when the wage garnishment requirement has been removed can you consolidate your student loans to get out of default.
This option is the fastest way student loan borrowers can get out of default but there's also a big caveat: this method doesn't remove the default from your credit history.
When deciding whether student loan rehabilitation vs. consolidation is the right choice for you, weigh the pros and cons of each option.
Pros:
Consolidation is a faster way to get out of default
Monthly payments may be capped at a percentage of your income under student loan consolidation option number one
You may be eligible for more repayment plans under student loan consolidation option number two
Cons:
Your monthly payments under either option are fairly comparable as both are based on your income. But you also have to worry about collection fees though, too.
Remember, collection charges will likely added to the loan balance although there are some situations when they could qualify to be waived.
Consequences of staying in default
As you can see, getting out of default is a process but one that you should go through nonetheless. Staying in default has its own consequences as you may already be aware of or dealing with at the moment. Consequences include:
Wage garnishment
Collections
Treasury offset
Up to 15% of your discretionary income can be garnished from your paycheck in order to pay back your defaulted student loan. Not only that but your tax refund as well as your Social Security payments can be garnished, too. In other words, there is no escaping so it's best to get adulting and face the music. When you take charge to get out of default, you want to play your cards right, too.
Take action now
If you're looking to get out of default, the key is to choose an option that works best for you and your priorities. Student loan rehabilitation or consolidation, there's no right or wrong answer here.
Both options lead to the same result— that you get your student loan payments back on track, get out of default and are in good standing with your payments. Once you do this, you'll feel better and won't stress out about getting bothered by debt collectors or having your hard-earned dough taken out of your paycheck automatically. That kind of peace of mind is priceless.
After looking at the pros and cons would you consider rehabilitation or consolidation?