If you're like most of our readers, you probably have multiple student loans to repay. It's not easy to figure out which student loans to pay off first. All of them seem important, and it's hard to tell if you're even making progress at times.
Below are some popular methods used to pay off student loan debt, along with another lesser-known method. Each repayment method has its perks, as well as some drawbacks to consider, so compare the strategies with your needs to decide which one will work best for you.
1. The debt snowball method
Goal: Build momentum through small repayment wins.
The debt snowball method is a repayment strategy popularized by financial expert Dave Ramsey. It's used when paying off various types of debt, such as credit card debt.
Think back to building a snowman as a child. You start with a small ball of snow, and as you begin rolling it, the snowball grows, gaining momentum. The same thinking applies to the debt snowball.
Where to begin
Start aggressively paying off your student loan with the lowest balance first, paying the minimum payments on all of your other loans. Once a loan is paid off, apply all of those extra funds you've freed up to the next-lowest loan balance, along with that loan's minimum monthly payment.
The idea is that your lowest balance will be the easiest and quickest loan to repay. By earning a small win in paying off a loan, you'll be motivated to keep going, and your approach to loan repayment will build momentum as you continue to pay down your debt until there's none left.
Debt snowball pros
You can create small wins as you pay off each loan.
You'll likely see results more quickly with this method.
Debt snowball cons
This method doesn't take into consideration interest rates, the type of student loan and other key factors that should play into a repayment decision.
It could cost more over time than other methods due to student loan interest.
It may take you longer to pay off all of your student loans.
Using the debt snowball method may work for people who have a hard time staying motivated during loan repayment. It's a method that makes sense if you don't change your average interest rate, but there are other methods that most likely will cost you less in the long run.
2. The debt avalanche method
Goal: Dump high-interest loans first.
Interest charges can increase how much you end up paying for a student loan. Higher fixed interest rates, such as with PLUS loans, can quickly add thousands of dollars to your loan balance. The debt avalanche payoff method factors this in, which can help you decide which student loans to pay off first.
Using the debt avalanche combats increased interest by targeting high-interest loans first, regardless of the loan amount.
Where to begin
Once the highest-interest loan is paid off, move on to the loan with the next-highest interest rate, again applying all of those extra funds to your student loan payments.
Debt avalanche pros
Save money on interest charges over the life of your loans.
Pay off your loans faster.
Debt avalanche cons
This method doesn't take into consideration loan balances or types of loans, only the interest charges.
It can be seen as less motivating than the debt snowball method.
If you have student loans with high interest rates, this could be a good repayment method for you to pay down the principal balance, provided you aren't planning on lowering your interest rates. Remember to keep making minimum monthly payments on your other student loans while using the debt avalanche method.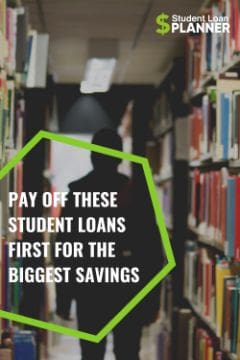 3. The refinancing ladder method
Goal: Take advantage of longer loan terms and no prepayment penalties to create flexibility for other life goals.
The refinancing ladder method isn't a student debt payoff method that's widely known but it is the method recommended by Student Loan Planner®. It's especially effective if you are someone who has six-figure student loan debt but also has other life goals to fund.
Where to begin
To start the refinancing ladder payoff method, you refinance your student loans into a 15- to 20-year fixed-rate loan. By doing this, you'll end up with a lower monthly payment, freeing you up to pursue other life goals, like buying a home. If you are a medical professional, this will work if you want to open a practice, for example, while repaying a large student loan debt.
While your monthly payments are low, you can choose to throw as much money as possible toward paying off your loans, which will lower your total balance significantly. You can do this because there are no prepayment penalties on student loans.
Once your loan balance has dropped significantly, you then refinance again to a 10-year fixed-rate loan, which should drop your interest rate to the lowest rate possible and keep your monthly payment close to the current amount.
You'll continue to pay down your loans as much as possible. When your loan balance has dropped considerably again, refinance one more time. This time, refinance to a 5-year fixed interest rate or variable loan. You could choose either loan type, especially if your variable rate is low enough to negate the risk.
Refinancing ladder pros
It keeps your monthly loan payments low.
It allows you the flexibility to pursue other goals.
It takes advantage of refinancing multiple times to get lower interest rates.
Refinancing ladder cons
This method involves refinancing, which can lead to losing government protections that accompany federal loans.
Choosing this refinancing payoff strategy means giving up loan forgiveness options.
Many borrowers don't realize that you can refinance your student loans more than once. They also don't realize that refinancing student loans is significantly less painful than other types of refinancing, such as a mortgage refi. Following this method could be the key to paying off student loans more quickly, while still giving you the financial room to enjoy other pursuits.
Ultimately, it's up to you to choose which student loans to pay off first, but we like the refinancing ladder for the flexibility it provides borrowers as the actual rates are typically lower than what you might currently have.
Other factors to consider when paying off student loans
Like most things in life, there are exceptions to these methods, as well as best practices to follow. Factor these considerations into your decision.
Pay off private loans first
Always pay off private student loans before federal loans. They are usually for smaller amounts than federal loans. More importantly, private loans typically don't come with the same forbearance and loan forgiveness programs available with federal loans (such as Public Service Loan Forgiveness).
Fixed vs. variable rate loans
When deciding whether to pay off loans with fixed versus variable interest first, pay off whichever one has the higher interest rate. There is a risk associated with variable rates because they can increase over time, but it makes sense to pay off the loan that has a higher interest rate now.
Should you pay off subsidized or unsubsidized student loans first?
If you have subsidized and unsubsidized student loans, it's important to know which one to pay off first.
Start with your unsubsidized loans with high interest first and then pay off your subsidized loans with high interest. Unsubsidized loans start accruing interest at disbursement, which will end up being added to the loan principal, and you'll pay interest on this increased amount.
Once those are all paid off, continue the same pattern to pay off your loans with lower interest rates.
What you need to know about refinancing student loans
You can use refinancing as a strategic method of lowering your interest rate significantly. This approach can potentially cut thousands of dollars in interest off of your loan balance.
Plus, when you refinance your student loans through one of our partner lenders using our referral links, you can earn a cash bonus while saving money.
When you refinance federal student loans, your loans become a private student loan, so you no longer have access to federal programs and protections. You become ineligible for loan forgiveness, income-driven repayment plans and forbearance offered for federal loans. Don't refinance your loans unless you're positive that you can pay them off.
As you look at repayment options, use our student loan calculators to run the numbers. Find the repayment method and recommendations that work best for you.
If you aren't sure, reach out to our student loan advisors. They can partner with you to create a repayment strategy that works for your student loan repayments.