When you have a good dentist, it's amazing what they can teach you. But how much does that dentist earn, and how long does it take to pay off dental school debt?
A few years ago, I switched dentists — from one that was chronically late to another that runs very much on time. Not only did it make the appointment much more pleasant, but I learned a few things along the way.
One thing I learned is that I was mistaken about what brushing your teeth means. I always thought it meant to literally brush your teeth. Come to find out that brushing should be done around the gum line. Who knew? Not me.
Dentists also come to the rescue when those nagging, debilitating tooth pains come along. It's really tough to operate when you feel that throbbing sensation and intense headache from a sore tooth. Dentists to the rescue!
Along with being our heroes from time to time and having a fulfilling career of ensuring healthy teeth and gums, a dentist can earn a nice living, too. The median dentist salary is $163,220 per year, according to the Bureau of Labor Statistics.
I must admit that I was surprised when I saw that number. I always thought dentists earn more than that. Then I learned the major factors that impact how much a dentist can make.
Major factors that influence a dentist salary
If you lined up all the dental salaries from smallest to largest, the median would be the middle number in the line — or a split between the two in the middle, if it's an even number (yes, I minored in math ~ aka math geek Rob).
So why have I been seeing dentists with much higher incomes? There are two major factors.
First and foremost, location matters — but not how much most would think.
You see, living in a major metropolitan area means more patients, which should lead to higher income. At least that's the case for other medical professionals. But for dentists, it's the opposite.
The larger metropolitan areas not only have an abundance of people, but they also have an abundance of dentists, too. That means dentists in densely populated areas like New York, Los Angeles, Chicago and Houston are among the lowest compensated.
Any guess which states have the highest average dentist salary?
If you guessed Delaware, North Dakota and Alaska, then you're correct. Those states aren't known for being densely populated. The bottom line is the more rural the community, the greater the income for dentists. They're the only game in town.
The second biggest factor in dentist income is owning a dental practice or not.
Dentists who own their practices make more money than the ones who don't. Many of the practice-owning dentists we've talked to here at Student Loan Planner® earn incomes well in the mid-$200,000 range and up. Some are even in the $300,000 range.
Any dentists looking solely to maximize income should move to a rural location and own their practice. Those that live in a major city as an associate will most likely earn in the low six-figure range. Not bad compared to other health professionals, but it's not great when trying to repay dental school loans.
Dentists graduate with more student loans than anticipated
According to the American Dental Education Association, the 2020 class of dental school graduates who took out student loans left owing $304,824. That's about 50% more than the average medical school debt of $200,000, according to the Association of American Medical Colleges.
Here at Student Loan Planner®, we've had one-on-one consults with nearly 900 dentists, and their loan balances are much higher than average. The average dental school debt for a Doctor of Dental Surgery (D.D.S.) we've worked with is $399,397.
Owing that much in student loans begs the question, is the cost of attendance for dental school financially worth it?
Dentist salary comparison
The median dentist makes around $163,000 per year, which is a very nice salary. But how does that compare to the average college graduate without an advanced degree?
According to the Bureau of Labor Statistics, the median wage for a college graduate is about $74,776.
Becoming a dentist leads to an extra $90,000 in earnings per year by the averages. Let's assume that $90,000 in extra income sustains throughout the entire 40-year career of a dentist. That works out to an extra $3,600,000 in lifetime earnings for a dentist compared to someone with a bachelor's degree — a huge number!
Taking out $378,000 in loans to make an extra $3,600,000 tends to make financial sense on the surface, but remember those extra earnings will be taxed.
If we assume a combined 40% tax rate for federal and state, then we can reduce that $3,600,000 in earnings down to about $2,160,000 in extra take-home pay.
So now we're talking about dentists having an extra $2,160,000 to pay off the $378,000 of student loan debt. Seems good on the surface, but those numbers are missing a couple of key facets:
These numbers don't show that many dentists spend the first 20 to 25 years of their careers saddled with private or federal student loan payments along with student loan balances that don't seem to change — and continue to grow in many cases.
The cost of paying back the loans will be higher than the actual loan balance.
Protecting a dentist salary
With such a high income depending on the use of your hands, you'll likely want to protect your dentist salary from dropping due to disability. 
Through our agency SLP Insurance, you can submit your information below to get quotes from "The Big 5" true own-occupation carriers. We also look through residency program discounts nationwide to get you the best policy, no matter what.
Get Your Own-Occupation Disability & Term Life Quote
What is Your Occupation Status Currently?
NEXT
Height
Weight(lbs)
Have you had any recent surgery or hospitalizations?
Do you take any medication?
Do you have any medical conditions?
NEXT
Full Name
Date of Birth
Email
Phone Number
State of residency
Specialty
Communication preference with SLP Insurance
Any additional questions or comments?
GET MY QUOTES
Dentist student loan repayment options
Here at Student Loan Planner®, we've done over 5,875 consults and advised on nearly $1.44 billion of student debt. Our experience shows there are two optimal ways for dentists to pay off student loans.
Aggressive Pay Back:

For people who owe 1.5 times their income or less (e.g., the "lucky" dentist who makes $150,000 with loans at $225,000 or less), their best bet is usually to throw every dollar they can find into paying back their loans as fast as possible for no more than 10 years.

Pay the least amount possible:

For people who owe more than twice their income (e.g., a dentist who makes $150,000 and owes $300,000 or more), the goal is to get on an income-driven repayment plan that will keep their payments low and maximize taxable loan forgiveness.
Which option is best for dentists? It depends on where the dentist works and if they own their practice.
Get Quotes for Your Doctor Mortgage
What mortgage product do you need?
Your Occupation As Of September 2023
NEXT
Home Price Range
Preferred Down Payment
Stage You're At in the Home Buying Process
When Do You Want a Mortgage Approval?
How Many Banks Would You Like Quotes From?
Any Bankruptcies or Short Sales?
NEXT
Full Name
Email
Phone Number
State Where You Plan to Purchase
Metro Area Where You Plan to Purchase
Communication Preference
Would You Like to Add Any Additional Details?
GET MY QUOTES
Student loan repayment for dentists in major cities
Let's say Andrew has $300,000 in federal student loans at 6.8% interest. He's been a dentist for three years in New York and was paying on the graduated plan to keep his payments low.
Right now, he's making $120,000 with projected 3% increases in salary for the foreseeable future. He has no plans to own a practice.
Let's take a look at his loan repayment options: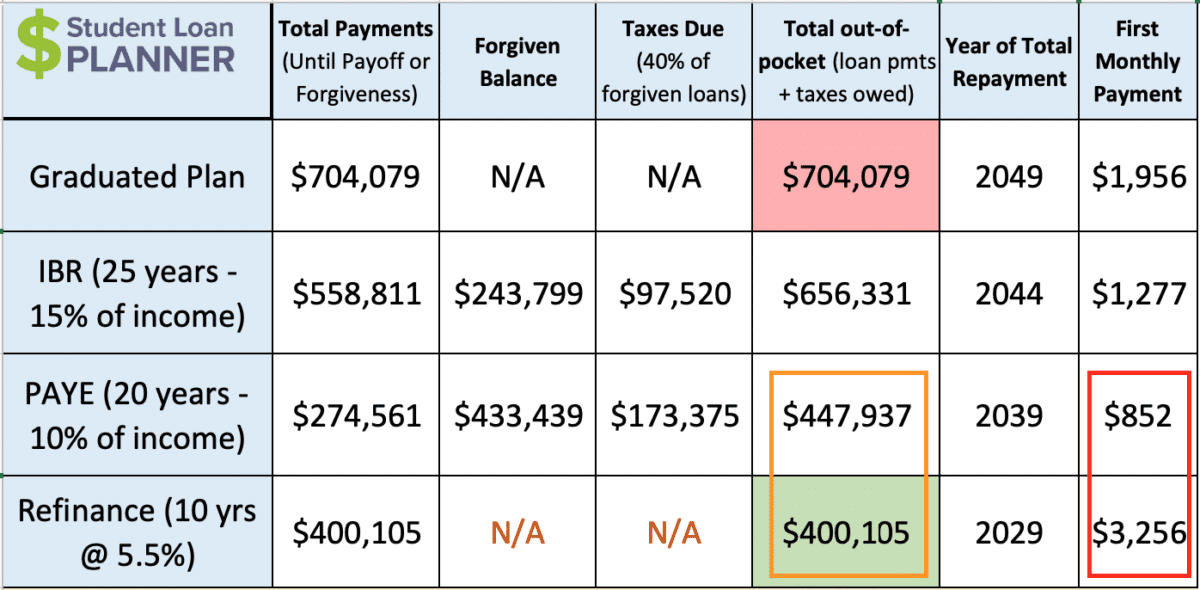 I threw in the graduated plan just for fun on the top row. You can see that it's by far the worst option and would cost him $700,000 to pay back the loans over 30 years. It's a clear case that Andrew needs to switch to a different plan.
Pay As You Earn (PAYE) and refinancing look like the two most compelling options. Here are the pros and cons for each:
PAYE
Pro: Affordable monthly payments based on his discretionary income and family size, which will allow Andrew to save, invest and put money toward other financial goals.
Pro: He has 20 years to save up for the $173,375 taxes owed.
Con: His loan balance will grow from $300,000 to $433,000.
Con: It will take him 10 years longer compared to refinancing.
Student loan refinancing
Pro: Andrew will be out of debt in 10 years or less, and he can take advantage of lower interest rate loans and cash-back bonuses through partner lenders like Earnest and Laurel Road.
Pro: Total out-of-pocket cost is about $48,000 lower than PAYE.
Con: Once he refinances with a private lender, federal loan program benefits, such as income-driven repayment plans, are gone for good.
Con: He'll be stuck with $3,256 monthly payments for 10 years with little-to-no flexibility.
Why PAYE is the best option
On the surface, it appears Andrew has a decision to make. But in reality, PAYE is the clear winner.
Here's why:
Andrew's payments will be much lower than refinancing, which will free up about $2,400 per month. If he saves and invests that money for future financial goals, he'll end up well-ahead with his wealth.
The cost of living in New York is much higher than rural North Dakota, so that $120,000 salary won't stretch as far to make $3,200 monthly payments on a refinanced loan.
Paying back his loan will feel much more manageable than supporting $3,000 per month student loan payments over the next 10 years. If he gets married and has kids, he'll have more wiggle room in his budget as well as flexible payment options.
PAYE would provide more payment flexibility and lower payments compared to refinancing, so Andrew could save and invest for his other financial goals. The downside is that he'd have to get comfortable with the fact that his loans will grow. This is usually tough for people to wrap their heads around. But despite this, if Andrew went with PAYE, he could end up with a higher net worth than he would by attacking the loans.
That's why saving alongside PAYE is so important. If he can save $2,000 per month for 20 years and earn 7%, he'd have over $1,000,000 in assets with $433,000 in loans that will be forgiven. After paying the $173,375 tax bomb, he'll still have a net worth of about $827,000. That's pretty awesome — and makes letting the loans grow financially worth it.
Student loan repayment for practice-owning dentists
Now let's say Amanda has $300,000 in federal loans at 6.8% interest. She's been a dentist for five years and has owned her practice for two years.
Right now, she's making $250,000 with an annual projected business growth of 3% going forward.

My, how owning the practice changes things compared to Andrew's scenario. Refinancing is the clear winner here.
First of all, her payments would be so high on PAYE that she'd actually end up paying off her loans in full before reaching the 20-year payment mark. She'd pay off the loans in 18 to 19 years. That would be a very inefficient way to pay back 6.8% loans — she'd pay a ton more in interest than she would if she refinanced.
This is a completely reasonable strategy for Amanda. She's taking home about $14,000 per month and can easily afford the 10-year refinance payment of $3,256 — and still have $10,000 left over to live, save and invest for the future. In fact, if she puts $6,000 toward her loans, she'd be debt-free in less than five years. Pretty awesome!
As you can see, the difference between being an associate and owning a practice can have a meaningful effect on loan repayment for dentists.
Is becoming a dentist worth the cost?
The purely financial answer is "yes," since the projected lifetime earnings of a dentist versus the average college grad is $2,160,000 after taxes, with a $400,000 to $450,000 cost of paying back student loans.
The reality is that most dentists in major cities have to deal with student loans for 20 to 25 years. They won't necessarily be able to celebrate and enjoy that higher income until their loans are forgiven and they pay the tax bomb.
Making student loan payments will be a way of life during that time, but if dentists can keep that long-term perspective, they'll still have a nice, long career with great earnings after becoming student debt-free.
However, dentistry can be even more financially rewarding if a dentist lives in a more rural area and owns a practice. I'm not saying dentists should move to the middle of nowhere. They can live within an hour or two of a major metropolitan area or outside of the top 10 most populated cities and get that above-average dentist salary.
Dentists need a plan for student loan repayment
Dentists can find a clear path to pay back their federal or private student loans. A path that could not only save them significant money — but help them understand the action steps to get it done.
Student Loan Planner® has done thousands of student loan consults for clients in high-debt professions. We can help you figure out the optimal path in just one hour.