What you need to know:
Credible is an online platform designed to compare personalized prequalified rates and terms for student loans and other financial products.
Getting personalized prequalified rates from multiple lenders requires only one form, but you may be missing out on better offers from bigger lenders.
Credible doesn't service loans themselves. Instead, they serve as a middleman to quickly connect borrowers with personalized prequalified options from partner lenders.
Credible is an online marketplace that connects borrowers with actual prequalified rates from its partner lenders. It can help you locate refinancing options, as well as search for private student loans, personal loans and mortgages, all on the same user-friendly platform.
Credible functions as a one-stop-shop for student loan refinancing, but there are some exceptions to keep in mind. Here's our credible student loan refinance review to help you in your refinancing journey.
Credible student loan refinance review

*Disclosures
$1,250 BONUS* $350 for 50k to 100k*
Credible doesn't underwrite loans directly. Instead, it functions as a marketplace to help you compare instant prequalified rates and repayment options from multiple private lenders, all within a few minutes.
You can expect to find big lender names like Citizens Bank, College Ave and ELFI. But you'll also find tons of smaller lenders to choose from. Credible's partner lender offers include:
Rates: Fixed and variable rate loans
Terms: 5, 7, 8, 10, 12, 15 and 20 years
Loan amounts: $5,000 to $500,000
Credible student loan refinancing rates and repayment terms vary by lender. As an added bonus, if you apply for refinancing through our Credible bonus link, you can receive a cash-back bonus of up to $1,250. That's if you refinance more than $100,000 (and $500 of that comes directly from Student Loan Planner®). If you refinance less than that through them, you'll get a $350 Credible bonus. All bonus payments are by gift card. See terms.
That's better than any of the $500 to $1,000 Credible bonuses we've ever seen in the history of the company.
Disclosure: Prequalified rates are based on the information you provide and a soft credit inquiry. Receiving prequalified rates does not guarantee that the Lender will extend you an offer of credit. You are not yet approved for a loan or a specific rate. All credit decisions, including loan approval, if any, are determined by Lenders, in their sole discretion. Rates and terms are subject to change without notice. Rates from Lenders may differ from prequalified rates due to factors which may include, but are not limited to: (i) changes in your personal credit circumstances; (ii) additional information in your hard credit pull and/or additional information you provide (or are unable to provide) to the Lender during the underwriting process; and/or (iii) changes in APRs (e.g., an increase in the rate index between the time of prequalification and the time of application or loan closing. (Or, if the loan option is a variable rate loan, then the interest rate index used to set the APR is subject to increases or decreases at any time). Lenders reserve the right to change or withdraw the prequalified rates at any time.
Pros and cons of refinancing with Credible
Here's a rundown of the pros and cons of refinancing your student loans with Credible.
Pros
User-friendly website and simple application. Smaller lenders tend to have pretty lousy websites and tedious application processes. Credible solves this problem with its easy-to-use website and application form.
Quickly compare rates from multiple lenders. You'll only need to submit one form to receive multiple offers from lenders within just two to three minutes.
No fees to browse lenders. Credible is free to use. Their partner lenders don't charge prepayment penalties, loan application fees or origination fees.
Checking rates won't affect your credit score. Credible performs a soft credit check that won't impact your credit score. Keep in mind the lender will do a hard credit check once you've decided to move forward with a specific loan offer.
Cons
No control over rates or loan terms. Credible acts as a middleman service, so it doesn't play a part in setting personalized prequalified rates or making other loan decisions related to your credit profile.
Missing some of the biggest lenders. Credible charges a hefty fee for lenders to be included on its site. You could be missing out on lenders with lower interest rates or benefits simply because they weren't willing to pay to play.
Personalized prequalified rates aren't always accurate. Although prequalified Credible student loan refinance rates usually line up, they aren't guaranteed. Be prepared for slightly different offers after submitting all the necessary information.
Lacks uniform unemployment protection. Ideally, you won't need this protection. However, it's an added benefit that other companies like Laurel Road and LendKey offer.
No federal protections. If you choose to refinance your federal student loans, you'll lose access to federal borrower protections (e.g. deferment and forbearance), flexible repayment plans and student loan forgiveness options.
Eligibility requirements
There are many factors that go into qualifying for student loan refinancing, including your credit history, the school and degree you graduated with, and the size of your new loan. Credible states that excessive debt-to-income ratio (DTI) is the most common reason borrowers are turned down.
If you're worried about qualifying on your own, the Credible refinance platform allows you to check personalized prequalified rates with different cosigners to find the best one. Many of their partner lenders also offer a cosigner release, after a minimum amount of on-time payments have been made.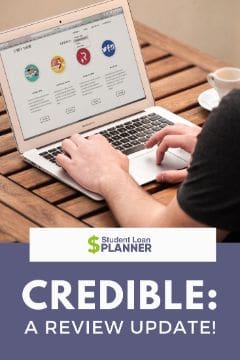 Application process
Credible makes shopping around for personalized prequalified rates fast and easy. There's only one form to fill out, and you get instant prequalified rates from up to eight lenders in a couple of minutes.
You'll need to provide some basic personal information, including your full name, birth date, address and citizenship status. Credible uses details related to your education, income and monthly housing payment, as well.
Because Credible's platform is integrated with its partner lenders, your information won't be shared until you've chosen a loan and lender that meets your needs.
Should you refinance with Credible?
We recently surveyed over 1,600 borrowers to gain better insight on experiences refinancing student loans through Credible and other lenders.
Overall, Credible has a positive brand image and user experience from borrowers shopping around. However, survey respondents who recently refinanced with Credible had several notable complaints:
The biggest frustration was that Credible isn't the direct lender. Because it's a platform-based lender, borrowers don't deal directly with the people who make the lending decision.
After choosing a lender on Credible, borrowers reported issues with lender applications. Unfortunately, some of Credible's lending partners don't have the best websites and application processes (which is partly why lenders choose to pay a fee to get on Credible's platform).
But many respondents felt that the Credible refinance platform actually put borrowers in the driver's seat. One respondent said:
"For once, I actually felt like financial institutions were competing for my business and I felt like I had control in the situation. I was very impressed with how easy the process was and the outcome."
Refinancing based on income
Credible does a good job finding refinancing options for borrowers who have had a hard time qualifying elsewhere. But it may not be the best place to find great rates if your annual income exceeds $200,000.
Our survey data shows that Credible draws the majority — approximately 85% — of its business from borrowers with annual incomes from $50,000 to $200,000. Whereas, only 4% of borrowers fell into the $200,000+ income level. This data matches up with our experiences here at Student Loan Planner®, as well.
If you have a high income and carry a large debt load, you may still be able to find a good refinancing deal with Credible. However, we always recommend shopping around with at least three lenders before you refinance your current student loans to find the best rate.
Final thoughts
Credible ranked #8 on our site's survey of major refinancing lenders. This low ranking is likely a result of the survey itself, rather than it being a bad lending marketplace. We give Credible a 4.5 out of 5-star rating due to ease of use and borrower experience to find great refinancing options.
Credible provides a platform for multiple lenders to compete for your business. All wrapped up in an easy-to-use website. This competition can drive down your interest rate, which should be your number one goal for refinancing. We still recommend shopping around. But based on our Credible student loan refinance review, you have nothing to lose by checking out Credible.