What you need to know:
LendKey doesn't underwrite loans itself. Instead, it's a platform-based lender that allows borrowers to connect with its network of student loan refinancing lenders.
LendKey prioritizes people over profits by partnering with nonprofit credit unions and banks.
Its platform gives you access to hundreds of smaller lenders you may not have been aware of otherwise.
LendKey connects borrowers to a network of over 13,000 community banks and credit unions to explore financial products like refinancing, private student loans and home improvement loans. Its platform focuses on nonprofit community banks and credit unions that have more than just the bottom line in mind.
Take a look at our LendKey student loan refinance review to gain a better understanding of what to expect when refinancing with LendKey.
LendKey student loan refinancing review
LendKey doesn't do the actual loan underwriting itself. Instead, it's a platform that connects you with lenders and guides you through the student loan refinancing process from beginning to end. LendKey has refinancing options for existing federal and private student loans, including student loans held by Sallie Mae.
Although it can vary by lender, LendKey student loan products can be fixed interest rates or variable rate loans with repayment terms from five to 20 years.
You can also borrow from $5,000 to $300,000 when you refinance. But there are limitations depending on where you live and what degree you hold.
For example, Arizona residents must refinance a minimum of $10,001. The minimum amount for Connecticut residents is $15,0001 and $6,000 for Massachusetts residents.
Additionally, the maximum debt for an undergraduate degree is $125,000 and $175,000 for a graduate degree. Borrowers with select medical degrees can refinance up to the full $300,000 limit.
If you decide to refinance with LendKey, use our LendKey bonus link to receive up to $1,250 as a cash-back bonus.
Pros and cons of refinancing with LendKey
Here's the biggest pros and cons of refinancing with LendKey to consider.
Pros:
Can compare student loan rates from hundreds of local lenders. Compare rates and terms from a network of small private student loan lenders within just a few minutes. They have a quick online application.
Great unemployment protection. LendKey offers up to 18 months of forbearance if you experience financial hardship. This is a rare commodity among private lenders, so it's worth considering if your future job stability is unknown.
Browsing rates won't impact your credit. LendKey performs a soft credit inquiry that won't affect your credit score.
Good customer service. You'll have access to LendKey's customer service reps from the time you start browsing until the final payment on your student loans.
Offers some death and disability protection. In every case so far, LendKey's lenders have forgiven student loans when the borrower became disabled or died.
Low fees: None of LendKey's partners charge application fees or origination fees.
Autopay discounts: Many of the community banks and credit unions that LendKey partners with will reduce your interest rate by 0.25% after you sign up for automatic payments.
Cons:
Not available in all states. Borrowers who live in Maine, Nevada, North Dakota, Rhode Island and West Virginia are not eligible.
Maximum loan limits. LendKey has varying loan limits based on degree.
Excludes offers from other banks and online lenders. You'll have access to many offers, but you may miss out on lower interest rates if they aren't a partner lender. For example, you won't see interest rates from SoFi, Earnest or Citizens Bank.
May have to join a credit union. You may have to open a checking or savings account with the credit union that provides your loan.
Eligibility requirements
LendKey requires borrowers to be a U.S. citizen or permanent resident and to have completed an associate degree program or higher from a Title IV eligible school in order to qualify for student loan refinancing. Other LendKey refinancing requirements include:
An annual minimum income of $24,000.
A credit score of 660 or higher.
Existing student loan debt between $5,000 and $300,000, depending on your program and state residency.
Monthly debt payments that don't exceed 33% of your monthly income.
If you don't qualify for LendKey's partner offers on your own, you can improve your chances of getting approved with a cosigner who has a positive credit history. Their partner lenders offer cosigner releases after 12 to 48 months of consecutive, on-time payments depending on the individual loan terms.
Keep in mind that these are only the requirements for refinance loans. There will be other eligibility criteria you'll need to meet if you want to take out a LendKey private student loan. For example, you won't be able to borrow more than your school's stated cost of attendance minus any financial you received.
Learn more about LendKey private student loans.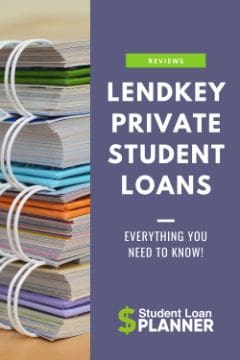 Application process
You can get preliminary loan offers by filling out a quick, simple application. You'll need to provide information related to your income, loan amount, and the school you attended. The minimum loan amount is $5,000. Here are the maximum borrowing amounts:
Undergraduate degree holders: $125,000
Graduate degree holders: $175,000
Medical degree holders: $300,000
Unlike with a hard credit inquiry, LendKey's soft credit check won't impact your credit score. Within just a few minutes, you'll be able to view interest rates and loan terms on student loans from lenders that match your location and characteristics.
Should you refinance student loans with LendKey?
We surveyed over 1,600 borrowers to better understand their student loan refinancing experiences with LendKey and other major lenders. Overall, borrowers were satisfied with their interactions with LendKey.
One respondent said:
"LendKey has great customer service and was a pretty great deal for me considering I don't have a very high income and was applying without a cosigner."
But we did get some complaints worth noting. Some of LendKey's partner credit unions and community banks require membership as a condition of loan approval. That means may be required to open an account or join an association.
Although the process was wrapped into the same refinancing application process, some borrowers still felt it was burdensome. This reinforces the need to review the fine print of loan disclosures before submitting a final application for student loans.
Finally, it's important to note that all student loan refinancing loans are private student loans. That means borrowers with federal student loans will lose eligibility for a variety of government benefits after refinancing.
Losing those benefits may be worth it if you're able to lower your interest rates or change your repayment terms. But if you're currently taking advantage of an Income-Driven Repayment (IDR) plan or are pursuing a federal forgiveness program, student loan refinancing might not be a good fit.
Refinancing by annual earnings
Our survey showed that LendKey's bread and butter of refinancing are borrowers who make an annual income of up to $100,000. Our data also showed that only 3% of LendKey's business is with borrowers who earn more than $200,000.
So, what does this tell us? Considering 80% of our survey respondents applied to three lenders or less, you can save time by focusing your energy on a lender like Laurel Road or Earnest if you make more than $200K.
It also means borrowers who have lower incomes and don't hold professional or graduate degrees — which typically translates to less debt — have a good shot at getting lower interest rates from LendKey.
Final thoughts on LendKey
LendKey ranked #7 in our survey among major lenders listed on our site. But it ranked in the top four in terms of their customer service and website.
This lower-than-expected ranking may be attributed to their inconsistent interest rates. Because they're a platform-based lender, interest rates are solely dependent on the bank or credit union you work with. So if LendKey's partner private student loan lenders are doing really well, LendKey will offer great rates. But if they aren't doing well, it'll be directly reflected in less attractive rates.
We give LendKey a 4.5 out of 5-star rating due to its network of credit unions and community banks and its strong unemployment, disability and death protections. We also like that none of its partners charge origination fees.
If you have a good credit score and owe five figures worth of debt or fall into a lower minimum income bracket, we recommend checking out LendKey's offers. If you want to compare LendKey's rates and terms, check out our list of best student loan refinancing lenders.
Clint Proctor contributed to this article.