As a grad student, finding enough funding can impact your present and future. A Graduate PLUS loan is an option that can help you afford tuition and fees for your education and get through the academic year.
Grad PLUS Loans are offered by the U.S. Department of Education for graduate and professional students. They are also known as Direct PLUS Loans as they're part of the federal Direct loan program. Since Grad PLUS loans are federal, they qualify for benefits such as loan forgiveness and income-based repayment. They also have fixed interest rates and flexible Grad PLUS loan limits.
But when taking out any student loan, you'll want to fully understand what you're getting yourself into. Below is everything you need to know about Grad PLUS Loans.
What are Grad PLUS Loans?
Grad PLUS loans are one of three main options for graduate student loans. The other two options are Federal Direct Unsubsidized loans and private student loans.
Because Grad PLUS Loans are Direct PLUS Loans, they are still considered federal student loans; however, you must complete a separate application for them. The Grad PLUS Loan has a fixed interest rate throughout the life of the loan, a perk of interest rates on federal student loans.
PLUS Loan limits are also flexible, which allow you to pay for your entire cost of attendance if you're eligible.
How are Grad PLUS Loans different from other student loans?
Graduate PLUS Loans operate a little bit differently than other federal student loans and private student loans.
1. Grad PLUS Loans require an application. In addition to filing a Free Application for Federal Student Aid (FAFSA), you'll be required to fill out another application to receive Grad PLUS Loans.
Most schools require you to apply for a Grad PLUS Loan online at StudentLoans.gov, though a few schools have their own applications.
2. Grad PLUS Loans are based on a credit check. Unlike the subsidized loans that are available for undergraduate degrees, Grad PLUS Loans aren't based on financial need. Instead, they require a credit check and a good credit history.
This is why you must fill out an application. If you have an adverse credit history, you'll have to jump through a few more hoops to see if you're eligible for a Grad PLUS Loan.
3. Grad PLUS Loans carry a higher interest rate than other federal student loans. For the 2021-2022 academic year, the Grad PLUS loan has a fixed interest rate of 4.228%. PLUS Loans are typically taken out after unsubsidized loans due to the high interest rate.
When comparing Grad PLUS Loans to private student loans, you can often get a better interest rate if you have a good credit score. The trade-off is giving up the flexible repayment plans offered for federal student loans. Which can give you options for lower monthly payments.
4. Grad PLUS Loans have flexible repayment plans. A Grad PLUS Loan is eligible for all of the income-based repayment plans. In addition to this, PLUS Loan payments are deferred when you're enrolled in an accredited school at least half-time.
** Rates as of October 23, 2021
What are the eligibility requirements for a Grad PLUS Loan?
Grad PLUS Loans are available to student loan borrowers who meet the following eligibility requirements:
Professional or graduate students enrolled at least half-time in an eligible school program
Must be in a program that leads to a professional degree or certificate
No adverse credit history
Meet basic eligibility requirements to receive financial aid
If you have poor credit, it's not necessarily impossible to get a Grad PLUS Loan.
What if you have poor credit?
If "adverse credit history" sticks out on this list, you may be wondering what exactly this entails. Examples of adverse credit history include:
Default
Foreclosure
Tax lien
Outstanding balances
Delinquencies of 90 days or more
Bankruptcies
You can still be eligible for a Grad PLUS Loan if you get a cosigner or provide documentation to the Department of Education that shows extenuating circumstances regarding your credit history.
In either case, you'll be required to complete credit counseling, which is provided at StudentLoans.gov.
How much can be borrowed through Grad PLUS Loans?
The amount you can borrow with Grad PLUS Loans is the cost of attendance minus any other financial aid you receive. The cost of attendance is determined by the school but can include:
Tuition
Housing
Books
Supplies
Transportation
Miscellaneous personal expenses may also be included in the total cost of attendance.
There's no Grad PLUS Loan limit or maximum amount to how much you can borrow — only the formula mentioned above. This means you could fund your entire program with a Grad PLUS Loan if needed.
How do you apply for a Grad PLUS Loan?
The Grad PLUS Loan application process takes about 20 minutes to complete.
It doesn't include the FAFSA, which must be filled out prior to applying for a Grad PLUS Loan. Before you begin the application, you'll need:
Verified Federal Student Aid (FSA) ID (this replaces your Social Security number on the application)
School name
Personal information, including your email, address and phone number
Employer's information, including company name, address and phone number
Lastly, if you're requesting a specific amount, figure that number out beforehand. You can also check a box that says "I want to borrow the maximum Direct PLUS Loan amount for which I am eligible, as determined by the school," if you need full funding minus the aid you received.
Below are the steps to take when filling out a Grad PLUS Loan application.
Step 1: Go to the Direct PLUS Loan Application page
Select the type of PLUS Loan application you'd like to complete. Log in with your FSA ID.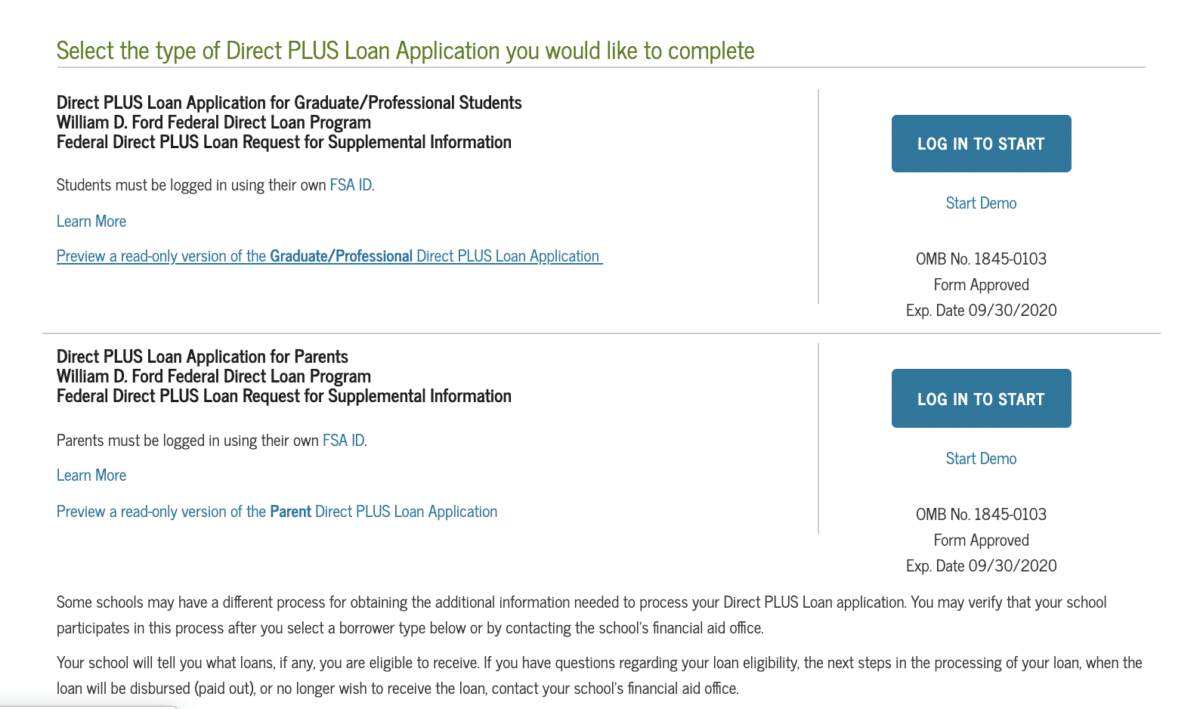 Step 2: Input your loan information
This will include the award year, authorization for the school to use funds to satisfy other charges, and school and loan information.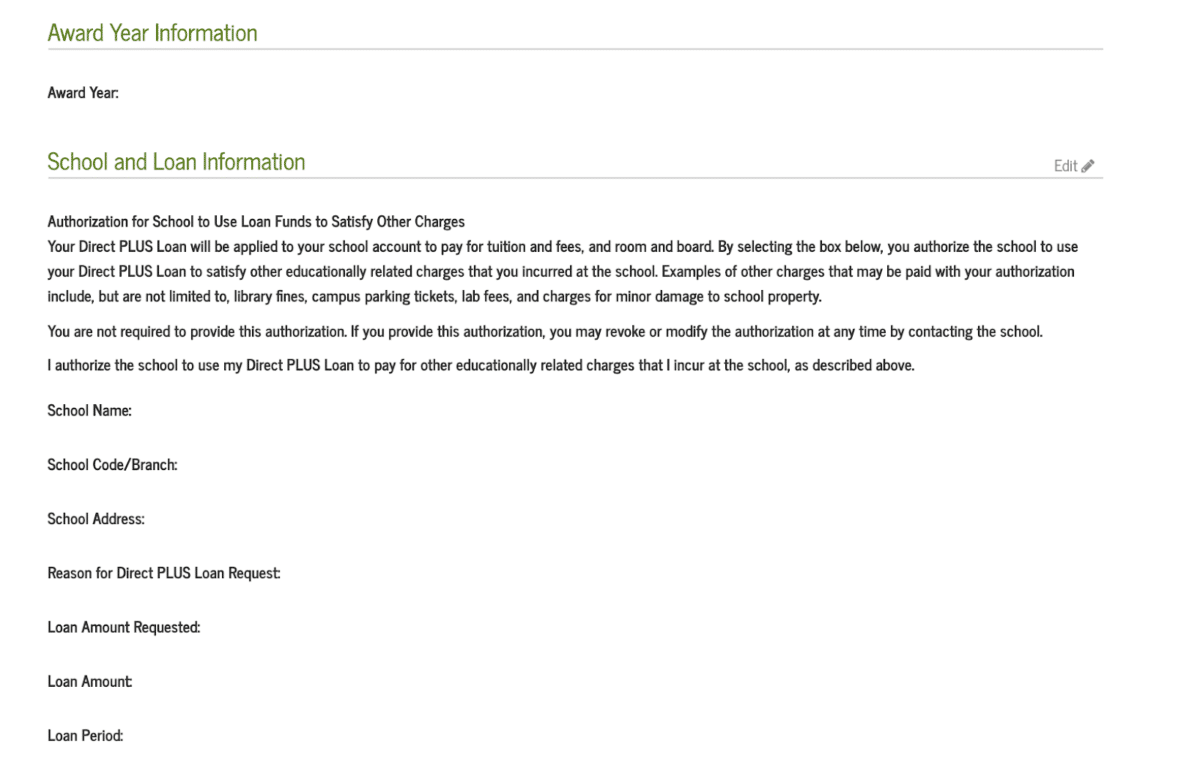 Step 3: Input your own personal information
This will include your address, email, phone number and your employer's information.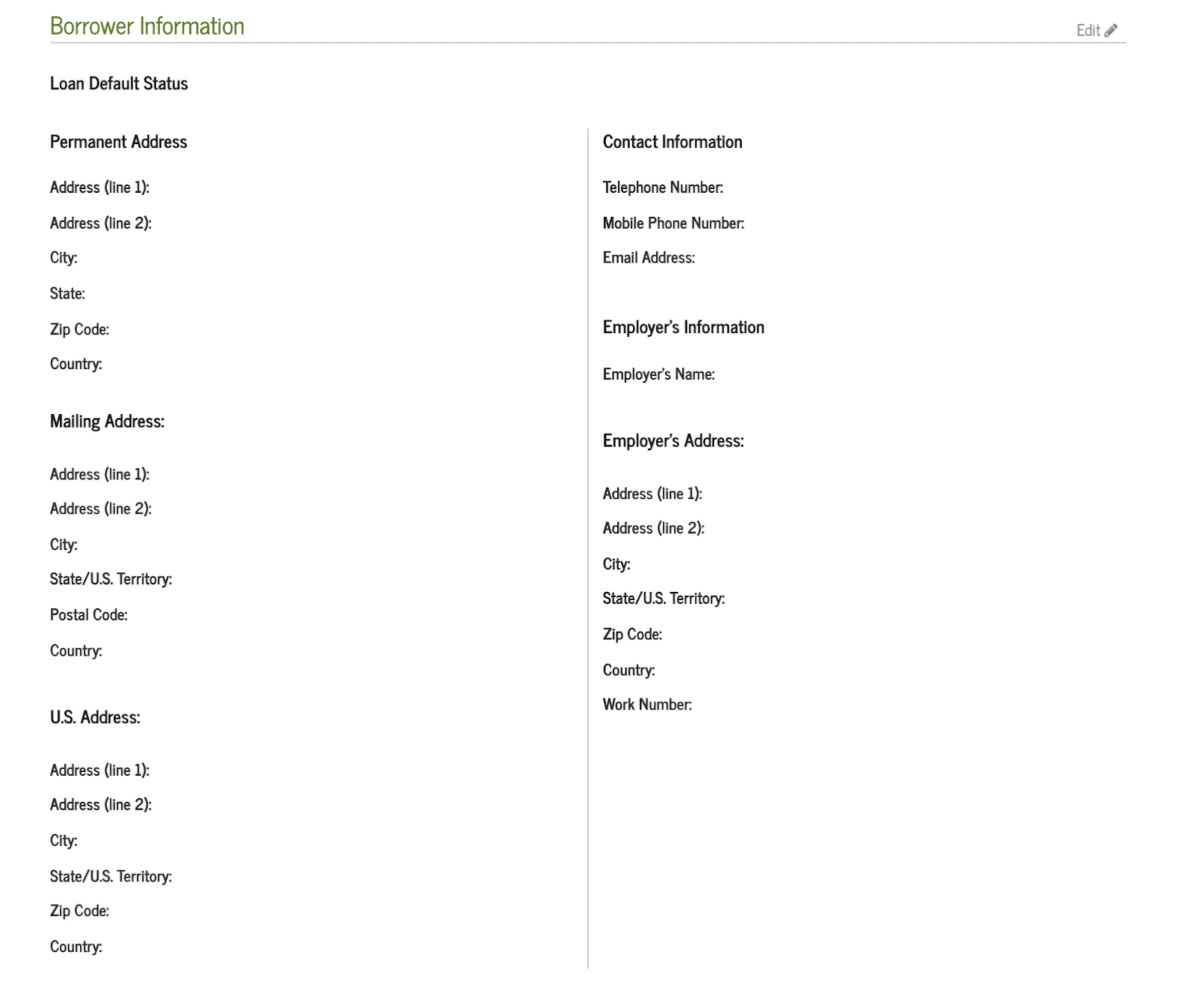 Step 4: Review all information
Verify that everything is correct, especially the contact information.

Step 5: Authorize a credit check
You'll need to allow the U.S. Department of Education to run a credit check. Be sure you don't have a freeze on your credit report before you click this approval.


Once you submit your application, you'll receive a notification if your credit check was accepted or declined. You should remain on the application page for this notification.
Step 6: Complete a Master Promissory Note
If your credit check was accepted, you'll be asked to sign a Master Promissory Note (MPN). Your school will be notified within 24 hours of your application and will contact you about your loans.
Even with your credit approved, the school will still check your eligibility requirements prior to awarding your Grad PLUS Loan.
If you have questions about this, contact your school's financial aid office.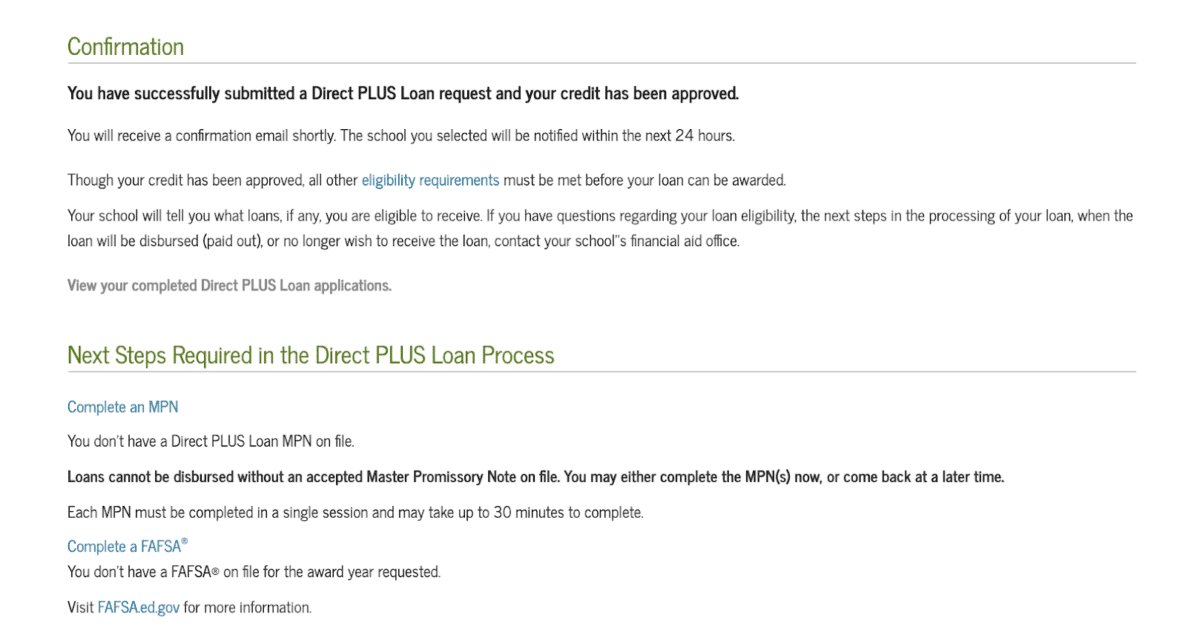 If your credit check was declined, you'll need to decide how you want to proceed with the application. You can obtain an endorser, explain the circumstances, decide not to pursue a Grad PLUS Loan or remain undecided.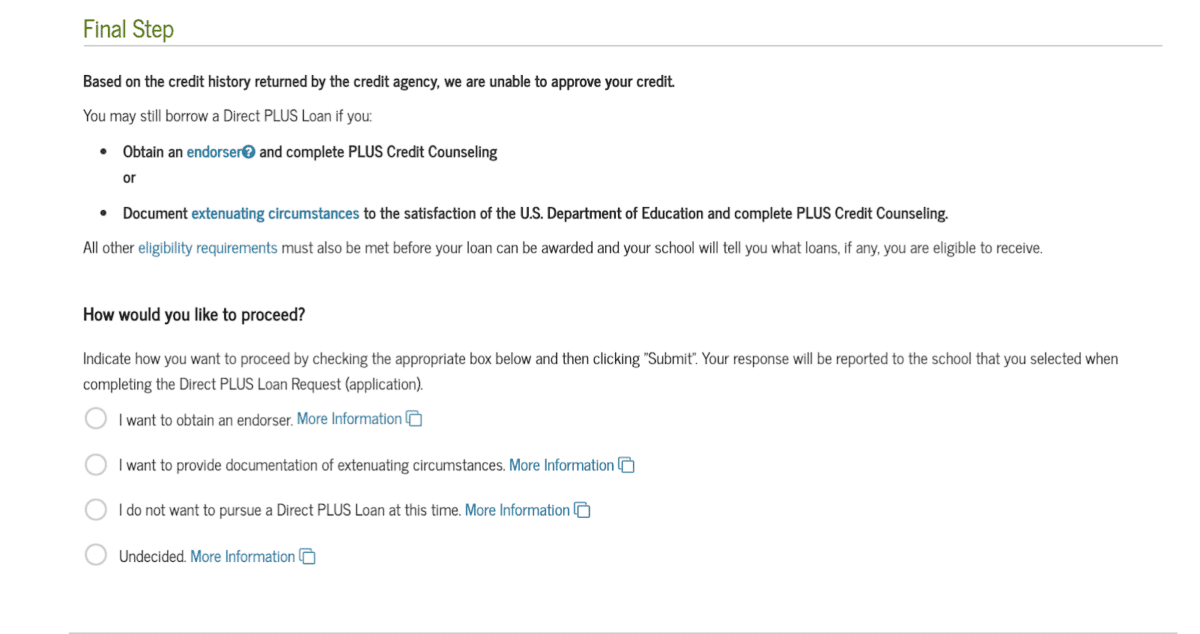 There's a possibility when you submit your application that you'll receive a "pending" notification instead of being immediately accepted or declined.
If this happens, it's because the Department of Education's program couldn't verify your identity or your employer's information. You'll need to contact the Student Loan Support Center if this occurs.
After you apply for and receive your Grad PLUS Loan, you should start examining the repayment plan options in detail.
What loan repayment programs are available?
Repayment starts immediately after graduating. Once you enter repayment, any unpaid interest capitalizes. This means it's added to the total principal balance of the loan.
Ideally, you can avoid your interest capitalizing by paying it off while in school. If you feel like you need to defer your payments after graduating, reach out to your servicer immediately about deferment and forbearance options.
Unlike Parent PLUS Loans, Grad PLUS Loans have a variety of repayment plans available. You can choose between the following repayment plans based on your needs:
All of these payment plans are designed to work with your current financial needs so you can afford your loan payment. If you know how much you aim to borrow, check out the Student Loan Planner® calculator to plan for your future repayment.
What other options are available for grad students?
Graduate students have more options than just the Grad PLUS Loan. The three main choices for graduate student loans include:
Direct Unsubsidized student loans available through the Department of Education. You can get these loans by filing the FAFSA.
Grad PLUS Loans, also available through the Department of Education. You must complete a separate application and meet eligibility requirements.
Private student loans are available through various lenders. You'll want to shop around for these student loans and compare interest rates, loan terms and company ratings. Be sure to review our private student loan guide if you're going to start this search.
Before diving into student loans to pay for graduate school, look into scholarships and fellowships. You should also look into state-specific student loan repayment programs when searching for aid.
There are many forms of funding out there that don't require you to pay them back. These should always be the first options before student loans.
Be sure to plan ahead
As you develop a plan to pay for graduate school, it can be helpful to look into the future. Look at your expected salary and the amount of student loan debt you're going to take on.
Consider a pre-debt consultation if you want more guidance before taking on graduate school financing.

Competitive
interest rates
Check eligibility
in 2 minutes

Large autopay
discounts

Flexible repayment options
1Sallie Mae disclosures. Lowest APRs shown for Sallie Mae Loans: The borrower or cosigner must enroll in auto debit through Sallie Mae to receive a 0.25 percentage point interest rate reduction benefit. This benefit applies only during active repayment for as long as the Current Amount Due or Designated Amount is successfully withdrawn from the authorized bank account each month. It may be suspended during forbearance or deferment, if available for the loan.
2Earnest: All rates listed above represent APR range. Rate range above includes optional 0.25% Auto Pay discount. Earnest disclosures.