Editor's note: As a result of the Texas ruling by a federal judge that declared Biden's student loan forgiveness illegal, the Department of Education has shut down the application. Millions of borrowers are left in limbo.
Debt relief is on the way for some federal student loan borrowers, thanks to President Biden's loan cancellation plans. In a late-August 2022 White House announcement, Biden made good on part of his campaign promise and unveiled a loan cancellation plan that covers $10,000 to $20,000 of federal loans per borrower.
Since his announcement, however, many borrowers have wondered about the next steps. Here's a breakdown of how to apply for Biden student loan forgiveness and what you should know.
How to apply for Biden student loan forgiveness
Biden's student loan forgiveness plan grants up to $10,000 in debt forgiveness to federal loan borrowers and up to $20,000 for borrowers who received Pell Grants. Whether a borrower receives the total amount depends on their current loan balances and eligibility.
Step 1: Review eligibility requirements to see if you qualify
The new plan from the Biden administration will help many borrowers, but not everyone will qualify. You must meet the following criteria:
Had a previous loan balance for federal loans as of June 30, 2022.
Earn less than $125,000 in either 2020 or 2021 as an individual taxpayer or married couple, filing separately.
Earn less than $250,000 in either 2020 or 2021 as head of household or for married couples filing jointly.
You can check your tax returns and check your Adjusted Gross Income (AGI) to see if you meet the income requirements. You must also have eligible federal student loans that come from the federal government:
Direct Loans

.

This includes subsidized loans, unsubsidized loans, PLUS loans, and consolidation loans.

Federal Family Education Loans

(

FFEL

).

FFELs held by the Department of Education (including FFEL loans in default at a guaranty agency).

Perkins Loans

.

Must be held by the Department of Education.

Loans in default.

This includes most loans held by the Department of Education or serviced by a commercial entity. Perkins Loans must be held by the Department of Education.

Some

Consoli

dation Loans

.

Consolidated loans must be held by the Department of Education and have been consolidated on June 30, 2022 or earlier. FFEL or Perkins Loans not held by the Department of Education are only eligible if they were consolidated before September 29, 2022.
Based on these requirements, the following groups don't qualify for student loan debt relief:
Private student loan borrowers (including refinanced loans).
Federal loan borrowers who earn more than the stated income cap.
FFEL and Perkins Loans borrowers not held by the Education Department and not consolidated by September 29, 2022.
Figuring out your student loan type
If you're unclear about the type of loans you have, go to StudentAid.gov and log in using your FSA ID. If you don't currently have an FSA ID or account, you can create one on the site as well.
Once you're logged in, go to the "My Aid" section of your account and review the "Loan Breakdown" section.
Checking the "View Loan Details" will provide more information on the type of loans you have. Generally, the type of loan is clear as it's the first word in the type of loan, such as "Direct" or "Perkins."
Step 2: Sign up for U.S. Department of Education updates
The application for Biden loan forgiveness is scheduled to be available in early October.
Although there's no exact date announced, the online application should be available very soon.
While everyone waits for the arrival of the application, you can sign up for updates directly from the U.S. Department of Education, so you're notified when the application is available.
Start by going to the U.S Department of Education subscription page: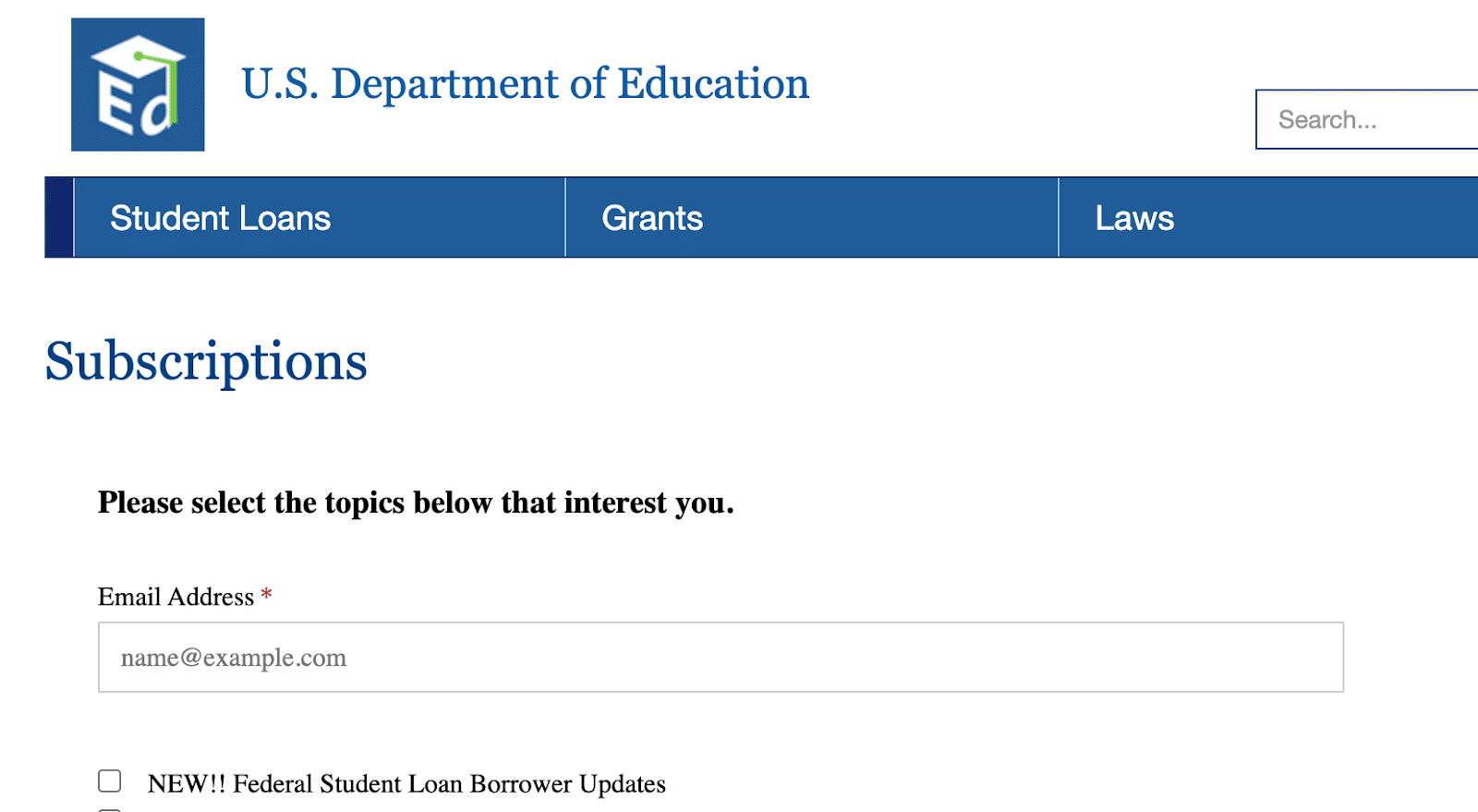 Enter your email address and check the federal student loan borrower updates box. Check the box that you consent to their privacy policy and click "Next" to be subscribed.

That ensures that you get the announcement about the application so you can get started and figure out how to apply for Biden forgiveness.
Step 3: Review information
The U.S. The Department of Education has made it very clear that this is a "one-time opportunity." Borrowers who meet the eligibility requirements should be proactive by taking the steps below.
Create an FSA ID. If you don't have one already, create an FSA ID using your Social Security Number (SSN), cell phone and email information. This helps you log into your StudentAid.gov account. While it won't be needed as part of the Biden loan forgiveness, having an FSA ID can help you review your information and make any corrections if needed.
Verify that your FSA account has your current contact information.

If you already have an FSA account, log into StudentAid.gov and review your contact information and make any updates, as necessary. You can also sign up for text alerts and receive emails about updates and announcements during this step.

Verify that your servicer has your current contact information.

Log into your loan servicer's online account and ensure your contact information is accurate.
Step 4: Submit a loan cancellation application
Since the loan cancellation application isn't available just yet, the best step to take is to position yourself to take action quickly when the online form goes live. The application deadline is December 31, 2023.
According to Federal Student Aid, the application will be short and easy to fill out and won't require borrowers to have an FSA ID or upload any documents. After submitting the debt relief application, you'll get a confirmation email. Save it for your records.
Your loan servicer will let you know if your application is approved and when the forgiven amount is applied to your loan balance. It might take up to six weeks for your application to process and to see an updated loan balance.
Secretary of Education Miguel Cardona recommends applying before November 15 to ensure loan cancellation hits before the payment pause ends at the close of the year.
Additionally, borrowers should look into the PSLF waiver, which increases Public Service Loan Forgiveness (PSLF) eligibility and has a deadline of October 31, 2022.
If you have questions about the application and need support, you can get help from StudentAid.gov by calling 1 (833) 932-3439. Note this support line will only be active after the application is live, and you can likely expect long wait times.
NOTE: The majority of federal loan borrowers who are eligible for Biden's loan cancellation will need to formally submit a short application. But the Department of Education notes that 8 million borrowers might receive automatic debt cancellation. These individuals already submitted their income data; for example, to enroll in an income-driven repayment plan.
After receiving Biden's loan cancellation
If you have a small loan balance, your loans might be wiped away entirely. However, there are nuanced scenarios that might apply to you even after your loan forgiveness application is approved and you've received loan relief.
If you still have a remaining federal loan balance:

 You might score a lower monthly payment after the partial loan forgiveness hits. Since your balance will be lower from the loan cancellation, payments will be recalculated as part of the process.

If you made voluntary

student loan payments

during the

pandemic

payment pause

:

The pandemic payment pause ends around August 30, 2023, unless the courts rule on lawsuits sooner than that, but if you've made payments during this time, you might be eligible for a refund.
Related: How to Get a Federal Student Loan Refund Right Now
Be aware that once the loan forgiveness hits, you won't be required to pay federal taxes on the amount. However, depending on your state, you might have to pay state taxes.
The bottom line
Figuring out how to apply for Biden student loan forgiveness has created a lot of excitement and confusion for borrowers with federal student loan debt. Recently, there have been legal challenges as well, which adds to the overall confusion and skepticism.
For now, taking these steps can help you know if you qualify and get one step closer to loan cancellation, and we'll add updates as information becomes available.
Have any student loan questions or assistance with student loan repayment? Book a consultation with Student Loan Planner today.