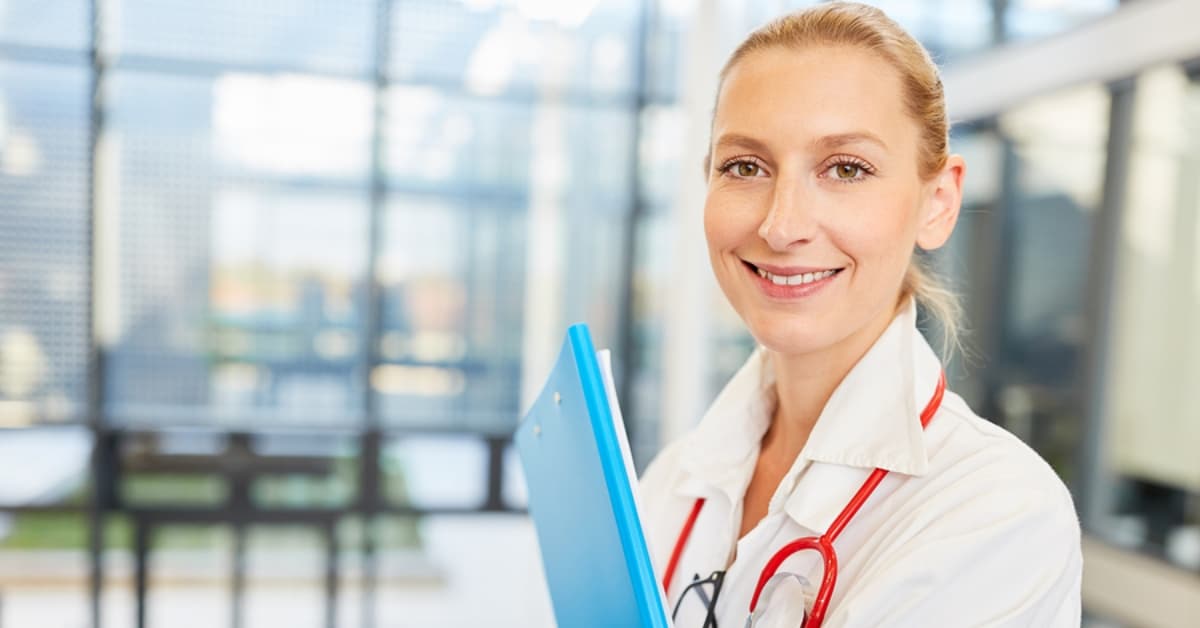 8 Min Read | Updated on November 1, 2021
Becoming a doctor is a dream for many people. As a child, you pretended to be a doctor. Diagnosing and treating the ailments of parent, sibling and stuffed animal patients. When asked what you wanted to be when you grow up, you already know your answer — a doctor.
As you get older, you realize there's a cost to becoming a doctor.
There are sacrifices to be made to achieve this goal. Hard work is needed too. A large part of becoming a doctor is medical school. And there's a considerable cost for education. At some point, everyone who wants to become a doctor is left with one question: is medical school worth it? The cost of medical school can be intimidating, plus the many years of medical school required can be daunting.
Let's examine the costs of attending medical school and other factors to see if med school is worth it.
Medical school costs
Financial costs dictate many people's decisions on whether or not to become a doctor. It's understandable since medical school costs can be considerable.
Here are the average tuition costs for first-year med school students for 2019 to 2020, according to the Association of American Medical Colleges (AAMC).
| | |
| --- | --- |
| | |
| Public, in-state resident | |
| | |
| Private, in-state resident | |
| | |
For someone attending an in-state public university, it's more than possible to end up with over $130,000 in tuition alone to finish four years of med school.
If you plan to attend a private school, tuition costs jump to over $221,000 for four years. And that's not even factoring in tuition inflation each year.
The financial burden for medical school tuition for private medical schools or a public medical school is significant.
Additional costs to consider
When looking at medical school, it's not just the cost of tuition that is intimidating. There are other costs med students need to consider. These costs include:
Housing
Transportation
Health insurance
Interview fees
Application fees
Books/Equipment
Food
Other minimum living expenses
Costs like housing, transportation and living expenses can vary depending on where you attend school, where you live and other factors but will add to the overall cost of attendance.
Factor in health insurance costs
In addition to the expenses above, remember you will also be responsible for health insurance. Here are the average health insurance fees and costs for the 2019 to 2020 school year.
| | | |
| --- | --- | --- |
| | | |
| Public, in-state resident | | |
| | | |
| Private, in-state resident | | |
| | | |
Keep in mind these are just an average cost. Your costs could be significantly higher or lower depending on what medical school you attend.
Medical school cost comparison
To get a better picture of medical school costs, let's compare the current costs of four popular medical schools: Michigan State, Drexel, East Carolina and Baylor.
| | | | |
| --- | --- | --- | --- |
| | | | |
| Michigan State University, Resident | | | |
| Michigan State University, Nonresident | | | |
| Drexel University, Resident | | | |
| Drexel University, Nonresident | | | |
| Florida State University, Resident | | | |
| Florida State University, Nonresident | | | |
| Baylor University, Resident | | | |
| Baylor University, nonresident | | | |
As you can see, costs jump considerably at many schools if you're a nonresident. This is something to keep in mind if you end up deciding to attend medical school, as non-residents pay much more than state residents and may have a higher average medical school debt.
Paying for medical school
We've looked at the considerable costs associated with medical school. It's safe to say most people will end up taking out student loans to cover those costs.
Federal student loans are your best bet to start. But graduate students have an aggregate loan limit for subsidized and unsubsidized loans of $138,500. Undergraduate loans are included in this amount.
This means you'll likely have to take out private loans to pay for the rest of your schooling if you don't have money to pay for it. Don't forget to factor interest costs into any calculations, which can add to your medical school debt.
There are also scholarship opportunities for medical school students, which can cut down your total costs.
Earning potential for doctors
One reason to get into the medical field is the potential to earn a high income.
The Bureau of Labor Statistics (BLS) reported that as of May 2020, the median salary for physicians and surgeons is $208,000. This number combines all of the various types of physicians and surgeons together.
There's also potential to make more (or less) depending on your specialization.
For example, the median salary for anesthesiologists is $271,440 and $184,570 for general pediatricians. Becoming a specialist is one way to increase your future income.
Keep in mind this may also lead to a longer time in school. Also, remember that these numbers are median salaries. Some surgeons make up to $1 million a year.
Looking outside the numbers
Based on the statistics above, pursuing a career as a doctor can be an expensive undertaking, as well as a profitable one. But there are other factors to consider when deciding whether medical school is worth it.
Med school is a big time investment
Medical schools typically offer four-year programs. After that, you'll end up doing your residency, which can last between three and eight years, depending on your specialty.
Combine that with the four years spent in undergrad, and your career in medicine may take between 11 and 16 years to achieve.
Spending close to a decade or more in school can be a tough pill to swallow. Other goals and interests may be delayed while pursuing your career.
The need for doctors is expected to grow
First, the demand for quality medical care continues to grow. Making the job outlook for doctors promising.
The BLS reported that the employment of physicians and surgeons is expected to grow 4% between 2019 and 2029.
Comparing doctors to other high-paying professions
Our research wouldn't be complete without comparing the benefits of becoming a doctor to other high-paying professions.
The median salary for petroleum engineers is $137,330, and for software developers, it's $110,140. Both occupations require much less time for education and training compared to doctors.
Remember, pursuing a career as a doctor isn't the only thing that requires time.
Once you've completed that step, you start to experience daily life as a physician or surgeon. This typically includes long hours and an inflexible schedule.
It's tough to have a healthy work-life balance as a physician.
Is medical school worth it?
The short answer to this question is yes. Medical school is worth it.
Financially, going to medical school and becoming a doctor can be profitable, especially if you're able to save and invest a considerable amount of your income before retirement.
One option that can save money considerably is to work in the public sector and pursue Public Service Loan Forgiveness (PSLF). Doing this can wipe out whatever student loan debt you have after ten years on an income-driven repayment (IDR) plan.
Of course, the school you choose plays a big part in how debt you end up with at the end of your pursuit. Many people opt for prestigious, expensive medical schools. But choosing a more affordable medical school could be your ticket to cutting your debt in half.
There are some situations where medical school isn't worth it, though. Becoming a primary care physician at a private practice in a high-cost city may not have a great return on your investment.
Also, if you're not committed to being a doctor for the rest of your working life, it's not worth it. Medical school has too high of a price, financially and time-wise, for a shortened medical career.
Going to medical school isn't a decision to make lightly. It's also a decision that requires you to be fully committed either way.
Questions to ask before attending medical school
When deciding on medical school, it's good practice to talk through your decision making. Here are some of the questions you should ask yourself before making your decision.
1. Why do you want to become a doctor?
In the end, if you're not passionate about becoming a doctor, there's no sense in committing your academic and work-life to it.
2. What are your financial goals?
Setting financial expectations for your career can help bring clarity to your medical school decision.
3. What are you willing to give up to become a doctor?
Becoming a doctor is a huge time commitment. Both during your education and once you start working in the profession.
Are you alright spending so much time on one pursuit? Are you alright with possibly delaying other life goals? It's better to answer these questions now rather than later.
4. Is there another career path that doesn't require so much time?
Long hours, crazy schedules and stress-filled situations are typical for many doctors. And if you're smart enough to become a doctor, there's a good chance you're smart enough to do well in another career field that pays well but doesn't require extensive schooling or a grueling work schedule.
In the end, you need to determine if medical school is right for you. Once you know the answer, you can start planning for the future.
Need help calculating the ROI of attending medical school?
Student Loan Planner® has created one of the most extensive student loan calculators available. While our website features a condensed version, by downloading the free, full version, you'll get access to tons of extra features you won't find on any other student loan calculator. Such as the net worth calculator.
After plugging in all of the necessary information, you'll be able to see your expected net worth in the future. It's an incredible tool that can make your decision a little easier.
If you haven't started medical school yet and want help determining how much debt you'll end up with, you can schedule a predebt consult with one of our consultants.
If you've finished your education or will be done soon, book a consultation to create a custom game plan for repaying your student loans. It could lead to unbelievable savings of student loan debt.
Refinance student loans, get a bonus in 2023
Lender Name
Lender
Offer
Learn more

$1,000 Bonus

For 100k or more. $200 for 50k to $99,999

Fixed 5.24 - 9.59% APR

Variable 6.24 - 9.99% APR

$1,000 Bonus

For 100k or more. $300 for 50k to $99,999

Fixed 4.96 - 10.24% APPR

Variable 5.72 - 10.24% APR

$1,000 Bonus

For 100k or more. $200 for 50k to $99,999

Fixed 5.19 - 9.74% APR

Variable 5.99 - 9.74% APR