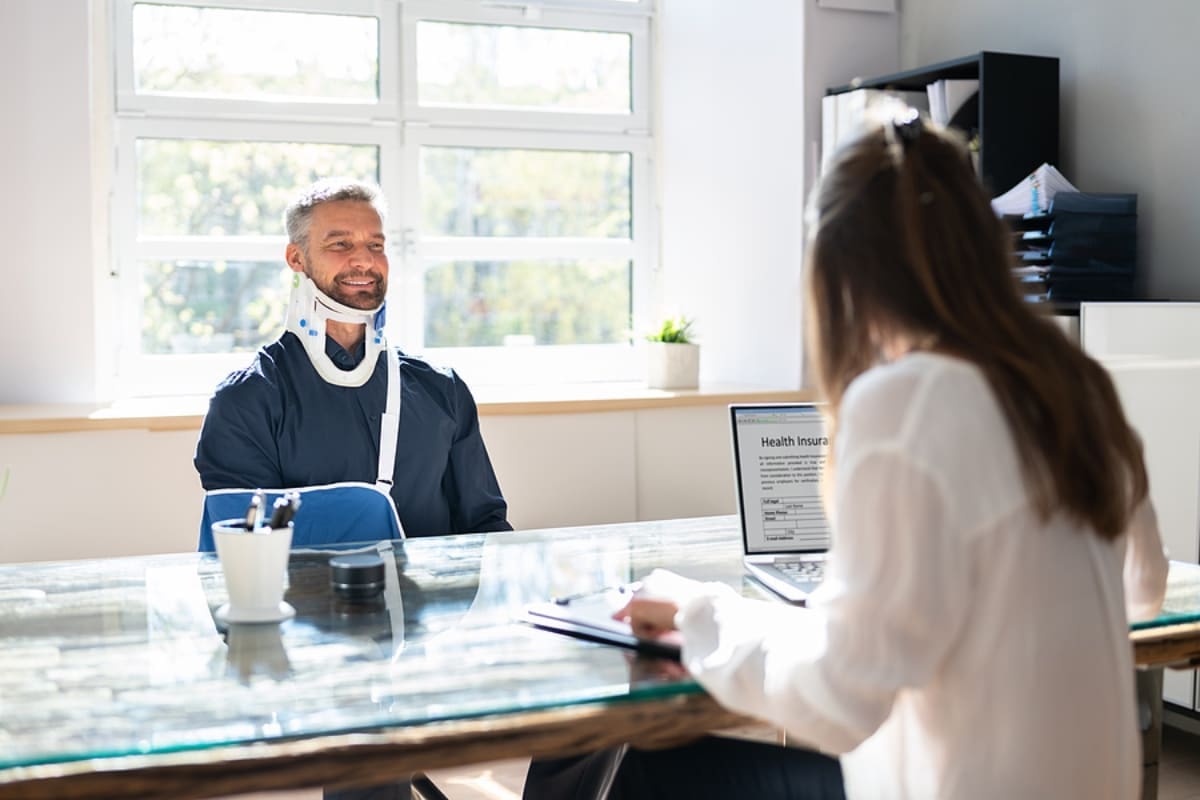 10 Min Read | Updated on October 16, 2023
Disability insurance can replace a portion of your income if you become sick or disabled and are unable to work. It provides financial protection for your most valuable asset: Your ability to work after years and money spent learning your medical or dental specialty.
But it isn't a straight-forward product, like term life insurance. So, it's often misunderstood or overlooked by the people who need it most.
Who needs to buy disability insurance?
If you're in the medical, dental, veterinary, or other professional field that requires a graduate degree to practice — or if you're the primary income earner for your family — then you need disability insurance. If both apply to you, then you really need it.
Use our form below to learn about disability coverage options tailored for your profession and household needs.
Own-Occupation Disability Insurance Quote Form
What is long-term disability insurance?
Long-term disability insurance replaces a percentage of your income if you become disabled and can no longer work. Depending on the policy, disability coverage can be up to 65% of your gross income and continues providing a monthly benefit until you either recover or reach retirement age (or max out your benefit period if it's shorter).
What does disability insurance cover?
Unlike short-term disability that's limited to temporary conditions that resolve within three to 12 months, long-term disability insurance covers injuries and illnesses for an extended period of time.
Some of the most common long-term disability claims include musculoskeletal disorders, cancer, heart attack, stroke, mental health issues, and injuries such as fractures, sprains and strains.
But depending on the disability insurance policy, the definition of disability (meaning what is versus what isn't covered) can vary. For example, disability coverage can cover everything from total to partial disability. In some cases, you might receive disability benefits even if you're able to work in another capacity.
This is why it's so important to understand your existing coverage and supplement any gaps when needed.
What types of long-term disability insurance are there?
There are two main categories of long-term disability insurance: "any-occupation" and "own-occupation".
With any-occupation coverage, you can only collect disability benefits if you can't perform the main duties of any job. Therefore, it's harder to qualify when the time comes to file a disability claim.
Own-occupation coverage creates a stronger definition of disability as you'll receive a payout as long as you can't perform the main duties of your profession (regardless of employer). In which case, you can work in another field or career entirely while still receiving disability benefits.
Own-occupation
Disability insurance policies aren't black and white like term life insurance. The broader the definition of disability, the better coverage you'll receive (and the more expensive the policy will be).
When choosing your level of coverage as a physician with specialized training, consider the following definitions of disability:
Specialty-Specific.

This is a true-occupation policy that allows you to make as much money as you want in another field or profession, while still receiving disability benefits.

Transitional Own-Occupation.

You'll receive an adjusted benefit based on your earnings from your new job while being disabled.

Modified Own-Occupation.

Sometimes called "own-occupation, not engaged" or "own-occupation, not working", this definition only pays if you don't take another job during your qualifying disability.
There are nuances to each type of policy, but having an own-occupation definition provides better income protection than an any-occupation definition. We only recommend purchasing policies that include an own-occupation rider.
Types of disability insurance riders
Disability insurance coverage can be tailored to fit your needs with a variety of policy "riders". These are additional features that might increase your premiums, but in some cases, are needed or preferred based on each individual's situation.
Common disability police riders include:
Non-Cancelable and Guaranteed Renewable Rider
Residual/Partial Disability
Inflation Protection
Catastrophic Disability
Retirement Benefit
For example, let's say you expect your income to increase significantly within a few years (because you're in residency or fellowship). You'll want an additional rider to allow you to do that without going through an additional medical exam.
Disability insurance exclusions and limitations
Generally, disability insurance policies exclude existing medical conditions and might limit coverage if you participate in dangerous activities (e.g. rock climbing, sky-diving, etc.). Other common exclusions include active military duty, normal pregnancy, self-inflicted acts and foreign travel.
Some residency and fellowship programs offer Guaranteed Standard Issue policies where even individuals with pre-existing conditions can get covered. When working with a broker like us, evaluate all of your policy options, not just the ones that result in a commission for a broker.
Fully underwritten policies are usually cheaper. Hence, the best time to apply for disability coverage is when you're young and healthy. You'll also lock in the best rates considering disability insurance gets exponentially more expensive the longer you wait to buy it.
How much coverage does disability insurance provide?
Each disability policy details coverage terms, such as:
Coverage amount.

The amount your policy pays. The maximum benefit varies by insurance provider, but you can expect the option to buy up to 50% to 65% of your income.

Benefit period.

How long you'll receive benefit payments. Depending on policy, you might have options from two years all the way up to retirement age or life.

Waiting period.

Also called the elimination period, this timeframe addresses the difference between when you become disabled and when you start receiving benefits. Most plans have options for 30, 60, 90 and 180 days or more.
These policy decisions impact your premiums. For example, longer benefit periods translate to higher premiums.
How much does disability insurance cost?
Disability insurance premiums are based on a variety of factors including your age, gender, occupation, state of residence, coverage amount, benefit period, health history and additional policy riders.
In general, disability insurance increases with age. Additionally, women often pay more for coverage than men. Depending on where you work, a discount might be available for your hospital or practice.
A good rule of thumb is that disability insurance with important own-occupation protections will cost 1% to 3% of your salary.
Related: Is disability insurance worth it? How to know if the benefits outweigh the costs
Do you need disability coverage as a student loan borrower?
If you have a huge student loan balance, buying disability insurance can make a lot of sense. However, borrowers with federal student loans have different needs than borrowers with private student loans.
If you went to an expensive graduate school to practice your profession, you made a major purchase regardless of whether you have debt.
Think of that degree like a house. You'd want to insure that home in case something happened that impaired its value (unless you were wealthy enough to self-insure).
If you're in a specialized field, your future earnings stream is probably in the millions, which is far more than the price of most houses. You'd want to protect your educational investment with an own-occupation disability policy that covers a portion of your income if you can't perform your job anymore, even if you can work in another field.
If you funded your degree with federal student loans, you don't need extra disability insurance coverage. The government would forgive the loans, tax-free, if you're totally disabled.
If you're not totally disabled, but see a drop in your income, then your income-driven repayment (IDR) payment amount would be reduced. So federal student loan borrowers only need disability insurance that covers their expenses, excluding loans.
However, for private student loans, you need adequate disability insurance coverage that covers your living expenses, plus private student loan payments.
Monthly payments on private student loans happen no matter what. So, you might consider purchasing an optional rider where the insurance company will make your payments for you should you become disabled. Luckily, this rider is usually very inexpensive.
Related: Disability insurance for student loan borrowers
How to shop for disability insurance
You might have access to disability insurance coverage through your employer or a professional organization. If so, compare these policy options against what you can buy through an independent broker.
Note that employer and professional association disability insurance policies often have weak definitions of what a disability is, or come with strict caps on how much monthly benefit the insurance company will pay.
It's generally true that you get what you pay for. A policy that offers better protection costs more than a policy offering less protection.
Most professionals get offers to buy disability coverage from a financial advisor or insurance agent. The problem is the barrier of entry to become an agent is quite low. Agents also sometimes represent only one company and don't make much an effort to disclose that.
We recommend working with an independent agency who specializes in disability insurance and offers quotes from a variety of insurance companies (we do this through SLP Insurance LLC — you can request quotes at the bottom of this page).
This lets you get more coverage for a lower cost. You also want to work with an agency that is willing to send your business to another broker if it meant getting you a better discount. We do this because we make enough money on volume, and because it's the right thing to do.
Here are two scenarios when you could lose a lot of money working with a broker who's desperate to keep your business:
Imagine you have several medical conditions that could impact whether you qualify for coverage at a reasonable price. If your broker doesn't investigate guaranteed policy options first, they could jeopardize your ability to get coverage at all.
Pretend you're a female dentist in residency. Some brokers might have exclusive unisex discounts available. You might pay substantially more if your broker doesn't introduce you to the other agency, even though it means they don't make money.
A good agent knows when to send you to another broker for a better quote such as in these scenarios. If we know about a better deal for the coverage you need, we'll send you there.
Related: Can I Have Two Disability Insurance Policies?
Get disability quotes with SLP Insurance LLC
Through SLP Insurance LLC and our partner insurance agencies, we seek to find you unique discounts for your disability and/or term life insurance needs.
The partner agencies we work with often get access to special discounts (particularly for disability insurance) because of their high-volume relationships with the insurance companies they work with.
In most cases, you'll find discounts and the coverage you need from our quote engine below.
But if we know of a better coverage option or better discount, we aim to send you to another agent if we think they can potentially offer you a better rate or better coverage.
Additionally, we don't submit your inquiry for quotes if we think there's a reason not to. For example, if we need to research whether you're eligible for a guaranteed issue policy through your training program.
Bottom line: We want to get you the best rate and coverage whether it's with one of our partner agencies or another program.
Fill out the form below and we'll reach out with next steps for a customized disability insurance quote.
Own-Occupation Disability Insurance Quote Form
*Note: Insurance services are provided by SLP Insurance LLC, d/b/a SLP Professionals Insurance Agency LLC in NY and CA, and partner agencies.
Disability insurance by occupation
Learn about unique disability insurance needs based on profession:
Frequently Asked Questions for disability insurance
Do I pay taxes on disability insurance benefits?
If you pay the entire cost of your disability insurance premiums, then your disability benefits are 100% tax-free. However, if your employer pays a portion or all of your premiums, then your monthly benefits will be considered taxable income.
Is disability insurance tax-deductible?
Unfortunately, you can't deduct the cost of your disability insurance premiums on your taxes.
What's the difference between GSI, individual and group disability coverage?
Guaranteed Standard Issue (GSI) disability insurance is offered without medical underwriting and made available to major residency or fellowship programs. This type of policy can be especially beneficial if you have an existing medical condition, or if you're a female physician as it typically provides a unisex discount.

Individual disability coverage typically offers better policy definitions and guaranteed rates than group coverage. But it can also come at a cost considering group coverage tends to be less expensive or employer-paid.
Do I need coverage beyond the Social Security Disability Insurance benefit?
The average Social Security Disability Insurance (SSDI) payment is just above the poverty level at $1,233 per month. So, it's nowhere near what a physician would need to maintain their existing lifestyle. Plus, qualifying for federal disability can be more difficult than filing a claim under an individual policy definition.