In college, you're busy. After college, you're equally busy starting a new career. It's easy to forget the details of your student loans, but they shouldn't be ignored. You can find out how much you owe in one place.
The National Student Loan Data System (NSLDS) keeps a record of all the federal student loans you took out while in school. The database breaks down each type of loan and your student loan repayment status (e.g., in repayment, default, forbearance or paid in full).
Colleges and universities across the country have sent in all of your loan information to the NSLDS. Loans are reported within one month of being dispersed. When you log into the NSLDS, you'll be able to see all of your reported loans.
5 steps to log in to the NSLDS
Getting into the NSLDS is fairly painless if you know where to go.
Start by going to the NSLDS home page on your home computer using a secure connection.
Click on "Financial Aid Review" to access the details of all your student loans.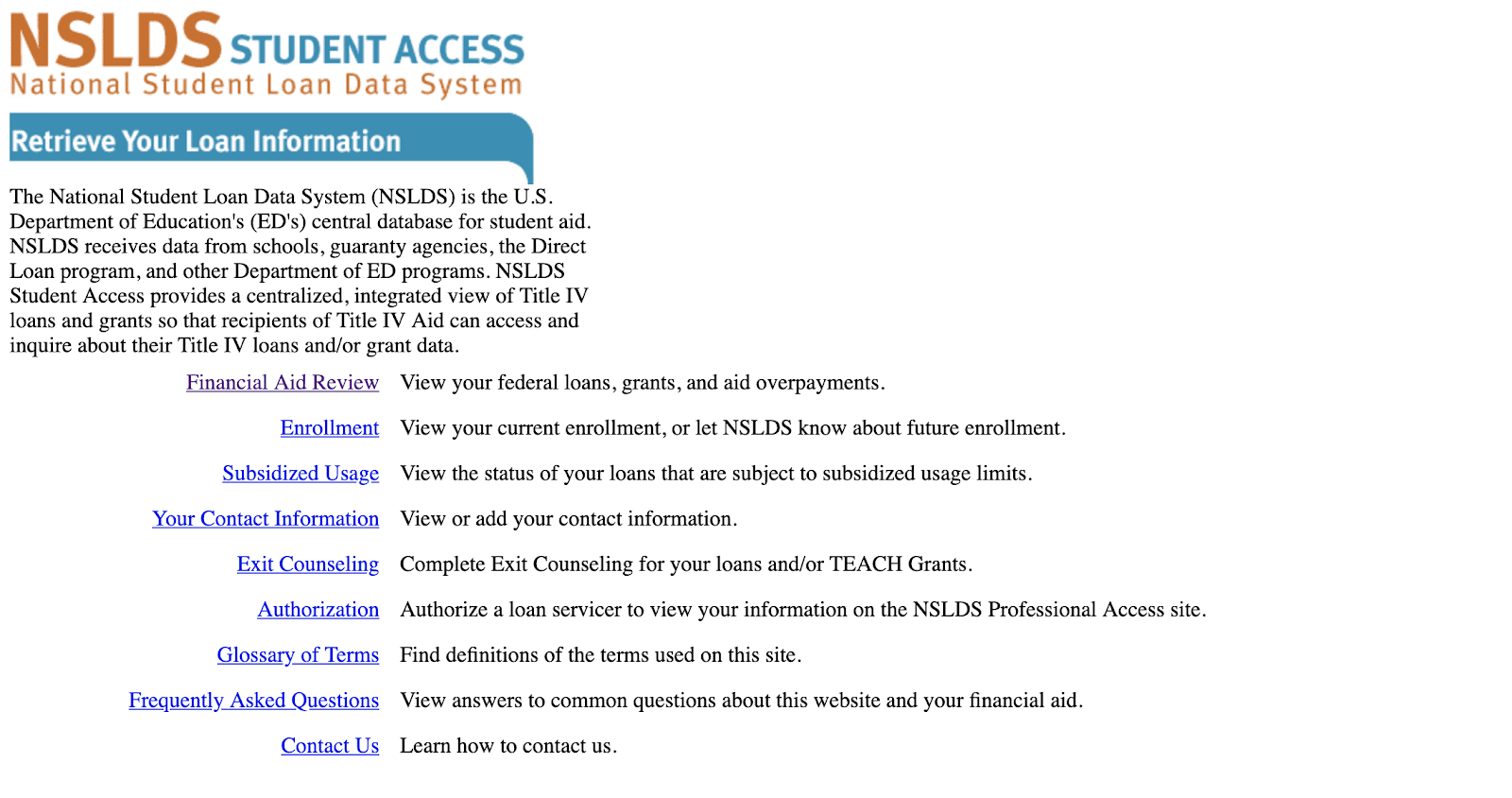 3. Accept the privacy policy after reading it.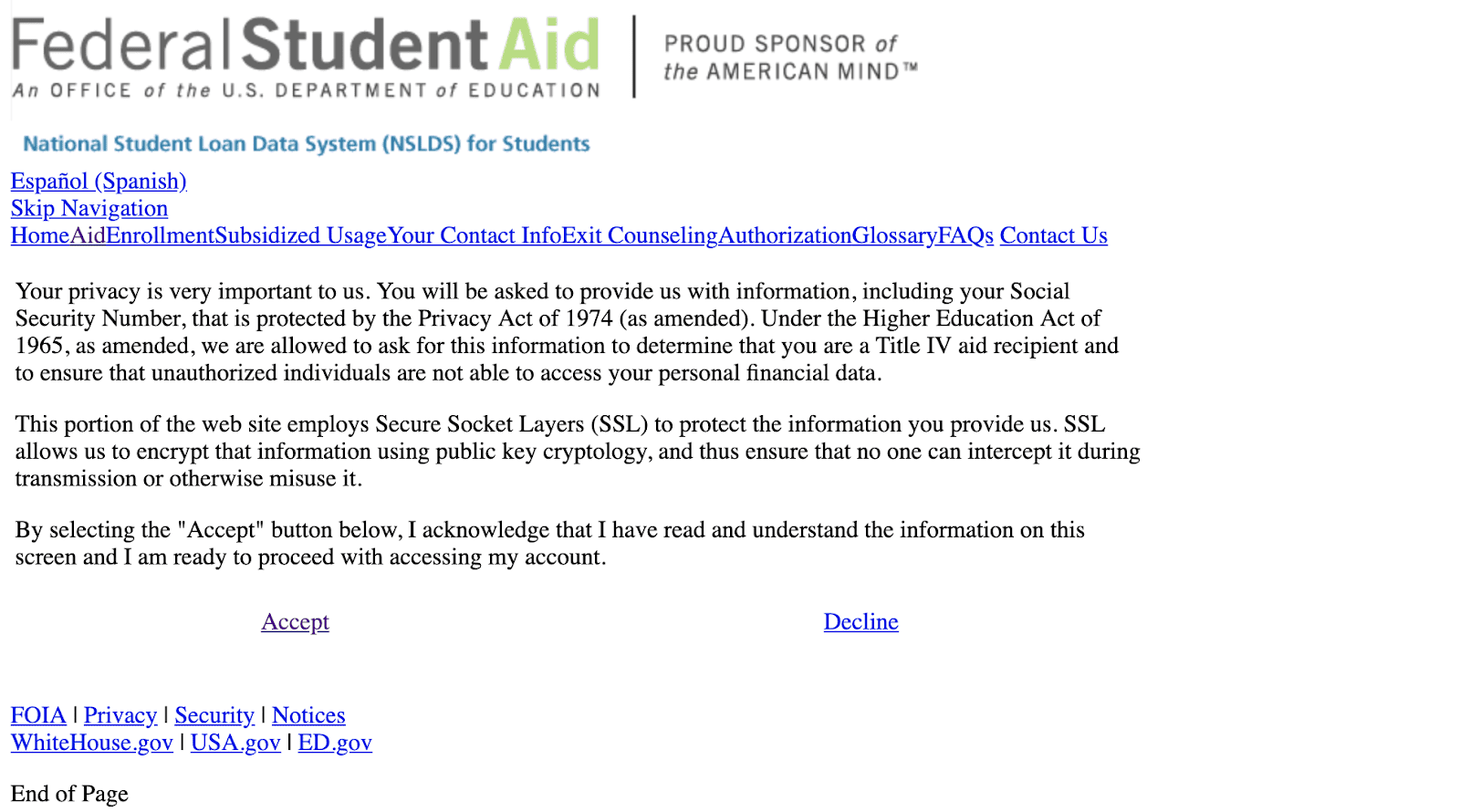 4. You'll be redirected to a new page that looks a bit different. Here you'll log in with your Federal Student Aid (FSA) ID. This replaced the old FSA PIN and Social Security number in order to protect your identity.
If you don't have one, create an FSA ID from the same page. Make sure it's something you'll remember. You can now log in with your FSA ID for several purposes. If you need to apply for an income-driven repayment plan or Direct Loan Consolidation, you'll also use your FSA ID.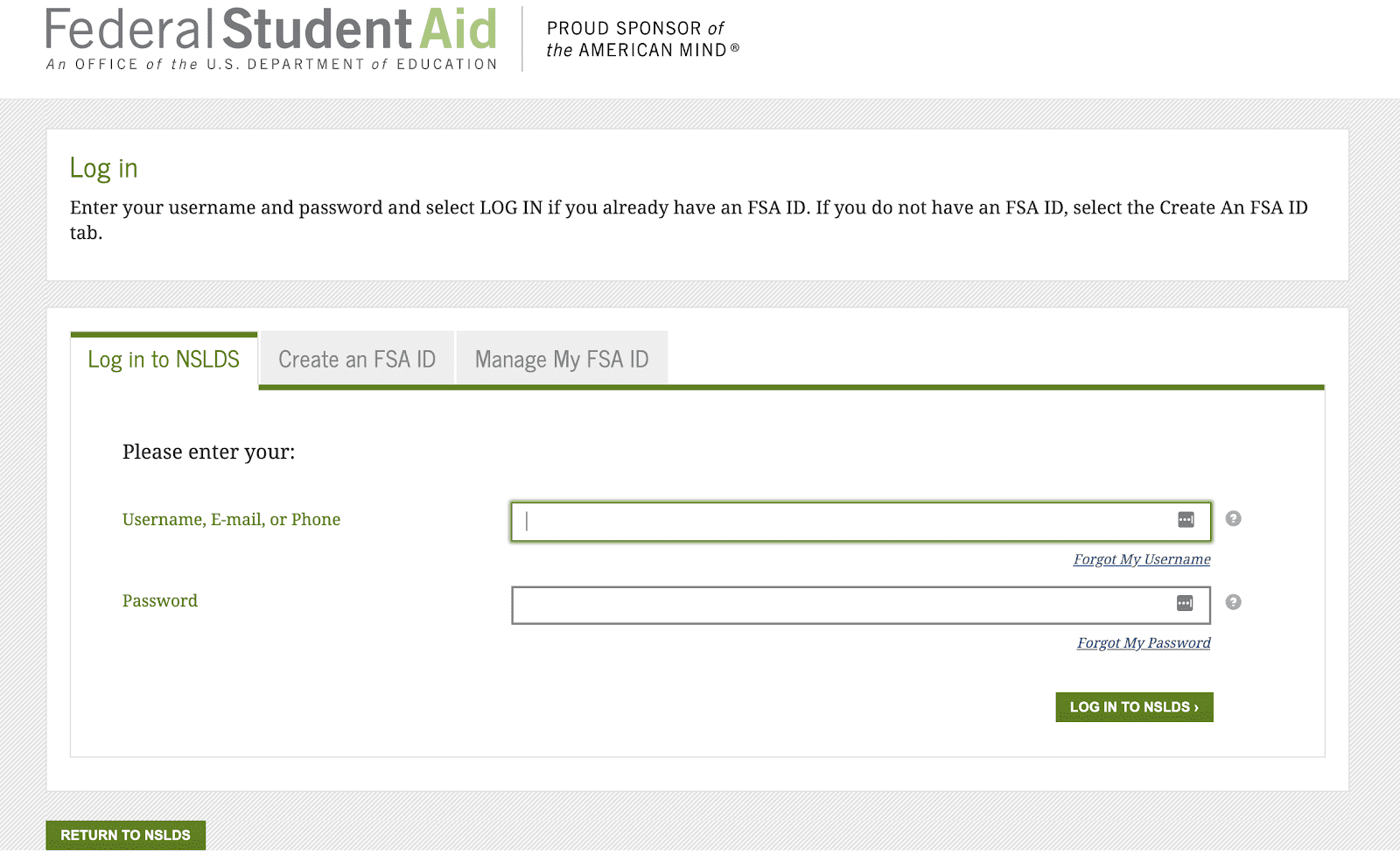 5. Once you log in, you'll find a report of all your federal student loans that looks something like the image below. This is an overall view of your student loans. Your total can be found in the bottom right-hand corner.
There's an option to download your student loan data in the blue button. This exports a .txt file that's hard to read and not helpful for most individuals. Looking at the web page itself and taking a screenshot if needed will be easier to decipher.
What does the NSLDS tell you about your loans?
While in school, you probably took out multiple types of federal loans each semester. When accessing the NSLDS, you'll find the following information on your student loans:
Loan type
The number of loans you have
The individual loan amount
When the loan was taken out
If any portion of your loan was canceled
Your total principal
Your outstanding interest
The status of your loan
Your loan servicer
Any kind of federal payment plan you may be on
Any details you don't find on the main page can be found when you click on the number on the left-hand side. A page like the example below will fill in any missing information regarding your loan.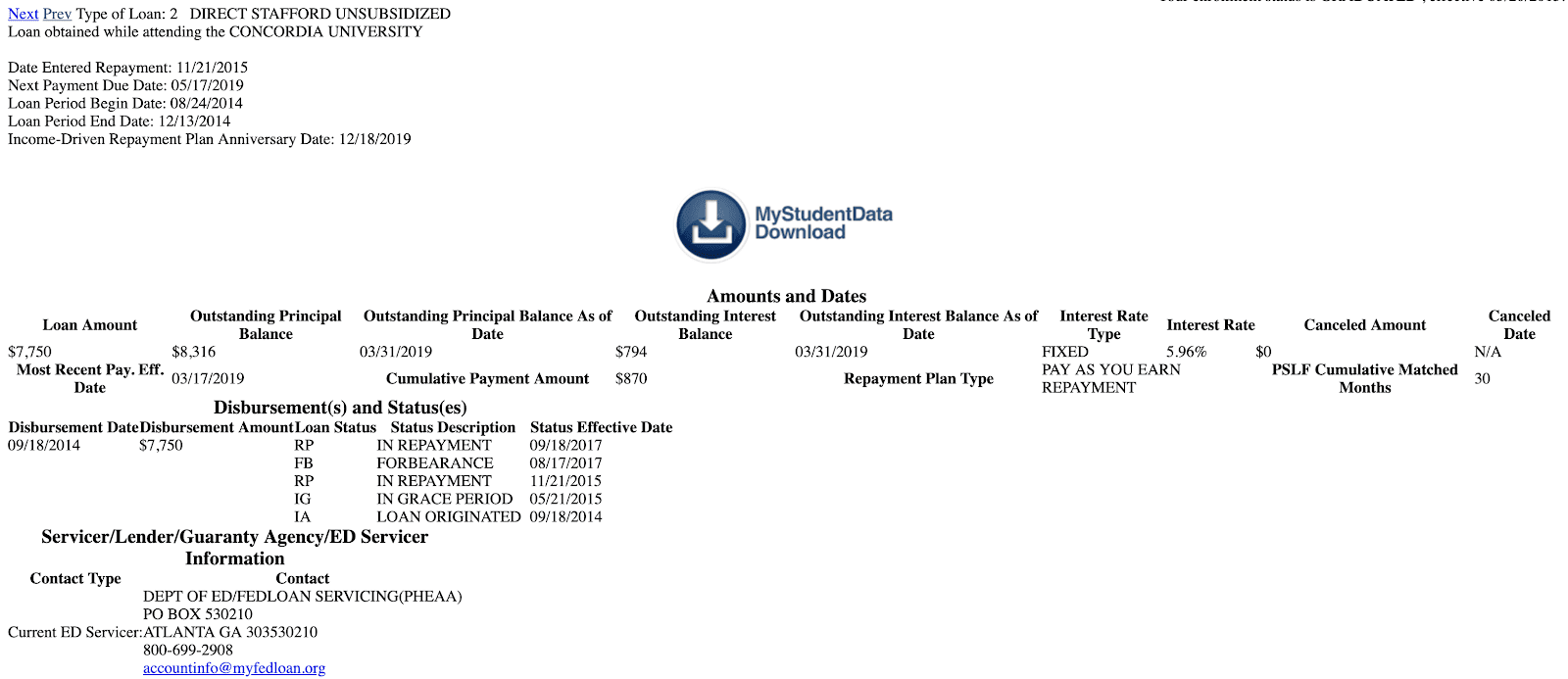 Each individual loan tells you its entire history. The database is helpful in determining how much you owe and your loan details. Once you have this information, you can begin tackling your student loan debt.
It's important to note that if you consolidated your federal loans, the database shows the individual loan balances as $0. It then lists your total amount owed in the new consolidated loan.
What should you do with the information in the NSLDS?
The information provided by the NSLDS can set you up to begin creating your debt payoff plan. Start by considering the following details of your loans:
Looking at this information can be overwhelming if you have multiple loan servicers and no clear direction for debt payoff. If you're feeling this way, reach out to one of the professionals at Student Loan Planner® for a consultation to create a plan together.
What if some loan types are missing from my NSLDS overview?
Private student loans can't be found on the NSLDS website. You can obtain a record of all private student loans by ordering a free annual credit report. Any student loan you're responsible for will show up on this report. It's free to obtain every 12 months.
If you have student loans through the Health Resources and Services Administration (HRSA), your loans will not show up in the NSLDS. You can view the loan types and reach out for assistance directly on the HRSA website. You'll need to know your loan type to determine where you can go for repayment plans.
Why it pays to find your student loans
Knowing the details of your student loan debt is important to other financial decisions you make. Student loans stick a bit like glue. Even in bankruptcy, you can't shake them. Making on-time payments and slowly whittling down your balance keeps you financially secure.
Staring down the student loan debt you have is hard but necessary for your finances. Using the NSLDS to access and organize your loans is the first step in taking control of student loans. Creating a plan can be the next step to offer some serious relief. That's what the team at Student Loan Planner® specializes in. Reach out to us to set up a consult and take control of your student loans.