Canceling student loans after school sounds too good to be true — and it is unless you're a Perkins Loan holder. You could get your entire Perkins Loan canceled or discharged.
Federal Perkins Loans are no longer being distributed. The program expired on Sept. 30, 2017. If you have a Perkins Loan from before the program ended, it was made by your school based on financial need.
You can check to see if you have a Perkins Loan by logging into the National Student Loan Data System (NSLDS). If you do have one, below is everything you need to know to get Perkins Loan forgiveness.
Who is eligible for Perkins Loan cancellation?
To be eligible for Perkins Loan cancellation, you must be working full time in an eligible public service role. The following occupations are eligible:
Teachers, including special education teachers, librarians and school counselors. For the purposes of Perkins Loan cancellation, a teacher is anyone who provides students direct services related to classroom teaching.
Early childhood education provider
Employee at a child or family services agency
Faculty member at a tribal college or university
Firefighter
Law enforcement officer
Nurse or medical technician
Professional provider of early intervention (disability) services
Public defender
Speech pathologist with a master's degree at a Title 1 school
Volunteer service for AmeriCorps VISTA or the Peace Corps
Teachers have a few more stipulations for being eligible for Perkins Loan cancellation. You must teach at a school that is considered a low-income (Title 1) school or teach in a field that is considered by the state to have a teacher shortage. Private school teachers can be eligible only if the school is considered a nonprofit by the IRS.
All full-time special education teachers in public or nonprofit private schools are eligible for Perkins Loan cancellation.
Before you can begin the cancellation process, you must complete one full year of work in an eligible field. For teachers or those working in a school setting, this is one full academic year.
How much of the Perkins Loan can be cancelled?
The type of public service job you have determines the amount that can be canceled. In most cases, you're eligible for 100% cancellation of a Perkins Loan. Take a look at the chart below to determine how much you can have canceled:
You must be working full time in any occupation to be eligible for cancellation.
Perkins Loan cancellation doesn't happen all at once. It occurs incrementally over a period of time. Most cancellation periods are five years, with the cancellation broken down as follows:
15% of the original principal loan amount for each of the first and second years
20% of the original principal loan amount for each of the third and fourth years
30% of the original principal loan amount for the fifth year
Each amount includes the interest that accrues during that period. If you're on a cancellation program for either seven or four years, the incremental breakdown can be found in the above chart.
Each year, you'll need to file your annual cancellation paperwork, just as you did when you first applied.
5 steps to request Perkins Loan cancellation
The application process for Perkins Loan cancellation isn't operated by the U.S. Department of Education. Instead, your school or loan servicer has a specific application to be completed. For this reason, there's not a streamlined process for every Perkins Loan cancellation candidate.
To get started with the application process, follow these steps — but keep in mind that you may have a few more pieces of paperwork, depending on your school and loan servicer.
1. Check eligibility requirements
You must hold a specific public service job, but your current employer also needs to meet certain requirements.
Check with your place of employment to make sure it meets the requirements for you to be eligible. For example, teachers need to look at their school's specifications as Title 1.
2. Find your Perkins Loan details
Log into the NSLDS and review your Perkins Loan. You'll be able to find your loan servicer and the school that gave you the Perkins Loan on this page. It will look something like this:

3. Contact your school or loan servicer
Once you have all the details on your Perkins Loan, you'll want to reach out to your school first. Call the financial aid department. They will let you know if you need to complete an application with them or if they're running applications for Perkins Loan cancellation through the loan servicer.
4. Complete the Perkins Loan cancellation application
The application will look a little bit different with every loan servicer but generally asks for the following:
Personal contact information
Perkins loan account number
The type of service you're currently in
Employer Information
Employer certification with a signature and/or seal
The beginning and end date for the complete year of service you're requesting a cancellation for
Your signature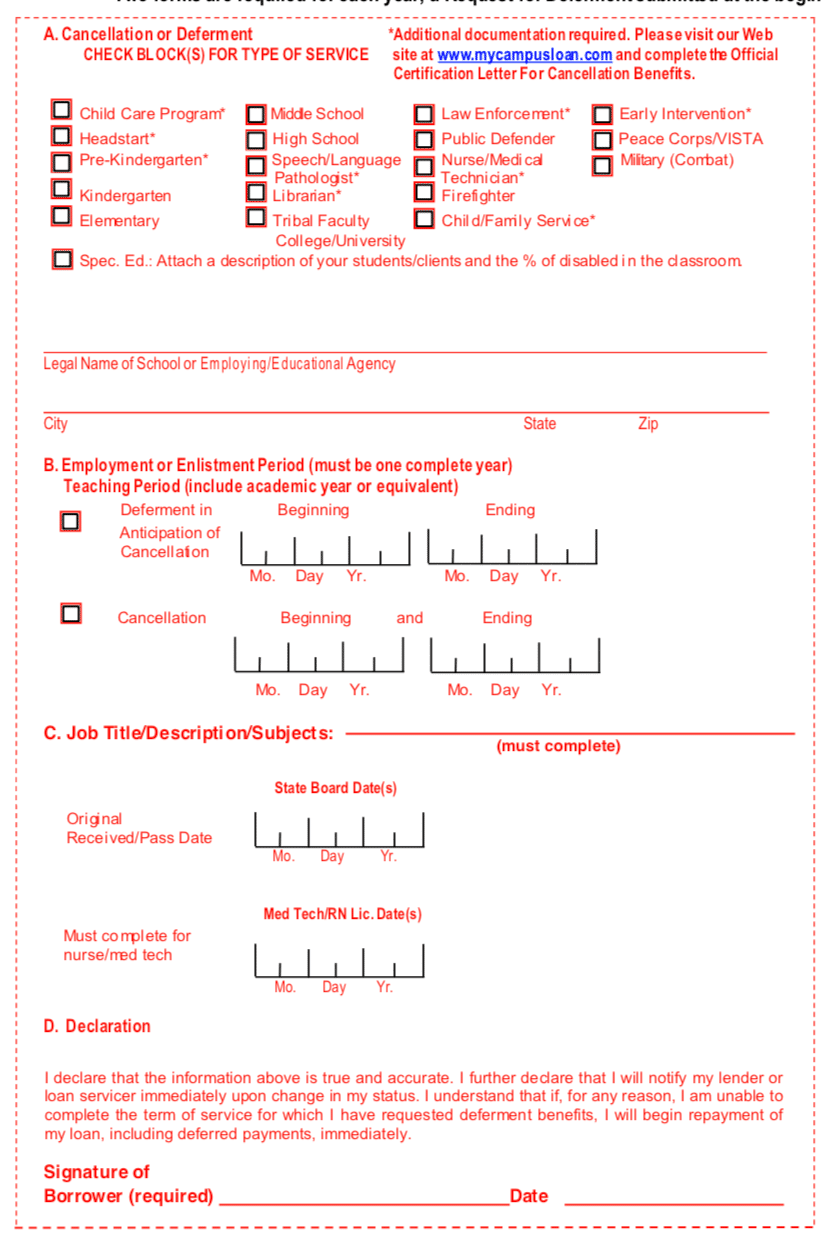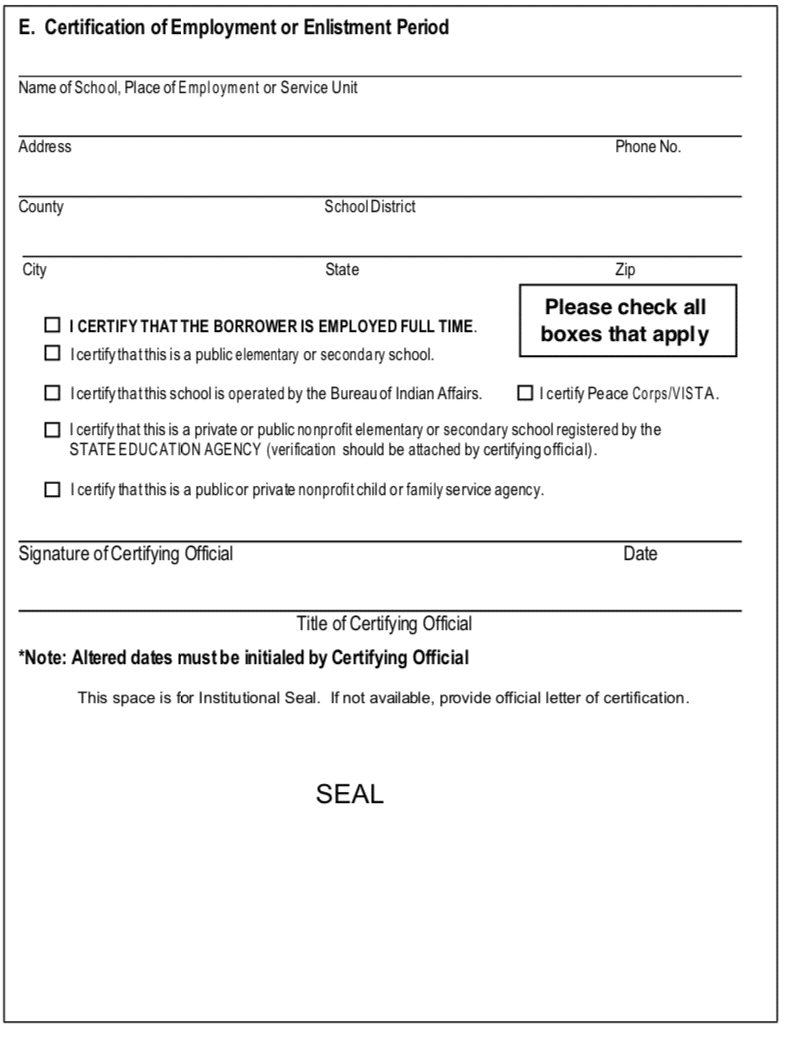 **This form is a sample. Each form will look different as they are created by your school or loan servicer.
Once you're approved for your initial year of service, your job doesn't end. You must complete paperwork annually to have increments of your Perkins Loan canceled.
5. Submit a request for cancellation annually
You'll need to complete this form annually for the required four to seven years to receive cancellation.
Certain loan servicers require you to submit an "Anticipation of Cancellation" form at the start of the year and a "Request for Cancellation" at the end of the period. You can see this option on the same form in the image above. If this is the case, after your first year, send in the Anticipation form and Cancellation request at the same time for each subsequent year.
When completing any paperwork regarding your student loans, it's important to do so correctly and be in communication with your loan servicer or school throughout the process.
Common Perkins Loan cancellation application mistakes
Avoid the headache of being denied for Perkins Loan cancellation by watching out for these mistakes on the application:
Mixing up the beginning and ending dates: The period you request cancellation for must line up with your time in your role. Not only this but when you file your paperwork the following year, the dates need to consistently match up from the previous application, or you'll be denied. Keep a copy of your requests for the cancellation to make sure this doesn't happen.
Not having proper employer verification: Every Perkins Loan cancellation form will have a section for your employer to complete; this verifies your employment. If the form asks for a seal and your office places a stamp there, the cancellation will be denied. Many individual school offices don't carry a seal, so if your form requires one, you may need to submit it to the district office for the proper seal.
Mistaking the lending institution with your loan servicer: The Perkins Loan cancellation form will ask who the original lending institution was. This is your school, not your loan servicer. It's common to mistake these two things, which can lead to being denied. If you attended multiple schools and are unsure, go back to your Perkins Loan details found on the NSLDS website.
Filing the same form when your loan servicer changes: Sometimes your Perkins Loans will change loan servicers, or your school will hand over more responsibilities to the loan servicer. If this is the case, you'll likely have a different form to fill out than the ones from previous years. Once your Perkins Loan transfers, give your servicer a call and ask for the new Perkin Loan Cancellation forms.
Bottom line: Follow the instructions to the letter. If you're confused about a portion of the application, call your school or loan servicer to clarify. After the first two years, you'll get the hang of it.
What are circumstances that allow for Perkins Loan discharge?
Perkins Loan cancellation is specific to your occupation. Perkins Loan discharge is available for those who encounter serious financial difficulties or life circumstances that allow for discharge. When the loan is discharged you're no longer required to pay it back.
Circumstances for Perkins Loan discharge include:
School closure (before completion of the program of study)
Service-connected disability for veterans
Spouse of a victim of the events of 9/11
In each of the scenarios, 100% of the student loan can be discharged if you meet the requirements. The process to begin Perkins Loan discharge is the same as a cancellation — call your school to get the details for the application. If you're unsure about qualifying for each of these major events, check out the details on the Perkins Loan discharge chart.
What about your other student loans?
If you have Perkins Loans, you probably have additional student loans as well. You can't get these canceled, but you may be able to have them forgiven. Continue making payments as you start looking into student loan forgiveness programs.
You're already eligible for Public Service Loan Forgiveness if you work in public service and qualify for Perkins Loan cancellation. You've dedicated your life to helping others and deserve to take advantage of programs like these. If you want help reviewing your student loans and getting out of debt, hire us to help you create a plan.