If you have federal student loans, there's a good chance that you've dealt with Nelnet at some point. As of September 2020, Nelnet is the servicer for over $200 billion of federal student loans.
Currently, payments on Nelnet federal student loans are paused until September 30, 2021. This is a result of the recent announcement that the Biden administration would extend the CARES Act coronavirus student loan relief.
But how should federal student loan borrowers approach their Nelnet student loans after the forbearance period ends? For many, Nelnet student loan forgiveness could provide the perfect repayment strategy.
What is Nelnet and what Nelnet student loan forgiveness programs are available? Here's what you need to know about all your forgiveness options.
What is Nelnet?
Nelnet is one of the nine student loan servicers used by the government. Federal borrowers are assigned a loan servicer, who handles loan payments and other services for borrowers.
Located in Lincoln, Nebraska, Nelnet is one of the largest student loan servicers. In 2018, Nelnet acquired Great Lakes Educational Loan Services for $150 million.
How to qualify for Nelnet student loan forgiveness
Nelnet borrowers can qualify for Nelnet student loan forgiveness through federal programs. What forgiveness options are available for federal borrowers?
Public Service Loan Forgiveness (PSLF)
The Public Service Loan Forgiveness program (PSLF) is one way for borrowers to get their student loan debt forgiven. To qualify for PSLF, borrowers have to meet specific criteria, which includes:
Work full-time for a government agency or qualifying nonprofit organization
Have Direct Loans (or consolidate your loans with a Direct Consolidation Loan)
Repay your student loans on an income-driven repayment (IDR) plan
Make 120 qualifying monthly payments
If you're planning to pursue PSLF, you'll want to submit an Employment Certification Form (ECF) to the FedLoan Servicing address listed on the form. Once you do this and your employment qualifications are confirmed, your student loans will be transferred to FedLoan Servicing, the official loan servicer of the PSLF program.
Sometimes Nelnet recommends keeping your loans with them while pursuing PSLF. Borrowers should not do this. You'll want to move your loans to FedLoan. Get your employment verified and your loans transferred to FedLoan. You'll be able to track your qualifying payments for future loan forgiveness.
Once they reach 120 qualifying payments, borrowers can apply for PSLF by submitting the Public Service Loan Forgiveness (PSLF): Application For Forgiveness. If approved, any remaining federal student loan debt will be forgiven tax-free.
Temporary Expanded Public Service Loan Forgiveness (TEPSLF)
If you applied for PSLF and were denied because some or all of your 120 payments didn't qualify, you still have another option. The government saw that PSLF guidelines weren't initially clear, so they created Temporary Expanded PSLF (TEPSLF).
TEPSLF gives borrowers a second chance to qualify for loan forgiveness. To take advantage of this TEPSLF opportunity, you must have:
Submitted a PSLF application and been denied because some or all payments weren't made under a qualifying repayment plan
Had at least 10 years of full-time employment approved by FedLoan Servicing
Met requirements for the last 12 months worth of payments before applying for TEPSLF, including the last payment before applying (payments must be at least as much as they would have been paid under an income-driven repayment plan)
Made 120 qualifying payments under TEPSLF standards while working full-time for a qualifying employer
If you were denied PSLF because of a technicality, it's worth looking into TEPSLF to see if you qualify. Not all loans qualify for TEPSLF, so be sure to look at all of the stipulations before pursuing this option.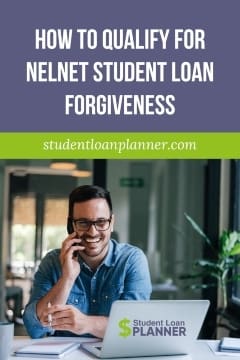 Income-driven repayment (IDR) forgiveness
If you don't qualify for PSLF, there's another way to get a portion of your student loan debt forgiven. If you're on an IDR plan and make payments for 20 to 25 years (depending on the specific IDR plan), any remaining student loan balance is forgiven.
There are four IDR plans borrowers can choose from:
Pay As You Earn (PAYE)
Revised Pay As You Earn (REPAYE)
Income-Based Repayment (IBR)
Income-Contingent Repayment (ICR)
Unlike PSLF, you may end up paying taxes on your forgiven loans. According to the IRS, any forgiven student loan debt is considered taxable income.
However, the good news is that you have a considerable amount of time to plan and save money to cover this expense. And, in the meantime, you get to enjoy lower monthly payment amounts which can make a difference in your budgeting and savings goals.
Teacher loan forgiveness
Teachers with loans through Nelnet can pursue teacher loan forgiveness. Teachers may qualify to have a maximum of $17,500 or $5,000 in student loans forgiven, depending on the subject area taught, if specific requirements are met.
To qualify, you need to meet exact requirements such as:
Full-time employment as a highly qualified teacher for five consecutive years, with at least one year after the 1997–98 academic year
Five completed academic years in a qualifying low-income school or educational service agency
Borrowed qualifying loans before the end of your five academic years of teaching
This option should be weighed against PSLF since your total amount of debt may impact which forgiveness program is best for you.
Related: How to Know If Teacher Loan Forgiveness Is Worth It
Borrower defense to repayment
According to the Higher Education Act, if your college or university misled you or engaged in illegal activity, you can seek out loan forgiveness.
Historically, this forgiveness option had been rarely used. However, in 2017 the Department of Education reviewed its borrower defense policies and announced new guidance.
As of the end of 2020, 61,511 borrower defense applications have been approved out of 338,062 total applications received. Learn more about borrower defense loan forgiveness at StudentAid.gov.
How to qualify for Nelnet student loan discharge
Joining a forgiveness program isn't the only way to get your Nelnet student loans canceled. There are a variety of situations in which you may qualify for a discharge of your federal student loan. Here a few prominent examples:
Death discharge. Federal student loans are discharged in the event that the student passes. Parent PLUS Loans are discharged if either the student OR the parent dies before the loans are fully repaid.
Total and Permanent Disability Discharge (TPD). If you can provide documentation from a physician that you've become fully and permanently disabled, your federal loans could be canceled.  All supporting documentation should be sent to Nelnet as they are the exclusive TPD discharge servicer.
Closed school discharge. If your school closed down while you were still enrolled or shortly after you withdrew, you may be eligible for a discharge of your student loans.
False certification discharge. If your school falsely certified your eligibility to receive federal student loans, those loans may qualify to be discharged.
A bankruptcy discharge is technically possible as well, but it's certainly not automatic. To have your student loans discharged in bankruptcy, you'll need to prove that they're causing you "undue hardship."  Learn more about student loan discharge in bankruptcy.
Should you refinance your Nelnet student loans?
Depending on your specific loan situation, refinancing your Nelnet student loans may be a better repayment option. With refinancing, a lender pays off your existing loans and you receive a new loan. Your new loan will have new terms, a new interest rate and new repayment options.
If you can secure a lower interest rate, you could save thousands of dollars in interest payments over the life of your loan. You must have established credit or a cosigner (if applicable) in order to qualify for refinancing and get a low rate.
Refinancing will turn your federal student loans into private loans. You'll lose access to federal protections like loan forgiveness, IDR plans, forbearance, and deferment options.
Private lenders may have options for borrowers facing hardship, but it's not guaranteed. Make sure you won't need access to any of the federal programs before moving forward with refinancing.
As a general rule, if you owe less than 1.5 times your income, you are a good candidate for refinancing. If your debt is higher than that, loan forgiveness makes more sense, especially if you could qualify for PSLF.
Nelnet now offers its own student loan refinancing product through its recently-launched subsidiary, Nelnet Bank. However, other lenders may offer better refinancing rates, terms, or cash bonuses.
Tips for Nelnet customers
Federal loan servicers, including Nelnet, don't have the best reputation for customer support. If you choose to stay with Nelnet as your loan servicer, make sure you are in the right repayment plan, file taxes correctly and stay vigilant with how Nelnet is handling your loans.
If your Nelnet student loans are in default, be sure to take the right steps to get back on track with repayment.
If you need extra help handling your loan situation, a student loan lawyer might be the best option. Particularly if you feel you've been taken advantage of or if your rights as a borrower aren't being upheld, hiring a student loan lawyer may be in your best interest.
Situations that might require the help of a student loan lawyer also include:
Your student loans have been or are being mishandled
You've attempted loan rehabilitation and it was handled incorrectly
Disputes over your loans require extra professional attention
While their reputation is better than many other federal loan servicers, many borrowers still have complaints about Nelnet. Take advantage of Nelnet student loan forgiveness options if you qualify; otherwise, refinancing your Nelnet loans may be the best repayment option available.