I've done a lot of pharmacy student loan consults lately. I'm really blown away by how much unnecessary interest many pharmacists in the private sector pay towards their student loans. Unfortunately, most pharmacists do not seem to get the student loan help they need while they're in pharmacy school.
Hence, many pharmacists end up wasting thousands of dollars on student loan interest. Here's how to make sure this doesn't happen to you. Private sector pharmacists should refinance their pharmacy school loans.

The Most Common Pharmacy School Student Loan Mistake
Here's the gist of this article. If you're a private sector pharmacist and you don't check to see if there's a lower interest rate available for your pharmacy school loans every year, you could be leaving a lot of money on the table. Sometimes this happens from paying the government sky high interest, and sometimes it happens from private student loans that have never been shopped around for better rates.
I see so many private sector pharmacists paying back their loans on the government's Standard 10 year plan at 5% to 8% interest. If this is you, literally stop what you're doing and use the links in the sidebar above to check what your rate could be with the major student lenders.
Pharmacists Aren't Nearly as Risky as the Price Charged by Federal Student Loans
Paying such a high interest rate does not reflect the true risk with most pharmacy school student loans. After all, pharmacists rarely default and private companies offering lower rates than the government know that.
The other scenario I mentioned was when pharmacists haven't shopped their private student loan interest rate around in a while. I've worked with several people who never realized that you can refinance a student loan as much as you want as long as you can find a better rate.
Here's an example of how that would happen. You refinance $180,000 of student debt at a 5.5% fixed rate with a $120,000 salary. In 3 years, the debt is down to $140,000 and your income is now $140,000. Your debt to income ratio is better now and therefore you're a lower credit risk!
If you don't check to see what your rate could be, you might be paying back the loan with a higher rate than necessary. Occasionally I see people with 8% to 10% private student loans. These must absolutely be refinanced ASAP.
What's the Catch? Why Do Lenders Want to Offer Lower Rates to Pharmacists than the Government Offers?
Private student loan refinancing companies began proliferating in the early 2010's. They realized the government was charging more than they should to pharmacists and other high income professionals based on their likelihood of paying the loans back.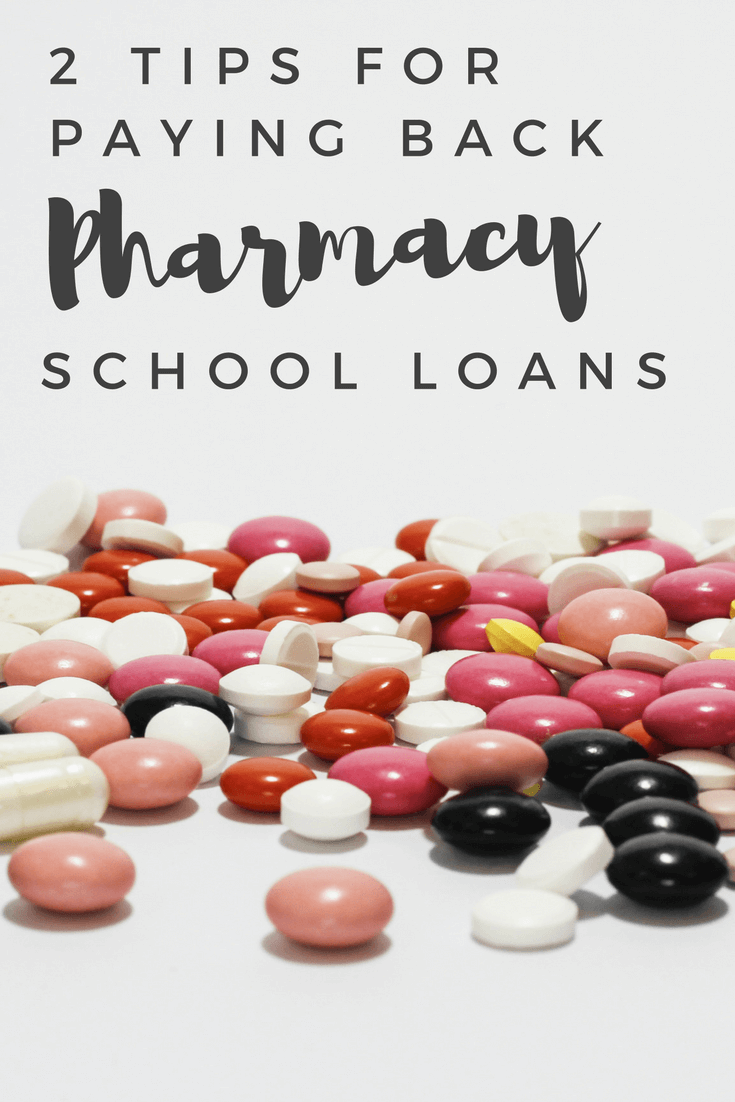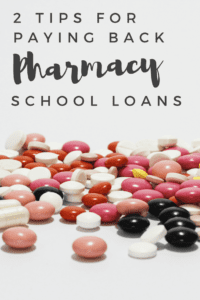 The government charges the same interest rate to everybody regardless of your degree program. That left a huge opening to these private lenders to cherry pick the best credit risks and offer these customers lower rates while making money too.
It's a win-win for everyone but the federal government that loses out on interest income. Since the government does not have a profit incentive, it has allowed this status quo to persist. I think partly this is due to policymakers not understanding the true cost of the federal government's loan programs.
Most Pharmacists Pay Too Much in Student Loan Interest
To repay pharmacy school debt in 10 years, you could choose the 10 year Standard monthly repayment plan and pay $1,000 to $1,500 a month to extinguish your debt. Sounds like a great plan right?
The problem is that federal student loans are usually at 5% to 8% interest. Hence, any pharmacist at a private sector employer who owes less than double their salary is probably paying too much on their student loans.
Walgreens and CVS Pharmacists Probably Have the Most to Gain From Refinancing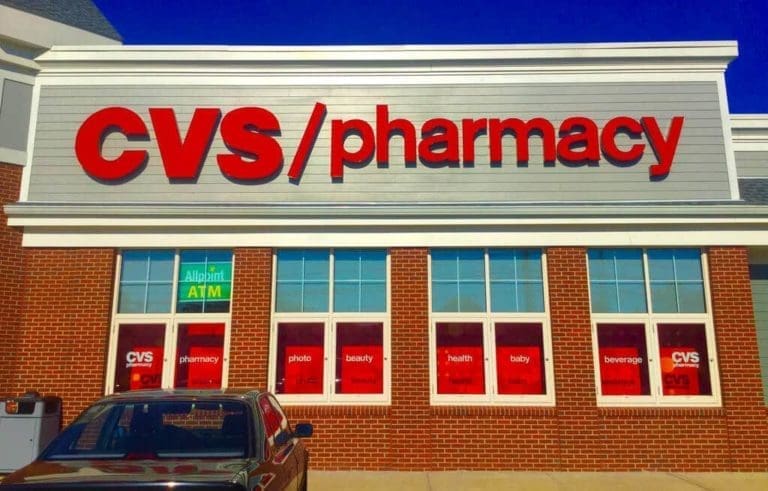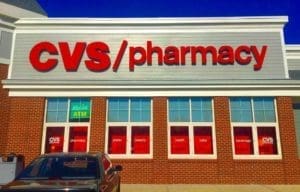 The typical pharmacist who hasn't refinanced but could works for Walgreens, CVS, or another large private sector employer. They make a solid income of $100,000 to $130,000. Most of these pharmacists only owe $100,000 to $150,000 for pharmacy school. Hence, they have enough money to actually repay their debt.
Pharmacists working at one of the two major national chains will probably have the easiest time refinancing. Your job is very stable and a refinancing company will recognize that. When you apply, the lender will just want to see evidence of your salary from pay stubs and you'll be good to go.
Use CVS and Walgreens to Save Interest on Your Pharmacy School Loans
If you're starting out at a CVS or Walgreens Pharmacy, you can use the high initial starting salary to lock in an excellent student loan refinancing rate no your debt. Then, if you decided to move to another employer later, you would benefit from the lower rate of interest accumulating on your loans.
Fourth year pharmacy students with signed offer letters can go ahead and apply if they're ready to start payment in 2-3 months. Anyone at a large national chain with proof of a high income can benefit from refinancing.
How a Private Sector Pharmacist Can Shop for a Better Rate
A pharmacist with a six figure income and a debt to income ratio below 2 is the ideal candidate. The upside is that you could cut your fixed 5% to 8%  interest rate to something starting with a 2% or 3%.
Where can you shop for a low interest rate? I help clients do this during flat fee student loan consults, but if you wanted to check yourself, here are the 8 best banks to refinance student loans.
These referral partners have agreed to let me split the referral bonus with you. It doesn't impact your credit to just check and see what your rate might be. You wouldn't get these bonuses if you went directly to their websites, so consider this time well spent reading the article.
How Do I Choose Between Fixed and Variable and What Does that Mean?
If you are committed to repaying your debt quickly, then I like the variable rate loan type because the rate starts out at 1% to 1.5% below the fixed rate offer.
If you're more risk averse or want to have a longer repayment period to have a low monthly payment, then fixed rate is fine as well. The important point is that both options will save you money.
My rule of thumb is that if you have the ability to pay back your loans in 3 years if you had to, then going with variable rate is a great idea. If you don't have the capacity to make large payments if rates rose, then the security of the fixed rate is nice to have.
My fiancee had six figures of debt from med school that we refinanced. It cut her rate from 6.8% to 2.2% variable with a 5 year term.
Keep in Mind that Either Option Will Probably Save You Money
Even though benchmark long term interest rates are much higher since we refinanced, that rate is now only at 2.4%. The lenders tie the variable rate to one month LIBOR. That's a fancy term for ultra short term interest rates. One month LIBOR is less volatile than other benchmarks like the 10 year Treasury.
If we had gone with the fixed rate, we'd have locked in a 3.5% rate for 5 years. That only made sense if we were worried about interest rates spiking. Even then, the spike would need to happen in the first two to three years. So if you just want a lower interest rate and reasonable monthly payments, going for the fixed rate 15 year term and paying extra each month is fine.
If you want to get aggressive, I applaud anyone that goes with the 5 year variable. Both options will make your financial life a lot better. Once your debt is gone, check out other resources like YourFinancialPharmacist.
Why Did I Only Talk About Private Sector Pharmacists?
If you're working in a not for profit institution long term, you need to know about the Public Service Loan Forgiveness program (PSLF). You could pay 40% to 70% of the loans you took out and receive tax free forgiveness on the remainder. You have to work for 10 years at a not for profit employer to have this option.
If you're doing a pharmacy residency for a year or two and then will enter the private sector, then PSLF will not help you. While you have your low income years though, getting a nice interest subsidy through REPAYE is probably the way to go. You'd want to refinance as soon as you got a higher income.
So private sector pharmacists are the folks who need to pay back their loans as fast as they can and reduce their interest rate. That means private refinancing. Since pharmacists in the private sector typically make a little bit more than their public sector counterparts, paying extra towards loans might be a tad easier.
In Short, Private Sector Pharmacists Should Refinance
So get out there and save money on your loans from pharmacy school! Pharmacists are perhaps the best suited profession for refinancing that exists. A typical debt to income ratio from pharmacy school is below 2, even though the acceptance rate for pharmacy school is exploding.
Pharmacists have six figure incomes and low risk of layoffs. Why turn over thousands of dollars more every year to loans that don't reflect the stability of your profession?
I Can Help You Manage Pharmacy School Debt
My business model here at Student Loan Planner, LLC is helping pharmacists conquer huge student loan balances with low cost, flat fee consultations.  
I perform a holistic loan analysis with my proprietary simulation tool to see what your best available pharmacy school repayment options are (government, private refinancing, etc).
Click the button below and I'll get right back to you personally.