Florida ranks as the third-most populous state in the country, according to the U.S. Census Bureau, next to California and Texas. The state boasts a population of more than 21 million residents. Having such a large population naturally would mean more student loan borrowers, but the amount of student loan debt Floridians have is on the rise.
According to Student Loan Planner® calculations using Department of Education data, the average student loan debt in the Florida area is $37,229 as of December 2019.
2 programs for student loan forgiveness in Florida
If you're in certain professions like law or nursing, you may be able to get student loan forgiveness in Florida under specific programs. Read on to learn more.
1. Florida Loan Repayment Assistance Program (LRAP)
Many states have their own unique Loan Repayment Assistance Program (LRAP) for lawyers. Florida is no different and has a specific program for lawyers practicing in the sunshine state.
Under Florida's LRAP, eligible borrowers could receive up to $5,000 each year as a forgivable loan. The Florida Bar Foundation then forgives the loan each year.
To qualify, you must be employed full-time or half-time at an eligible civil aid organization that is receiving a grant from the foundation. In order to apply, you need to submit your materials during the open application period and be in good standing with the bar as well as meet all other requirements.
In 2020, $1,043,502 was forgiven as part of this program. You can apply and find more information by visiting The Florida Bar Foundation.
2. Nursing Student Loan Forgiveness Program
If you've received your nursing education and are a nurse based in Florida, you might qualify for the Nursing Student Loan Forgiveness Program (NSLFP). The Florida nurse forgiveness loan program, which was started in 1989, is geared toward nurses who work in shortage areas of the state.
The program offers up to $4,000 in student loan forgiveness for up to four years. To qualify, you must be considered qualified personnel such as:
A licensed practical nurse (LPN)
A registered nurse (RN)
An advanced registered nurse practitioner (ARNP)
Your loans must be from nursing, and your employment needs to be full-time at a qualified site. Employing institutions that qualify include:
Public schools
The Department of Health
State of Florida medical and healthcare facilities
Community health centers that are federally-sponsored
Teaching hospitals (if you work at one of these, look into the Florida physician loan program)
Family practice teaching hospitals
Specialty hospitals for children
Other facilities designated as part of the program
When you receive loan forgiveness under the Florida nurse forgiveness loan program, payment will be made directly to your lender at the end of each 12-month service period. Learn more about the NSLFP.
Other options for student loan forgiveness
While the state of Florida may not have many student loan forgiveness options, there are other ways to receive student loan forgiveness from the federal government.
Public Service Loan Forgiveness
Do you work at a nonprofit or for the government? Student loan borrowers who work in the public sector are eligible for 100% student loan forgiveness through the Public Service Loan Forgiveness (PSLF) program.
To qualify, you must work full-time for an eligible organization, serve for 10 years and make 120 monthly payments on an IDR repayment plan.
After 10 years of service and 120 qualified payments, you can apply for forgiveness for your education loans by filling out an application.
Income-driven repayment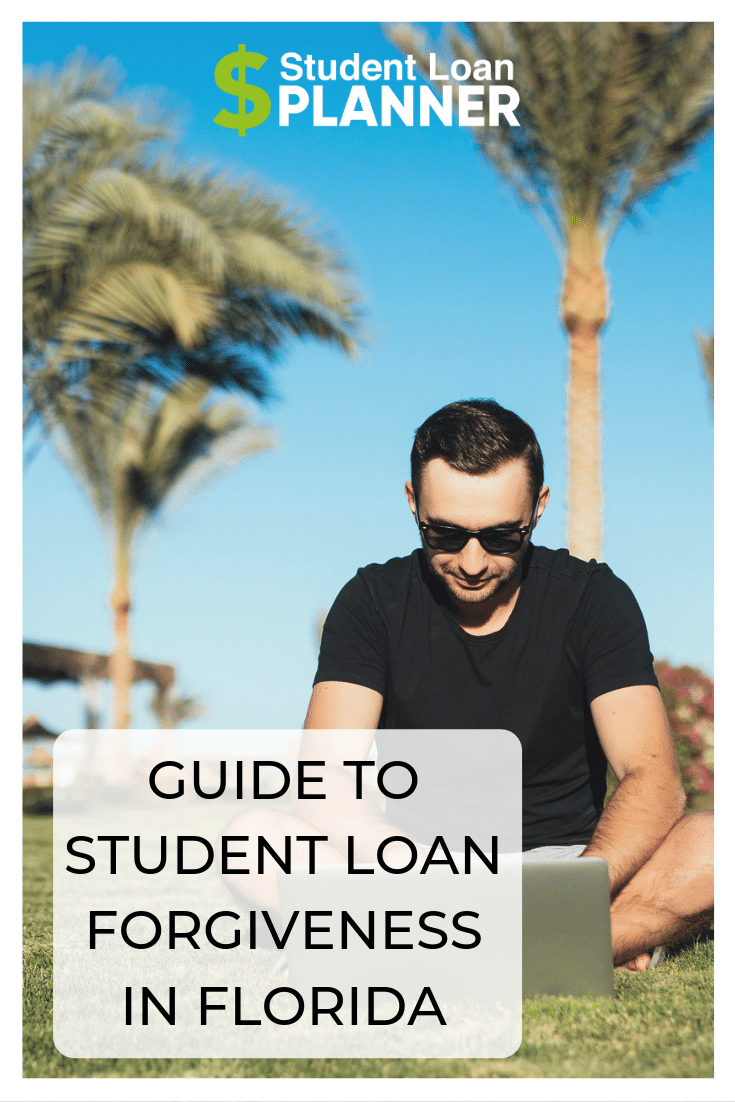 If you feel like you can't afford your student loan payments, going on an income-driven repayment (IDR) plan is a smart idea.
Under the IDR options, you can pay between 10% to 20% of your discretionary income. This can make payments more manageable. But more than that, under these plans you can get your student loans forgiven after 20 to 25 years, depending on the plan.
The one important thing to note, though, is that current tax laws require borrowers to pay taxes on their forgiven loans (this isn't the case with PSLF).
Teacher Loan Forgiveness
If you're a teacher, you could get $5,000 or $17,500 in loan forgiveness, depending on the subject you teach.
You can get $17,500 forgiven if you're a highly qualified math or science teacher at a secondary school or if you're a highly qualified special education teacher.
Teachers must serve at a low-income school or agency and work full-time for five years. You can submit the Teacher Loan Forgiveness Application to your loan servicer at the end of your service.
While there's no exclusive Florida teacher student loan forgiveness program, Florida residents are eligible for Teacher Loan Forgiveness, as it's available to all federal borrowers.
Save money with refinancing
Though it's not student loan forgiveness, if you want to save money on interest, student loan refinancing is an option. Student loan refinancing offers borrowers the chance to get a better interest rate with a new loan offer. Because it's a new loan, your old loans will be paid off and you'll have a new APR, payment and term.
These can all be good things, but since the new loan pays off the old loans, the process is irreversible. So if you refinance your federal loans, you'll no longer have access to the federal student loan forgiveness options under PSLF or IDR.
Typically, you must have a strong credit score to be approved. Refinancing is a good way to save money, but it's key to be aware of the federal protections you're giving up.
Student loan forgiveness in Florida
Florida may not be the best place to be for student loan forgiveness. It's not New York or one of these other not-so-well-known states when it comes to forgiveness. If you move to have more access to student loan forgiveness programs, remember that typically, you must be a resident of the state, and in some cases, you may need loans from that state as well. Be sure to do your research in that case.
But if you plan on staying in the sunshine state, you could use the federal student loan forgiveness options offered to all federal student loan borrowers.