Many jobs are doing well financially right now compared to the average in the economy. Other professions like dentistry and optometry approached financial crisis before bouncing back in a big way. We have done the most detailed analysis of any site I'm aware of to determine what were the most secure jobs of the pandemic financially.
Student Loan Planner® surveyed between 2,700 to 4,000 readers of this site on five separate dates from March 2020 to March 2021 to gauge how the pandemic had affected them financially.
We chose March 18, 2020, April 17, May 15, August 12, and March 1, 2021 to gather this data. The population was statistically equivalent in each survey, with similar levels of income, student debt, age, location, and job experience or qualifications.
We wanted to know how incomes across different professions have changed in response to the Coronavirus pandemic over time.
These jobs may be financially secure. But that doesn't mean there aren't Americans in every profession struggling from loss of income, including the ones I listed.
Overall, incomes took a huge hit from March to April, but compensation started to recover in May.
Our August 2020 data shows incomes started to recover substantially in many professions. March 2021 data shows the recovery has continue to improve in almost every profession.
In addition to our ranking, we'll include comments from readers in each respective career field so you get a feeling for what they went through.
We ranked this most secure jobs list according to the following two criteria:
The percent of each profession that reported unchanged income compared with before Coronavirus. The higher the number, the more laborers had financial stability during the pandemic.
Each profession needed at least 50 individual responses in the surveys.
Here's our list of the most financially secure jobs of the pandemic. These jobs will likely be stable and more protected from economic headwinds for years to come.
10. Nurse
Percent of nurses reporting no change in income compared with before the pandemic, March 2020 to March 2021.
March 18, 2020: 83%
April 17: 64%
May 15: 69%
August 12: 71%
March 1: 77%
Average with no income change from March 2020 to March 2021: 73%
In many cases, nurses in elective fields were quickly let go in April. Many had not yet returned as of August, although it's clear the field has recovered a lot in March 2021.
One thing to remember is that nurses have a wide variety of career paths and job functions. This profession also has a wide array of education credentials, including roles that require an associate's degree, bachelor's degree or a master's degree. Therefore, some nurses might specialize in specific areas of medicine that had less demand during a pandemic.
Patients cut back their demand for elective procedures significantly. This demand drop has showed up in lower incomes for nurses and health care workers.
That said, nursing as a whole did well compared to other occupations, especially in areas of medicine not subjected to COVID demand drops. While many nurses were affected in a variety of ways by this pandemic, the profession overall still made the cut for one of the most secure jobs.
Nursing is rewarding and stable. I took a small pay cut during the pandemic when I had been expecting a significant increase due to reclassification, but at least I am still working and helping
Because elective surgeries are being cut, the hospital is losing money. Therefore, we are losing some hours by being flexed in and out, having to take our hard earned PTO to cover for the time off or no pay if we chose. Our ancillary staff is forced to take time off so the work load is much much harder for us nurses. Our prep time has decreased to really read our patients chart to understand what's really going on with our patients and it's just becoming unsafe.
9. Teacher
Percent of teachers reporting no change in income compared with before the pandemic, March 2020 to March 2021.
March 18: 76%
April 17: 76%
May 15: 77%
August 12: 76%
March 1: 80%
Average with no income change from March 2020 to March 2021: 77%
Many K-12 teachers struggled through virtual lessons. But most still got paid.
Only 2% of teachers reported loss of income completely in most of our surveys. Teachers don't make huge incomes, but their incomes were generally cut rather than completely eliminated.
That makes sense, as local governments employ the largest number of teachers. Those employed at private schools suffered the most initially, while employment there recovered once some families chose to move children for in person instruction.
Overall, layoffs and salary reductions in teaching didn't get progressively worse during the pandemic. This makes teaching one of the most secure jobs of all professions for those who were initially unaffected financially.
Financial stability isn't everything, though. In our August survey, we found teachers had the highest rate of regret for choosing their career due to what's happened to them during the pandemic.
My district is trying to teach online, and we are working out the kinks and so I'm not really on the same 7:30 to 3:30 schedule that I was, but I am still getting paid my contract wage for my contract hours (not necessarily identical to Corona hours).
When Corona hit in March and we were forced to go online, teachers were praised for their efforts. Now, we are considered "lazy" for trying to be cautious and protect ourselves and our families for not wanting to go back to school. A lot of teachers, myself included, are expected to teach face-to-face while simultaneously maintaining virtual courses for students in quarantine. We are mentally and physically and emotionally drained due to Corona.
8. Corporate employee
Percent of corporate employees reporting no change in income compared with before the pandemic, March 2020 to March 2021.
March 18: 83%
April 17: 74%
May 15: 71%
August 12: 72%
March 1: 86%
Average with no income change from March 2020 to March 2021: 77.2%
Many small businesses shut down, but workers at large multinational corporations had a lot more financial stability, according to our survey results.
Zoom allowed many meetings to continue virtually. IT workers, project managers, and sales reps can continued most of their work from home.
We can see that corporate employees had the hardest hit in May, while by March 2021, many in this sector have roared back to pre-COVID level incomes or even higher.
The Coronavirus panic is affecting my mental health and my stress levels are sky high, which in turn, is affecting my ability to focus on work. Business feels steady (I work for a software company that doctors use), but how long will we be okay for and how long do we need to be okay for?
I work in financial services which is a stable space to be in right now and continues to have relatively high earning potential among corporate jobs. My student loans are manageable and I anticipate my income will only continue to increase. I also previously worked in the airline industry and I am glad I decided to move to financial services long before Covid happened!
7. Veterinarian
Percent of veterinarians reporting no change in income compared with before the pandemic, March 2020 to March 2021.
March 18: 75%
April 17: 67%
May 15: 73%
August 12: 87%
March 1: 91%
Average with no income change from March 2020 to March 2021: 78.6%
Veterinarians faced a surge in consumer demand as the pandemic stayed around for many months.
Customers had to stay cooped up with their pets in some cases for months at a time. Hanging out with your pets far more often than usual caused many people to notice health problems or concerns they might have otherwise ignored or missed.
It helped that veterinarians could mostly treat animals for injuries or illness inside their offices without humans present. Many report pet owners would sit in their car while the vet would handle treatment.
Some veterinarians even reported that this led to increased efficiency in the number of patients they treated. Hard shutdowns in April caused some vets to temporary lose incomes in some parts of the country, but veterinary medicine has been one of the most secure jobs of the pandemic financially.
Pandemic or not, my passion is in veterinary medicine and I'm glad that I went through all the hurdles to get to where I am now.
Not affected terribly by Covid. It's more mental health rather than student loans in terms of second guessing my career choice.
Still love my job!
6. Nonprofit professional
Percent of nonprofit professionals reporting no change in income compared with before the pandemic, March 2020 to March 2021.
March 18: 100%
April 17: 76%
May 15: 62%
August 12: 72%
March 1: 85%
Average with no income change March 2020 to March 2021: 79%
Nonprofit organizations rely on donations for their operations. When the stock market fell back in March, wealthier individuals pulled back on their giving substantially. The wealthy tend to want to be confident that the market has fully recovered too before opening up the purse strings again.
We are still in a precarious economic time. Many nonprofit jobs have not come back yet. However, government stimulus and a rebounding stock market have caused the nonprofit sector to almost be on par with corporate America for financial stability of incomes.
It seemed like the nonprofit sector was slower to cut pay early on in the pandemic, which is why they show up at number six on our list of most secure jobs.
Although I am currently working, my husband is a sports broadcaster who is now laid off and will be out of work as long as sports are cancelled. We are now trying to plan for at least six months with him being out of work, and relying on my nonprofit worker salary only
In my primary occupation, I have been as busy as ever due to the organization's need to maintain stability within operations. I feel extremely lucky to be in my position, with my primary hope being that school is back in session next year for my kids.
5. Physician Assistant
Percent of physician assistants reporting no change in income compared with before the pandemic, March 2020 to March 2021.
March 18: 91%
April 17: 70%
May 15: 67%
August 12: 85%
March 1: 84%
Average with no income change from March 2020 to March 2021: 79.4%
We went from one in 10 PAs reporting a drop in income in March to three out of 10 in April and May. However, we saw the percent reporting a normal pre-pandemic level of pay jump to 85% in August and 84% in March 2021.
The PA category was alone in having fewer respondents report unchanged income in March 2021 compared to August 2020. But the number is about the same.
What's probably happening is PAs with specializations in surgical areas that are more elective might still be facing a slower rebound in earnings. That said, it seems that the majority are still doing ok and many of the elective procedures are coming back.
I do wound care for the elderly. I've noticed families are scared and taking their loved ones home due to COVID-19 since visiting hours have been banned. My income will take a slight dip but should bounce back due to higher cases of elderly people getting sick or current patients developing wounds due to activities being cancelled, nursing staff being overworked, and patients subsequently getting more skin break down and falls.
I'm a rural family practice PA. I'm working a lot more hours since one of our doctors is off work awaiting COVID-19 testing. I am not able to see many more patients physically and the volume of bullshit (phone calls, med refill requests, etc has more than doubled). I am definitely concerned about burnout.
4. Lawyer
Percent of lawyers reporting no change in income compared with before the pandemic, March 2020 to March 2021.
March 18: 87%
April 17: 80%
May 15: 80%
August 12: 79%
March 1: 86%
Average with no income change from March 2020 to March 2021: 82.4%
As one of my lawyer friends told me this week that "if there's massive numbers of bankruptcies, you'll need lawyers to process them all."
Instead, we saw a wave of corporate activity, home buying, SPACs, election legal filings, and lobbying with three stimulus bills that were each larger than the 2008 stimulus in one year.
In good times and bad, it seems like lawyers do well. The legal profession was one of the most secure jobs during the pandemic. This profession adapted well to remote work.
By March 2021, incomes have recovered to the point of being similar to corporate America. However, incomes in the legal field never fell as steeply during the worst part of the pandemic.
As a litigator, I am seeing business increase. Companies are scared about business income interruption and employment law concerns.
Torn between spending more and helping the local businesses I care about in my community, and saving enough for darker times. Income currently is stable, but worried that that could change during a prolonged crisis.
3. Physician
Percent of physicians reporting no change in income compared with before the pandemic, March 2020 to March 2021.
March 18: 91%
April 17: 78%
May 15: 78%
August 12: 84%
March 1: 89%
Average with no income change from March to March 2021: 84%
My wife is a physician. She does elective surgeries for older women with pelvic disorders. Originally, we thought she might be pulled to cover shifts in the emergency room.
Our area, like many in the country, did not see its healthcare capacity become overwhelmed. What healthcare systems did have was a massive drop-off in revenues.
However, then we had massive stimulus bills and returning patients who had put off needed care that in many cases made up for those losses.
From our survey results, physicians reported in April that only the worst emergencies or important patients consults still happened at their hospitals.
By August, many of these patients started coming back. In every healthcare system that we've heard cut a 401k contribution, that has since returned. Generally, pay cuts were also restored.
Very few physicians reported losing their jobs entirely at any point from March 2020 to March 2021. Our data shows only 1%, which is one of the lowest of any profession.
Physicians are in one of the most secure jobs and financially better off than most. However, some physicians experienced a drastic drop in income, RVUs or salaries. Equally concerning, many medical professionals are physically or mentally spent from battling on the front lines of this pandemic.
Being forced to take two weeks unpaid quarantine due to an occupational exposure.
I am not spending money because I am working 100+ hour weeks
I am a sole practitioner and while I am able to do Telemedicine, I'm seeing a decline in patients seen as we aren't emergent care. While income is still present now, I am concerned about the coming months as my practice is not insurance based, but cash based.
2. Government employee
Percent of government employees reporting no change in income compared with before the pandemic, March 2020 to March 2021.
March 18: 100%
April 17: 87%
May 15: 84%
August 12: 86%
March 1: 89%
Average with no income change from March 2020 to March 2021: 88.8%
There's a lot of talk about government workers in danger of being laid off. So far, we haven't seen that happen.
The American Rescue Plan passed in March 2021 provides $350 billion to state and local governments, many of which had relatively unchanged revenues when comparing 2019 to 2020.
That said, government employment often moves slowly when making financial adjustments. I think at the state and local level, we might have seen some salary cuts and hour reductions in anticipation of a financial crisis that never fully materialized.
We will probably see a relatively slow reinstatement of those earnings and hours compared to the private sector, given that government also takes these earnings away more slowly than the private sector.
For the high level of stability along with minimal cuts even during the worst of the pandemic, government employment was second on our list.
My three siblings have lost their jobs. I'm the only other relative they have in the US and who ultimately takes care of our family.
In CA, the governor announced a 10% reduction in pay for state employees. This reduction is temporary until we get back on our feet, but obviously the recovery length of time is unknown.
1. Pharmacist
Percent of pharmacists reporting no change in income compared with before the pandemic, March 2020 to March 2021.
March 18: 93%
April 17: 88%
May 15: 81%
August 12: 88%
March 1: 95%
Average with no income change from March 2020 to March 2021: 89%
In March 2020, one prominent pharmacist said, "People are flocking to pharmacies not just to get their prescriptions ahead of time, but trying to buy everything and anything. So, staff are being asked to work extra hours."
Some pharmacists work in drive-thru pharmacy settings and might have less exposure than other front-line healthcare workers. However, others face more patient contact and have significantly more risk.
It's worth noting that just months ago, we wrote an article about the struggling job market in pharmacy. The Bureau of Labor Statistics (BLS) projects a 3% decline in job growth from 2019 to 2029.
But things have changed very, very fast as pharmacy has been one of the most secure jobs during the pandemic.
By March 2021, 0% of pharmacists in our sample reported losing their income completely, the best statistic of any profession we surveyed.
If you look at the entire year and average it out, being a pharmacist was the most financially stable profession of the COVID pandemic.
I work at an independent pharmacy. Many medications seem like they will be on back order soon if they aren't already. If we can't fill medicine, we don't make money, and I don't get paid. So far it isn't an issue, but it's uncomfortable to think about.
I work per diem for the VA. Luckily, I have been receiving full-time hours but I have been told that could change. The fear is that there will be a hiring freeze across hospitals if we go into a recession so I am saving up now in case I cannot get a full time job in the future and my hours get cut. The future is uncertain.
Worst hit professions are now recovering: Dentistry case study
Pandemic shutdown orders in spring 2020 took a huge toll on professions that weren't suited for virtual work.
Dentistry reached a financial crisis briefly in April and May, but it recovered strongly as the shutdown orders ended and PPP loans allowed doctors to retain their staff.
Here's the percent of dentists reporting no change in income compared with before the pandemic, March 2020 to March 2021.
March 18: 32%
April 17: 19%
May 15: 25%
August 12: 61%
March 1: 74%
Average with no income change from March 2020 to March 2021: 42%
Back in March and April, dentists told me if we surveyed them in a week that they think 100% of dentists would report a huge drop in income.
In the survey we did on March 18, 2020, three in 10 dentists said that they no longer had an income at all. Only 31% reported that their income had not changed, and many of those who said that seemed to work in military dentistry or in very rural areas.
On April 17, only 19% of dentists still had similar incomes as before COVID. 56% lost their income completely. The ones that still had incomes in some cases were staying open only for emergency procedures.
On May 15, 25% of dentists reported normal incomes. 42% lost their income completely, which is an improvement from May. Luckily by August, the majority of dentists reported incomes have returned to pre-COVID levels.
By March 2021, dentistry looks similar to other professions on this list. That's a welcome change.
Here's some of the thoughts we heard from dentists pack during the worst of the pandemic.
As an incoming dental student, much of our curriculum has moved to remote instruction so we aren't getting the hand skills we need, yet tuition isn't being changed at all.
Practice loan repayment is a concern. Not sure how banks will react and help.
Was about to buy a dental practice and since have had to put it on hold since the future of dentistry this year is very uncertain.
Profession rankings: From most secure jobs to least during COVID-19
Here's the full survey results below of major professions ranked from most secure jobs to least. I restate the top 10 and show dentistry as a reference point.
I list the results from the April 2020 and March 2021 surveys to show the period close to the trough compared to the period of recovery to show how drastically incomes have improved.
April 2020 Versus March 2021 Survey Results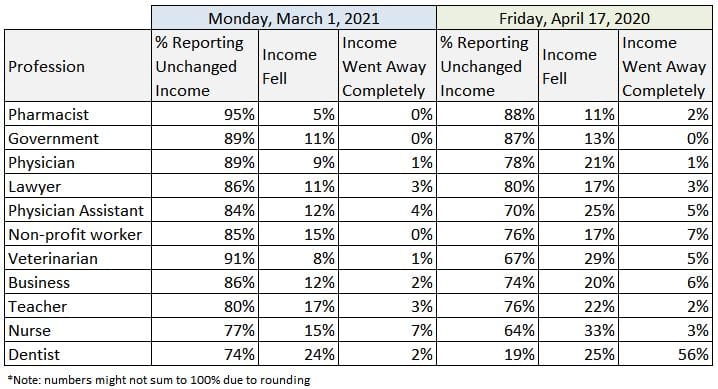 Economic recovery has happened, but it will take time for everyone to recover financially
While many workers in the most secure jobs above are doing ok financially right now, not all are.
As some of the comments mentioned, you might be getting a steady paycheck but you might have risked your life and the lives of your family. It's been a difficult year.
While these are scary times, financial markets and the economy will survive this. Most of our readers aren't necessarily worried about their student loans right now compared to their overall finances. But if you do need a plan, we can help.
If you wanted to share what you've gone through during the pandemic, just comment below and share.
Not sure what to do with your student loans?
Take our 11 question quiz to get a personalized recommendation for 2023 of whether you should pursue PSLF, Biden's New IDR plan, or refinancing (including the one lender we think could give you the best rate).
Take Our Quiz