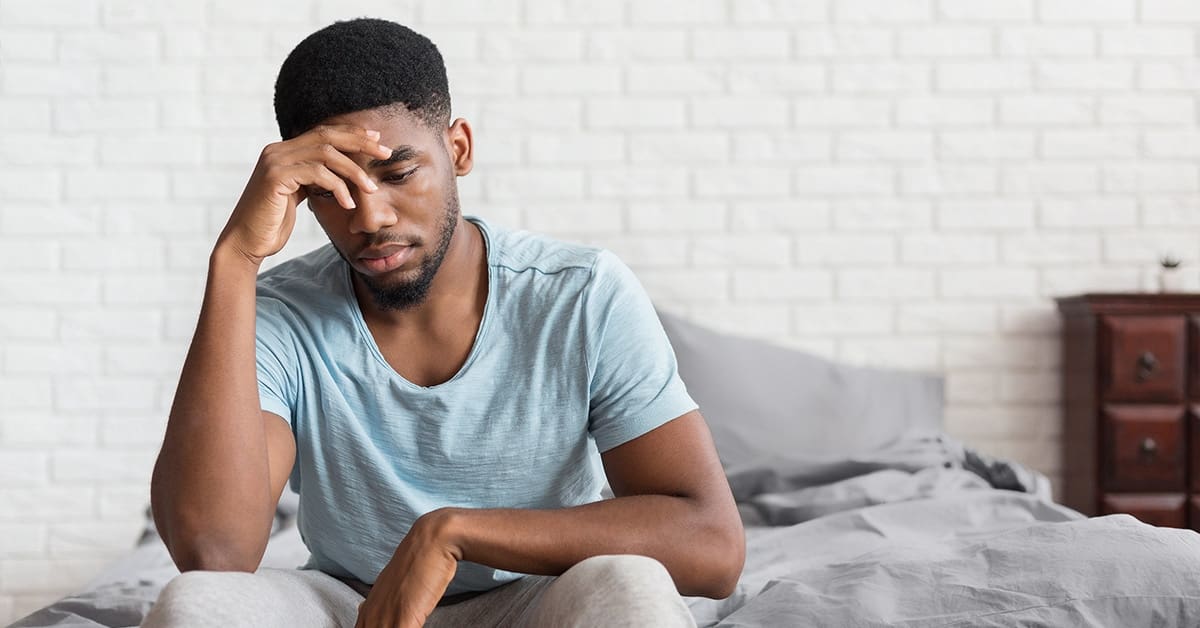 8 Min Read | Updated on November 12, 2023
During Student Loan Planner®'s 2019 mental health survey, one in nine survey respondents with student loan debt between $80k to $150k said they had considered suicide because of their debt.
This student loan range had the highest suicidal ideation rate out of all student debt totals. This makes it the highest-risk debt range for borrowers.
It would seem obvious that borrowers with fewer student loans would have less anxiety about them. But it doesn't seem intuitive that borrowers with more student loans would have less anxiety as well. On the surface, you'd think that a someone with $200k of student debt would feel more overwhelmed than a borrower with an $80k student loan payment.
But considering how the student loan system is set up, this "deadly middle" that Student Loan Planner® discovered shouldn't be all that surprising. Let's take a look at why borrowers with moderate to moderately-high student debt tend to feel the burden of their student loans the worst.
Incomes aren't proportionate to student debt
If there's one common thread among respondents with $80k to $150k of student debt who said their debt made them consider suicide, it's a high student-debt-to-income ratio.
Of those who were currently working (i.e., not still in school), these are what the compensation numbers looked like:
73% were making $80k or less in annual income
55% were making $60k or less in annual income
36% were making $40k or less in annual income
There are various reasons why people could end up with earnings that don't seem to match their student loan totals. For example, some borrowers may decide to work in a different field than what their degree is in.
But exceptions like this don't explain why such a large percentage of people in this debt range seem to have unfavorable debt-to-income ratios.
The rise of graduate degree requirements
The average student loan balance for undergraduates is $28,950 according to The Institute for College Access and Success (TICAS). But the Center for American Progress says that nearly 40% of federal student loans today are now taken out for graduate programs.
Many professions have changed their licensing rules in the last decade to now require grad school. For example, 10 of our respondents who had an $80k student loan payment to $150k were physical therapists. That's a profession that only recently began requiring a doctorate degree in order to practice.
While seven out of 10 said they owed more than $100k in student debt, only one out of 10 said their annual income was at $100k or better. Here's what one physical therapist had to say:
As a PT [physical therapist] doctorate professional, the pay salary is low for the level of schooling and debt necessary to get this degree. And most plans with financial assistance in forgiveness on loans are mainly for nurses, medical doctors, teachers, pharmacists, public health and other health related professions."
Another four of our respondents in the $80k to $150k debt range were occupational therapists. That profession that began requiring a master's degree for licensure in 2007.
In fact, the vast majority of all respondents who had $80k to $150k of debt work in fields that require a graduate degree of some sort.
Yes, doctors and lawyers have intense education requirements, too. But it's important to remember that they tend to earn incomes that are commensurate to their education costs.
However, as we'll see, other middle-class professions don't offer sky-high salary potential. Yet they have increasingly lofty education requirements.
More education doesn't always mean more money
From veterinarians to physical therapists to chiropractors, Student Loan Planner® has evaluated a variety of fields to determine whether or not the tuition costs are worth the expected salary.
Oftentimes, the findings aren't pretty.
A day in the life of a chiropractor
Many chiropractic programs, for example, now require you to complete a bachelor's degree before starting your Doctor of Chiropractic (D.C.) degree program. Most D.C. courses of study require about three more years of education.
This has resulted in an average debt of $248,000 for the chiropractors Student Loan Planner® has consulted. The median chiropractor salary is just under $70,720 per year, according to the Bureau of Labor Statistics (BLS).
That's a nice salary. But remember, that's the median. Student Loan Planner® has found that chiropractors who don't own their own practices can make significantly less.
In fact, the average starting salary for a chiropractic assistant could be closer to the $30,000 to $40,000 range. Starting with that kind of a salary despite student loan totals near or above $200,000 would be enough to induce anxiety attacks in anyone.
Conversely, a salary of roughly $71,000 is relatively small when compared to the average physician's salary of $208,000. And it's only a little over half of the average lawyer salary of $126,000.
A day in the life of a social worker
Social workers are amazing people who help children, families and individuals through emotional or mental health issues. Yet they are another group of people who can get hit hard by student debt.
Ten of our survey respondents in the $80k to $150k student debt range were social workers. They also accounted for 16% of those who marked that they had considered suicide because of their debt.
Part of the stress social workers feel on a daily basis is surely related to the high-stress nature of their jobs. But growing education requirements certainly can't be helping.
Many social worker jobs now require master's degrees. Yet the average social worker only makes $49,000, according the BLS. Even having "just" an $80k student loan payment can lead to financial strain at that pay level.
One of our social worker survey respondents had to this say about their student loan situation:
Being in a 'care' profession and feeling like you're constantly overworked and undervalued while going to graduate school at the same time is incredibly difficult, draining, and overwhelming."
The bottom line? It's costing more than ever to qualify for many middle-class jobs while income expectations often aren't keeping pace.
Income-driven repayment plans squeeze middle-class professionals the most
If you're someone who has student loan payment of $80k to $150k, there's a good chance you may work in a field that requires a graduate or professional degree. And, if that's the case, you may also find that your starting salary puts you in a sort of "no-man's land" when it comes to repaying your student loans.
With income-driven repayment plans, you're required to pay little or sometimes nothing at all if you have a very low discretionary income. And high-income earners can handle their monthly student loan payment without feeling too much of a squeeze on their monthly cash flow.
But the middle-class professional ends up getting hit the hardest. For example, take a look below at how much someone with $100k of student loans would have to pay each year toward their student loans. Especially pay attention to the percentage of annual income that will be going towards student loan repayment at each income level.
| | | |
| --- | --- | --- |
| | | Payment as a Percentage of Income |
| | | |
| | | |
| | | |
| | | |
| | | |
| | | |
| | | |
| | | |
| | | |
The people making between $55k and $150k are the ones paying the highest percentage of their income towards their student loan minimum payments. Therefore, people in this range are feeling the biggest cash-flow squeeze from their student debt obligations.
Affording rent and a car payment becomes more difficult when a large percentage of your income is tied up in student loan payments. It's also harder to carve out space in a budget to save for a house down payment or retirement.
To wrap things up, people with $80k to $150k of student debt are often dealing with incomes that are disproportionate to their loan totals. And this is while many are dealing with the tightest budgets.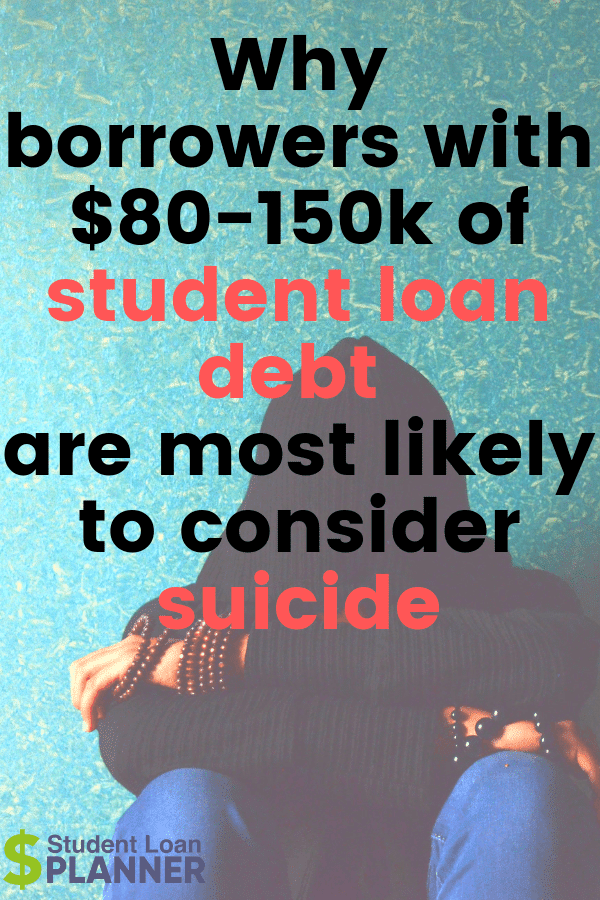 What to do if you have an $80k student loan payment to $150k
If you have an $80k student loan payment to $150k, you don't have to feel hopeless or overwhelmed. Student Loan Planner® has helped hundreds of people in your exact situation come up with a plan to make their student loan payments more manageable.
Here are some tips to help you make your payments more manageable or help you become debt-free faster.
1. Look for "free money," like student loan grants.
Depending on your profession, there may be grant money available that could help you pay down your student loans.
To help you get a head start on your search, check out Student Loan Planner®'s guide, 10 Grants to Pay Off Student Loans Faster.
2. See if you qualify for a federal forgiveness program.
Income-driven repayment plans come with forgiveness options after 20 to 25 years of on-time payments. But there are other federal programs that could offer you student loan forgiveness much quicker.
If you work in the public sector or for a non-profit organization, you may qualify for the Public Service Loan Forgiveness (PSLF) program. This program offers full forgiveness in as little as 10 years (120 qualifying monthly payments). And you won't owe any tax on the forgiven amount.
The federal government also offers up to $17,500 of forgiveness for qualifying teachers through the Teacher Loan Forgiveness program. However, teachers must work for five consecutive years at an eligible school to receive any forgiveness through this program.
You can find all the forgiveness programs and how to qualify for them by checking out our Ultimate Guide to Student Loan Forgiveness.
3. Refinance your student loans.
As discussed above, people with middle-class incomes tend to get the least amount of relief from income-driven repayment plans. So if your principal balance is less than 1.5 times your income, you may want to consider student loan refinancing to reduce your interest payments.
If you decide to refinance federal loans, you'll need a good credit score to qualify for lower rates. If that's you, and you have private loans, refinancing is probably a no-brainer.
However, if you're refinancing federal loans, keep in mind that you'll lose all federal benefits. Prominent examples include Income-Driven Repayment (IDR), forbearance, deferment and student loan forgiveness. You'll want to make sure that you have an emergency fund in place before you start applying with private lenders for refinancing.
On the upside, a refinance loan may offer you a lower interest rate or a more attractive repayment term than the Standard Repayment Plan. And many lenders offer sizable cash bonuses as well. Use our refinancing calculator to estimate how much you could save.
4. Think outside the box!
Signing up for autopay or adding a side hustle might seem like small decisions. But, combined, these little things can make a big difference in your student loan situation.
If you're ready to kick your student loans in the pants, here are 107 Ways You Can Pay Off Student Loans Fast, which could give you the inspiration and motivation you need.
Speaking of inspiration and motivation, if you're feeling overwhelmed by your student debt, a Student Loan Planner® consultant would love to talk to you. With the right strategy, no student loan situation is hopeless. Book a consultation today.
Refinance student loans, get a bonus in 2023
Lender Name
Lender
Offer
Learn more

$1,000 Bonus

For 100k or more. $200 for 50k to $99,999

Fixed 5.24 - 9.59% APR

Variable 6.24 - 9.99% APR

$1,000 Bonus

For 100k or more. $300 for 50k to $99,999

Fixed 4.96 - 10.24% APPR

Variable 5.72 - 10.24% APR

$1,000 Bonus

For 100k or more. $200 for 50k to $99,999

Fixed 5.19 - 9.74% APR

Variable 5.99 - 9.74% APR
Not sure what to do with your student loans?
Take our 11 question quiz to get a personalized recommendation for 2023 of whether you should pursue PSLF, Biden's New IDR plan, or refinancing (including the one lender we think could give you the best rate).