I call Studentaid.gov the "hub" of all things federal student loans. This website houses information for those considering school, those who are already enrolled in school and pursuing their degree, parents who want to help their kids pursue an undergraduate degree, and those who are in student loan repayment.
For student loan borrowers, one very important data file can be generated from studentaid.gov, called the National Student Loan Data System file, or the NSLDS file.
The NSLDS file is a .txt document containing all the nitty-gritty details of your federal student loans. This is actually part of the information that we request to prepare for our one-on-one consultations with folks.
So what information is in NSLDS data files, and how do you access it? Let's dig in.
What's the NSLDS?
The NSLDS is a database that the U.S. Department of Education uses as its central record for student aid. It contains data from schools, guaranty agencies, the William D. Ford Federal Direct Loan (Direct Loan) program, and other Dept of Ed backed programs like FFEL or Perkins Loans.
There used to be a whole separate website for this information which, thankfully, was merged with Studentaid.gov in February of 2020.
How do you access the NSLDS information?
Your NSLDS information is stored as a .txt file download. You can download your file from your Federal Student Aid (FSA) account on Studentaid.gov.
Make sure to access this website using an accepted web browser for the best user experience: Mozilla Firefox, Apple Safari or Google Chrome.
If it's been a while since you last logged in, you can obtain your username (or use your Studentaid.gov email address) and/or reset your password. Make sure to update your contact information upon logging in.
If you don't have an FSA login, you can create an FSA account. It will take you one to three business days to gain access to your account once you've created one because FSA must verify your identity.
Once you're logged in:
Hover your mouse over your first name toward the top-right.
Select "My Aid".
When you reach the new webpage, click on the blue link: "Download My Aid Data" and click continue.
Your .txt file should automatically download to your computer for viewing.
What information is available in NSLDS?
The data within the NSLDS file is a collection of information from the schools you attended, your activity under the Direct Loan Program and other Dept of Education Programs (FFEL, Perkins, etc.), and the agencies that guaranty and service your federal student loans.
At first glance, this file will look horrendous… Let me help point you toward what to look for.
The first section of this file has your basic contact information. Make sure the information is current.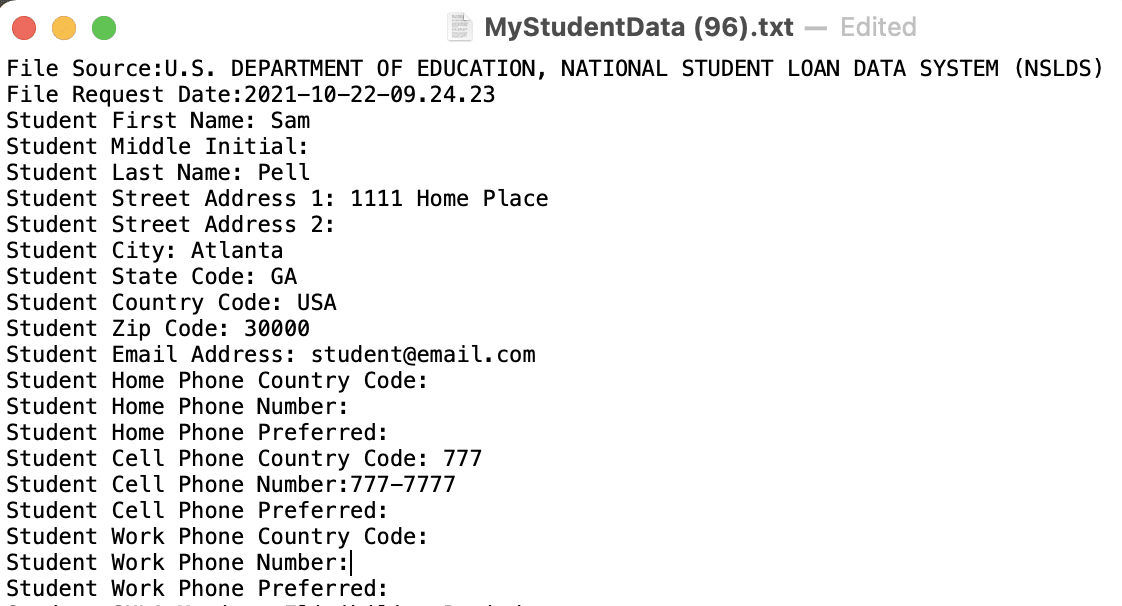 Next, you'll see your overall financial aid details. This overview will outline information about your grants, enrollment status, and total loan balances. Each line item will include specific loan types with their respective outstanding principal and interest.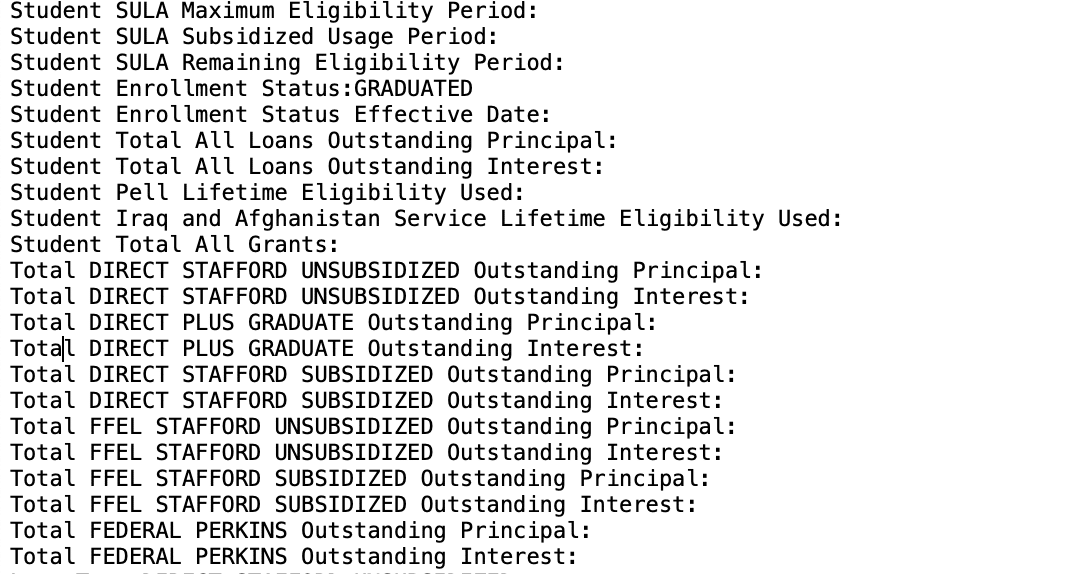 Then the NSLDS file will go on to further break down each individual loan you borrowed from each enrollment period. This gives you details on what school the loans went toward, how much was disbursed and when, the current balance, interest rate, repayment plan you're on, your next payment due date, how much that payment will be, a timeline of your repayment history, and contact information about your loan servicer: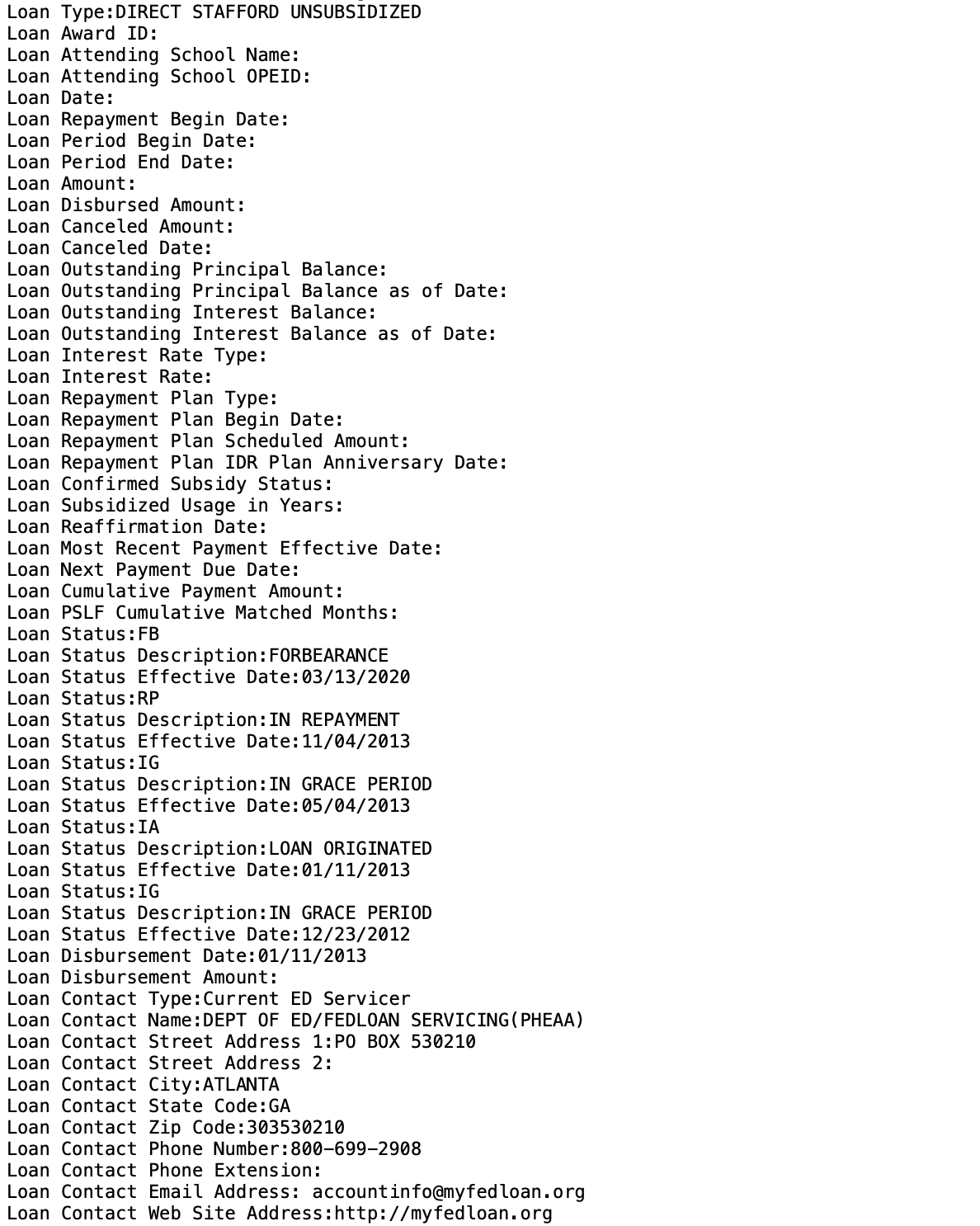 This file can be long, especially if you've had many years of schooling.
If you're an SLP client, we give you a cleaned-up version of your NSLDS file via our Magic Macro converter that's much prettier to look at!
Why is the NSLDS important?
The NSLDS can quickly confirm certain information that you're unsure of:
Which company (or companies) service your loans and their contact information.
The types of loans you have (Direct, FFEL, Unsubsidized, Subsidized, Perkins).
What repayment plan you're on.
When you entered repayment, and when you were in forbearance, deferment or a grace period, and for how long.
Your balance(s).
Your interest rate(s) (with the exception of the administrative forbearance period through August 31, 2022, when interest rates on federally held loans are 0%).
This file is important for record-keeping purposes. Student loan servicing companies are contractors for the Department of Education. This means that their contracts can expire from time to time, or your servicer can be replaced or fired.
A change of your loan servicer is naturally going to be a disruption. Having a centralized database for your loan details ensures that, even if a servicing company exits the business, they aren't solely responsible for storing your loan information and repayment history.
We recommend downloading this file once a year or more to keep an active record of your loan details over time.
The NSLDS file is static information, meaning it's accurate as of the date of your download. There is also sometimes a slight lag in information reflecting on the NSLDS from the loan servicer depending on their systems and processes. This delay shouldn't be more than a month or two from what we've seen.
Commercially held FFEL loans, however, will show more limited information due to their privately held nature. Check out FFEL consolidation or student loan refinancing for these types of loans if it makes sense for your specific situation. Alternatively, you can leave them alone if you have a really low-interest rate or are on track for IDR forgiveness.
How to handle incorrect information on your NSLDS file
Finding errors on your NSLDS file can happen. If the inaccuracy is in your basic contact information (address, phone number, email address, last name), you can update this through Studentaid.gov and your servicer.
Otherwise, a numerical or loan detail inaccuracy reflected on your NSLDS file will most likely originate from one of the places the information was gathered, such as a school or servicer.
Is your balance double-counted?
A common reason for this has to do with a consolidation process: If you're still in the midst of a consolidation (which takes 30 to 90 days to complete), your file might show the new consolidated balance, in addition to the original loans that are being consolidated.
This typically happens when you're leaving one servicer and going to another because there's naturally a time lag from the older servicer that shows the balance as paid off.
Have you not consolidated recently, but still have a double-counted balance? And is the correct balance showing up for your servicer?
If this is the case, contact your loan servicer to inquire about the discrepancy. This might be a reporting issue on their end. Explain that your NSLDS file from Studentaid.gov shows one thing, while the servicer's information shows another balance due.
Make sure you get to the bottom of the issue and get confirmation about how they'll fix it. This goes for any other discrepancy where your NSLDS file doesn't match up with your servicer's records.
Do you have information that's incorrect with both your servicer's records and your NSLDS file?
If so, you might need to straighten it out with the school's financial aid office or the Dept of Education's Student Loan Support Center at 1-800-557-7394.
Here are some additional resources to refer to if you find inaccurate information on your NSLDS file:
Need help?
You'll determine the success of managing your student loan debt, not the government, your loan servicer or anyone else. If you're not sure about your student loan repayment plan, we've got you! Contact us to get your student loan repayment plan mapped out now.