PenFed Student Loan Refinance Review At A Glance:
PenFed can refinance up to $300,000 of federal and private student loans.
The lender has fairly strict salary and credit requirements.
Parent PLUS loan refinancing and a cosigner release option are both available.
Pentagon Federal Credit Union, more commonly known as PenFed, is a financial institution that serves all 50 states in the United States; Washington, D.C.; as well as Guam; Puerto Rico; and Okinawa.
PenFed Credit Union offers several financial products, including student loan refinancing, which lets borrowers consolidate their student loans into one payment. PenFed refinances private and federal student loans and offers both fixed and variable rates.
Note that federal borrowers who consolidate their federal loans with PenFed will lose certain benefits such as forbearance, deferment and income-driven repayment plans. In this PenFed student loan refinance review, we'll take a closer look at the lender's terms, benefits, and drawbacks. Here's what you need to know.
Note that the COVID-19 pandemic and federal relief measures have impacted many student loan borrowers. To learn more about your options and whether you should consider refinancing now, check out our guide.
PenFed student loan refinance at a glance
PenFed Student Loan Refinance
To start your search for the best student loan consolidation or refinance company for your situation, compare the pros and cons of the lender you're considering. Let's take a look at the advantages and disadvantages of refinancing student loans with PenFed.
Pros
There's a lot to like about the PenFed student loan refinance product which is powered by Purefy. One standout benefit is that spouses can refinance their separate loans into one payment. Here are a few more advantages of refinancing your student loans with PenFed:
No fees:

PenFed does not assess pre-payment penalties, origination or application fees

Flexible loan terms

: PenFed offers five-, eight-, 12- and 15-year repayment terms. The latter two options could decrease your monthly payments if needed. However, you'll need to apply with a different lender if you're looking for a 20-year term.
Parent PLUS refinancing: Parent borrowers can consolidate PLUS loans with other kinds of federal direct loans, including subsidized and unsubsidized. Additionally, students can use a PenFed Parent PLUS refinance to assume their parent's debt into their own name.
Check your rate without impacting your credit: PenFed's "Find My Rate" tool performs a soft credit pull so that you can see your estimated rate without adding a hard credit inquiry to your credit reports.

Cosigner release:

PenFed allows cosigners on refinance loans and student loan borrowers can request their cosigner be released from the obligation after they make 12 consecutive, timely payments.
Cons
Salary requirements, credit score minimums and limited forbearance options are some of the things borrowers will have to deal with if they refinance their student loans with PenFed. Here are a few things to keep in mind before applying for a refinance loan with the company:
Not available to non-graduates or associate's degree grads:

Only borrowers who graduated with a bachelor's degree or higher (and are employed) are eligible for student loan refinancing with PenFed.

No concrete forbearance or deferment options:

PenFed does not advertise deferment or forbearance. The company will work with borrowers on a case-by-case basis, however, in the event they lost their job. Forbearance is possible, but interest would accrue during that time.
Low maximum loan amounts: While many refinancing companies don't have a hard-fast maximum loan limit, PenFed borrowers can only refinance up to $300,000 in student loans. The minimum loan amount is $7,500.
Rigid income and credit requirements: You'll need a cosigner if you don't meet the following minimum income and credit score criteria:

For loans up to $150,000: The minimum credit score is 700 and the minimum annual income is $42,000.
For loans above $150,000: The minimum credit score is 725 and the minimum annual income is $50,000.
If you're able to add a cosigner to your loan that meets the requirements above, you (the primary borrower) will need a minimum credit score of 670 and a minimum annual income of $25,000.
PenFed student loan refinance eligibility requirements
There are a handful of basic requirements borrowers must meet to refinance their student loan through PenFed outside of the financial ones mentioned in the previous section. Applicants must be:
A U.S. citizen
Age of majority in their state of residence
The borrower of at least one outstanding, completely disbursed private education, federal-backed or Parent loan
The borrower on the student loan application and on the promissory note
A graduate with a bachelor's degree or higher
Able to provide proof of income and meet the borrower credit requirements
Additionally, you must be a PenFed Credit Union member to refinance your student loans with the institution. There is no requirement for military service and borrowers can wait to sign up to become a member until after they're approved.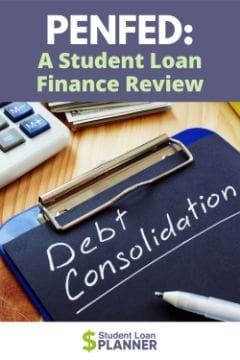 PenFed student loan refinance application process
Applying for a loan with PenFed is a two-step process. First, you'll have to disclose information that allows PenFed to conduct an initial credit review to determine your interest rate.
This information includes your name, email address, home address, education level, current salary and housing expenses. All of this information will lead to a "soft" credit inquiry or pull and won't affect your credit score. At this point, you can see what type of APR you're eligible for.
After reviewing your interest rate offer, you can opt to complete the application process, which includes a "hard" credit pull. Hard credit checks may impact your credit score temporarily. PenFed requires the following items to complete your application process:
Income verification (paystub or tax return)
Photo ID (driver's licenses, passport or state-issued ID card)
Payoff verification statements from each of the borrowers' current loan servicers (the statement should project the payoff amount 10, 15 or 30 days into the future)
Graduation verification (picture or copy of your diploma or transcripts)
PenFed membership application (this is only needed after your pre-approval)
Should you refinance your student loan with PenFed?
Whether a PenFed student loan refinance is your best option depends on your current financial situation. Consider PenFed's financial eligibility requirements again. Based on those requirements, you might want to refinance with PenFed if you:
Earn a significant five-figure annual salary
Have a strong credit history, OR
Have someone willing to cosign your loan
The last point about a cosigner is important if the two other points are not true. Remember, you have to earn at least $42,000 a year and have a credit score of 700 to apply for a loan of $150,000 or less on your own. And if you want to borrow more than $150,000, you're going to have to earn at least $50,000 annually and have a credit score of 725 or more. Those could be high marks to hit if you're just coming out of college and not working in a high-paying industry just yet.
The required cosigner could make qualifying for refinancing your loan easier and possibly get you a better interest rate. Just remember that the cosigner is tied to you for at least 12 months and their credit will suffer if you don't make payments on time.
If you're attracted to PenFed's relatively low fixed and variable APRs and can meet its financial eligibility requirements (with or without a cosigner), you may have found your student loan refinancing company. If you want a competitive interest rate with less demanding financial requirements or don't have access to a cosigner, however, there are other student loan refinance options available. Check out Student Loan Planner®'s top-rated student loan refinancing companies for more information.