As a physician assistant, you may enjoy job stability and a relatively high income. But it could come at a cost. According to data from the Physician Assistant Education Association (PAEA), nearly a quarter (23.5%) of graduates owe six figures in student loan debt or more.
If you find yourself in this situation, there's hope. The good news is that it's possible to make your student loans more affordable through student loan refinancing. Use our guide to student loan refinancing for physician assistants to learn how.
Note that the COVID-19 pandemic and federal relief measures have impacted many student loan borrowers. To learn more about your options and whether you should consider refinancing now, check out our guide.
The cost of becoming a physician assistant
The growth and salary associated with a career as a physician assistant are exciting. But physician assistants typically have the student loan debt to show for it, too.
According to data from the Bureau of Labor Statistics, physician assistants' median pay is $112,260 and had projected job growth of a whopping 31% from 2019 to 2029.
Data from the End of Program Survey from the Physician Assistant Education Association, however, reveals the cost of becoming a PA. The survey of new PAs shows that 85.2% took out student loans to finance their graduate PA degree. The range of debt was between $2,000 and $273,000, with the majority (23.5%) within the $100,000 to $124,999 range.
If you find yourself saddled with six-figures of debt from becoming a physician assistant, the interest alone can feel like a major burden. Student loan interest accrues daily. And if you have Grad PLUS loans you have the not-so-great distinction of having the highest interest rates out of all federal loans, which can make student loan refinancing for physician assistants an attractive option.
Student loan refinancing for physician assistants
Student loan refinancing allows borrowers to apply for a new loan. This new loan is typically offered at a lower interest rate. The slashed rate can result in reducing a student loan borrower's total debt over time by thousands of dollars, enabling the borrower to pay down the principal balance even faster.
Benefits of PA student loan refinancing
Federal student loans come with fixed interest rates that don't change. When you refinance, you typically have the option to choose between fixed or variable rates. Additionally, you may have access to different or longer repayment terms, which would affect your monthly payment.
In other words, PA student loan refinancing can make sense because you shift your repayment terms to work for you and get a better interest rate.
Shaving off a percent or two from your interest rate can save you thousands of dollars. You can use those savings to help you pay off the student loan debt faster by making a bigger dent in your principal balance.
Additionally, you have more options. When you have federal loans, you're at the mercy of the government. Refinancing gives you some freedom to work with a company you value. CommonBond, for example, has a social promise to fund education for underserved communities for each refinancing loan.
You might also be able to qualify for a cash bonus. Here at Student Loan Planner® we're able to offer our readers who use our lender links some of the best refinance bonuses found anywhere online.
Because these student loan refinancing companies are private institutions, the refinancing loans are credit-based. So in order to get approved for a refinancing loan, you need good credit.
Each lender will have different eligibility requirements, but a good benchmark is having a credit score of 670 or above. If you get approved for a loan, continue to make payments on time to help keep your credit in good shape.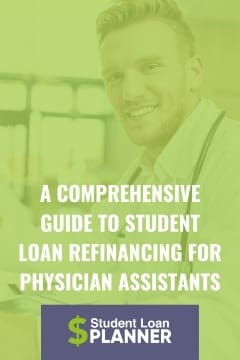 Choosing student loan forgiveness
Loan forgiveness and other benefits are offered to borrowers with federal student loans.
These benefits include deferment, forbearance and income-driven repayment programs (IDR). So if you fall on hard times, you can pause your payments or lower your monthly payment to a small portion of your discretionary income.
If you're working in the public sector and are eligible for Public Service Loan Forgiveness (PSLF), then pursuing that option would be more beneficial. Financially speaking, you'd get your loans forgiven after 10 years of service and payments on an income-driven plan. The amount forgiven would be tax-free, too.
On an IDR plan, you pay taxes on the forgiven balance, whereas you don't pay any taxes on the forgiven balance under the Public Service Loan Forgiveness Program. Either way, you can get your loans forgiven.
Because you give up these benefits when refinancing with a private loan servicer, it's important to consider whether the rate and terms you'd get through refinancing outweigh the benefits of federal loans. If you decide to pursue forgiveness, you can still simplify your payments by consolidating all your loans into one new Direct Consolidation Loan.
Related: Your Complete Guide to Physician Assistant Loan Forgiveness and Repayment
When PA student loan refinancing makes sense
Do you have good credit and a steady job as a physician assistant? If so, refinancing your PA school loans could be a good idea. But if you've recently graduated, you might want to get some on-time payments under your belt before refinancing.
Other borrowers might need to wait a few years to refinance student loans. But physician assistants may be able to refinance sooner thanks to high job stability. The job market growth rate for physician assistants is a projected 31% over 10 years.
Refinancing companies want to know that you have a stable source of income to pay back the loan. You want that too for several reasons, especially if you opt for a private loan and give up federal loan repayment protections like IDR and student loan forgiveness.
Some telltale signs that refinancing can make sense right now are:
Your credit is in good shape.
You have stable employment.
Your debt-to-income ratio is low.
You're not interested in student loan forgiveness.
You can afford your current monthly payments without an income-driven repayment plan.
If several of these criteria apply to you, refinancing can be a smart move and get you on the path to saving money. Keep in mind that you can still apply for repayment assistance programs after refinancing.
For example, you can still join the Health Health Professions Loan Repayment Program if you decide to join the military after refinancing. You can also qualify for up to $50,000 of loan payment assistance with the National Health Service Corps (NHSC) if you commit to serving at least two years in one of its health professional shortage areas.
Get started with student loan refinancing
Student loan refinancing for physician assistants can make a lot of sense given the job stability and typical salary in this field. Refinancing can save you thousands of dollars in interest charges. Plus, it can help get you out of debt faster.
If you're ready to refinance your student loans, you can compare lenders here. Be sure to get quotes from several refinancing lenders. You want to find the lender that can give you the best rates and terms.
When choosing a lender, looks for companies that don't charge origination fees, application fees, or prepayment penalties. Also, be sure to review the:
Eligibility requirements
Repayment terms
Fixed versus variable APR
Deferment options
Other perks that might be available for borrowers
For example, let's say you have $100,000 in student loans with an average 6.5% interest rate. Let's assume you're making the average physician assistant salary of $108,610 and there's a 3% salary growth each year and 3% inflation.
If you refinance and score a rate of 4.5% over the course of a 10-year repayment term through student loan refinancing, you'd pay a total of $124,366.
If you stayed on the 10-year repayment term under the Standard Repayment Plan, you'd pay $136,258. That's nearly $12,000 in savings! If you went on the REPAYE plan, you'd pay a total of $162,901. You can save approximately $38,000!
Seeing the numbers, you can understand just how much student loan refinancing can save you. To get started, check out these lenders to refinance.
Have any questions or want to know if PA student loan refinancing is a good idea for you? Get in touch with us to help guide you through your student loan repayment journey.