The total outstanding student loan debt in the U.S. has ballooned to over $1.7 trillion. As more students face the serious problem of rising debt, many are counting on loan forgiveness programs. But students, as well as Parent PLUS loan borrowers, need to be aware that student loan forgiveness could result in a huge tax bill.
Loan forgiveness basics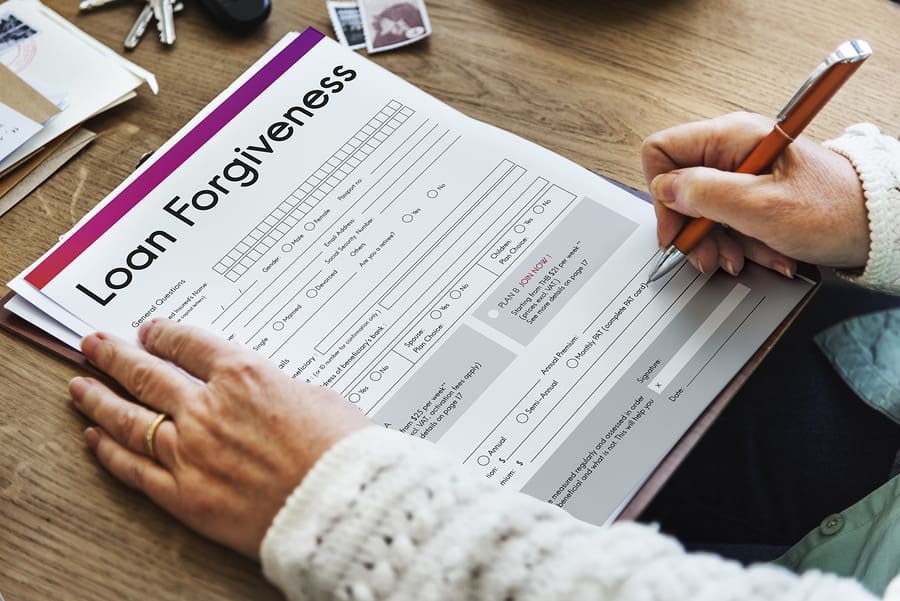 Even if you don't complete your education, your lender expects you to repay your student debt. The same goes if you can't find a job related to your program of study or if you're unhappy with your education. This is true even if you were a minor when you signed your promissory note or received the loan.
However, certain circumstances might lead to your loans being forgiven, canceled, or discharged.
Loan forgiveness terminology
According to the U.S. Department of Education, the terms cancellation, forgiveness and discharge basically mean the same thing. But they're used in different ways.
In each of these cases, the borrower is no longer required to repay some or all of the remaining amount owed.
For example, loan forgiveness usually applies to the Teacher Loan Forgiveness Program or the Public Service Loan Forgiveness (PSLF) Program. Under these federal programs, borrowers aren't required to pay income tax on any canceled or forgiven amount due to qualifying employment.
Whereas, loan discharge generally refers to the cancellation of debt due to certain circumstances.
For example, this might include school closure, a school's false certification of a borrower's eligibility to receive a loan or a school's failure to pay a required loan refund. It might also include the borrower's death, total and permanent disability, or bankruptcy.
In some cases, a discharge may also entitle a borrower to receive a refund of student loan payments previously made on the loan.
But depending on the type of discharge, the amount discharged may be treated as taxable income.
Loan forgiveness, cancellation and discharge scenarios
The following table illustrates the various types of loan forgiveness, cancellation, and discharge. It also shows how they apply to the various types of loans.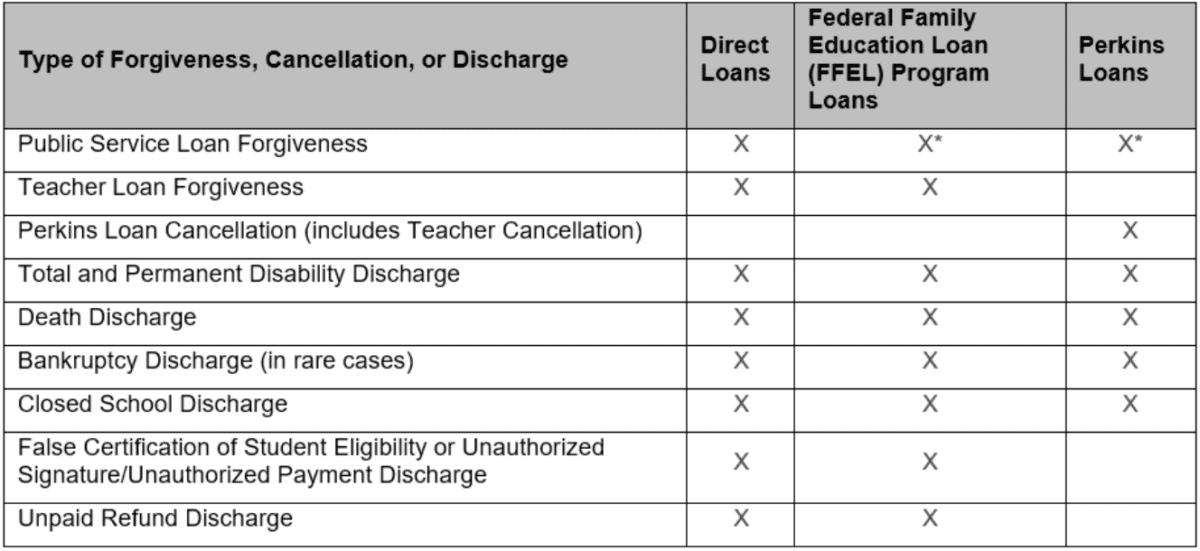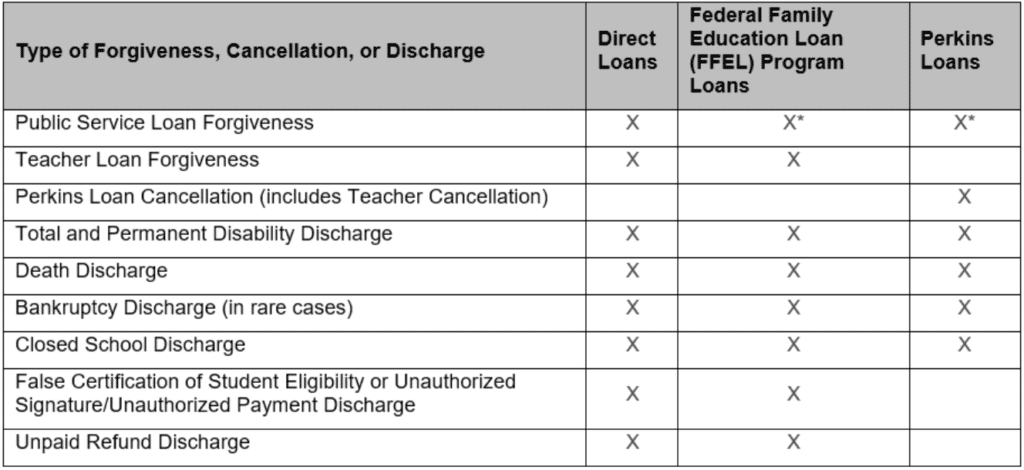 *FFEL Program loans and Perkins Loans may become eligible for PSLF if they're consolidated into the Direct Loan Program.
Alternatively, you could qualify for discharge of your federal student loans based on "borrower defense to repayment". This might be the case if you took out loans for tuition at a school that misled you or engaged in other misconduct in violation of certain state laws. If so, the school's act or omission must have directly related to your federal student loans or to the educational services that you paid for with the loans.
Parent PLUS loans follow the same general guidelines. They can be discharged if the borrower dies, becomes totally and permanently disabled, or if the loan is discharged in bankruptcy. Your Parent PLUS loan may also be discharged if the child for whom you borrowed dies.
Note that these scenarios don't apply to private loans.
The downside: A huge student loan forgiveness tax bill
The result of having all or part of your loan forgiven, canceled, or discharged may seem like a godsend. However, it also means you'll likely be required to report this amount as taxable income.
Bear in mind that taxes on student loan forgiveness apply to all loans forgiven under income-driven repayment (IDR) plans after paying for 20 to 25 years. Therefore, you need to anticipate a student loan forgiveness "tax bomb". This will likely involve writing a sizable check when your loans are eventually wiped away.
Before we calculate potential tax implications on a forgiven or canceled loan, we should first address the possibility that all or a portion of the loan may not be taxable.
The IRS defines these as "exceptions" and "exclusions" in IRS Publication 4681.
Taxes and student loans: What are "exceptions"?
When you have a loan forgiven, your lender will issue an IRS Form 1099-C. This form is attached to your tax return as it reports the amount of your debt forgiveness.
Receiving a 1099-C usually means you owe taxes on the forgiven amount. But there are cases in which you may NOT owe taxes on the forgiven student loan balance.
Sometimes a debt, or part of a debt, that you don't have to pay isn't considered canceled debt, and may qualify as an "exception".
Example of exceptions for health care providers
Generally, the cancellation of a student loan made by an institution because of services you performed must be included in gross income on your tax return.
However, there are two key exceptions:
Student loan repayment made by the National Health Service Corps Loan Repayment Program isn't taxable if you agree to provide primary health services in health professional shortage areas.
Amounts you received under any state loan repayment or loan forgiveness programs aren't taxable if the program is intended to increase the availability of health care services in underserved areas or areas with a shortage of health professionals.
It's best to check with your program to confirm any tax implications, rather than assuming all funds aren't taxable.
What are "exclusions"?
After you have applied any exceptions to your forgiven or canceled loan, there are several reasons why you might still be able to exclude it from your income. As with exceptions, if a canceled or forgiven debt is excluded from your income, it is nontaxable.
In most cases, however, if you exclude this amount from income under one of these provisions, you also must reduce your "tax attributes" (e.g. certain credits, losses, and basis of assets).
Refer to IRS Publication 4681 for a detailed discussion of tax attributes.
Public Service Loan Forgiveness
Federal forgiveness programs like PSLF exclude the forgiven amount from taxable income. So, you won't have to claim it on your federal tax return.
Under PSLF, if you're employed by a nonprofit organization and you meet the qualification requirements, then the amount of the forgiven loan is tax-free.
To qualify for this treatment, the loan must have been made by:
The federal government, a state or local government, or an instrumentality, agency, or subdivision of one of those governments;
A tax-exempt public benefit corporation that has assumed control of a state, county, or municipal hospital, and whose employees are considered public employees under state law; or
An educational institution: under an agreement with an entity described in (1) or (2) that provided the funds to the institution to make the loan, or as part of a program of the institution designed to encourage students to serve in occupations or areas with unmet needs and under which the services provided are for or under the direction of a governmental unit or a tax-exempt section 501(c)(3) organization.
Loan forgiveness in the private sector (not including PSLF)
As previously mentioned, you may be required to report the forgiven or canceled loan amounts as taxable income.
Depending on your income and the amount forgiven, your "tax bomb" could also cause you to shift into a significantly higher marginal tax bracket. This is a phenomenon known as "bracket creep".
For example, let's say Tom is single and has $90,000 of taxable income. His 2021 marginal tax rate will be 24%. If he had $100,000 of student loans forgiven in the same year, his taxable income would increase to $190,000. His marginal tax rate would then jump to 32%.
This is something to keep in mind and prepare for ahead of time, so you aren't stuck with a huge tax bill that you can't afford.
Keep in mind that the American Rescue Plan made student debt cancellation tax-free through December 31, 2025. However, a limited number of borrowers will receive IDR forgiveness before this provision expires.
Income-driven repayment forgiveness examples
Consider the following scenario: an individual reports taxable income after exemptions & deductions of $60,000, and has qualified for income-driven forgiveness with a student loan balance of $100,000 (all figures are approximate). The table shows the tax rates based upon his or her income in each bracket: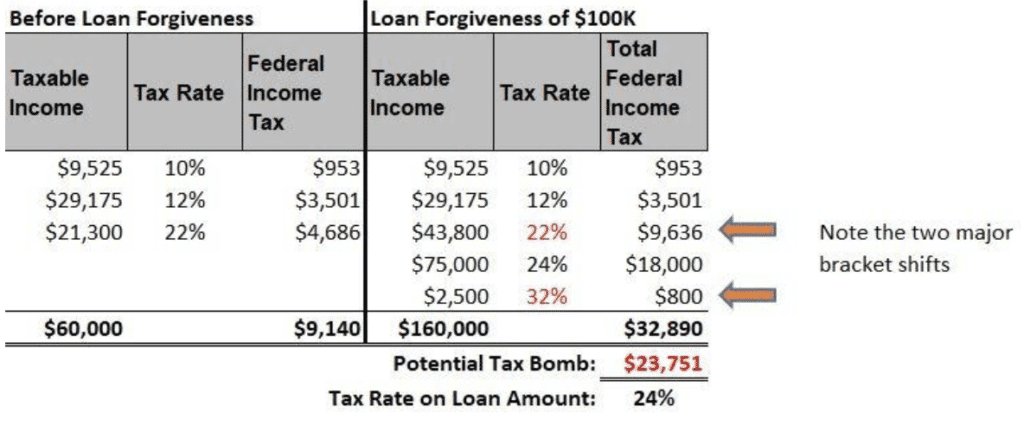 Before loan forgiveness, his federal income tax was $9,140. After loan forgiveness of $100K, his federal income tax is $32,890, resulting in a student loan forgiveness "tax bomb" of $23,751. Note that the last $2,500 of loan forgiveness pushed him into a marginal rate of 32%.
Consider the scenario in which a married couple filing jointly reports taxable income after exemptions & deductions of $80,000, and has qualified for a loan forgiveness in the amount of $200,000 (again, all figures are approximate). The table shows the tax rates based upon their income in each bracket: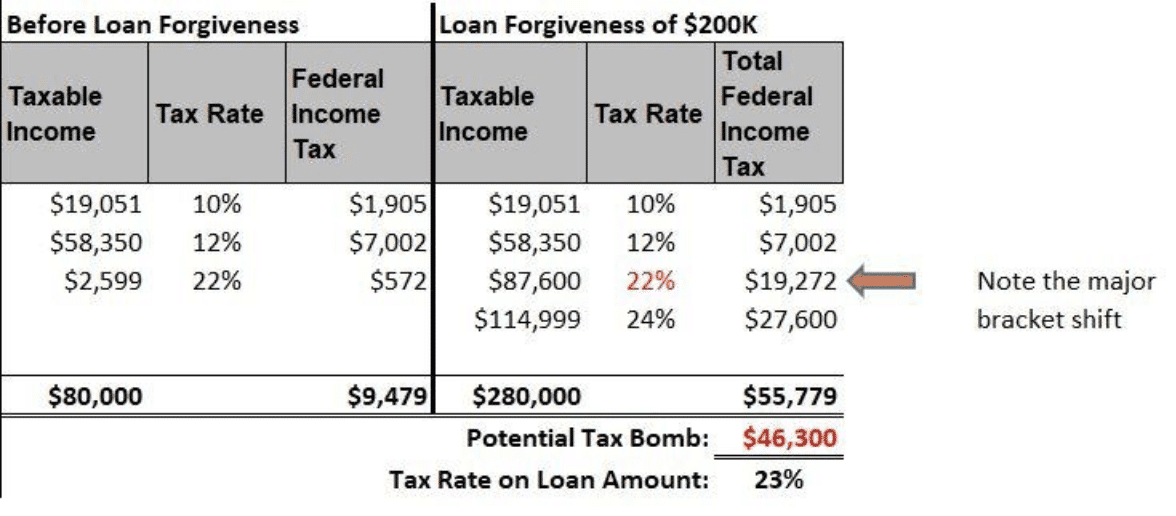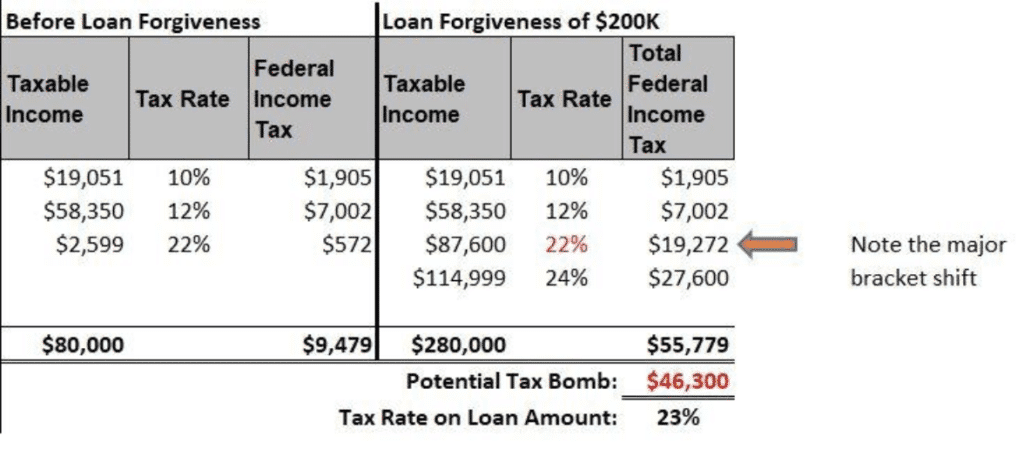 Before loan forgiveness, their federal income tax was $9,479. After loan forgiveness, their federal income tax is $55,779, resulting in a "tax bomb" of $46,300. Hence, their $200K loan forgiveness is taxed at nearly 23%. In this case, the highest marginal tax bracket is only 2% more than the previous one. So, their "bracket creep" is not so bad, but they still have a hefty tax bill as the result of forgiveness.
Loan forgiveness due to personal or financial hardship
Federal student loan borrowers who can't work due to an illness or injury may have their loans forgiven or discharged due to total and permanent disability. And, furthermore, they could avoid being taxed on the forgiven amount.
Borrowers can qualify in one of three ways:
Doctor certification
Social Security benefits
Certification from the Department of Veterans Affairs
This last scenario recently made headlines in Michigan. A wounded veteran had $223,000 of federal student loans forgiven, and then received a $62,000 tax bill in its place. So, he turned to his state and congressional representatives for assistance.
A few months later, the Michigan Senate approved Senate Bill 642, to ensure that disabled veterans do not have to pay state income tax on student loan debt that was forgiven due to the veteran's injuries.
Unfortunately, the IRS still treated debt cancellation as income, so he was being asked to pay federal income taxes on the entire amount. Hence, the federal tax bill remained $62,000.
But Congress came to the rescue. Loans that are forgiven on or after January 1, 2018 due to "total and permanent disability" are no longer reported as taxable income.
Unfortunately, the change is not retroactive.
Tax forgiveness due to the insolvency exclusion
If you don't qualify for one of the relief options mentioned previously, then one of the only ways left to avoid the tax ramification of a student loan discharge is to apply for an insolvency exclusion.
A taxpayer is insolvent when his or her total liabilities exceed his or her total assets. Currently, a taxpayer is not required to include forgiven debts in income to the extent that the taxpayer is insolvent.
Keep in mind if you're eligible for an insolvency exclusion, it may not be for the full amount of your loan discharge.
Also, bear in mind these rules may change. You'll need to complete IRS Form 982 to apply for this exclusion. You can estimate the value of the exclusion using the worksheet in IRS Publication 4681.
Are retirement accounts protected from the IRS?
The IRS can seize retirement accounts, including 401(k) plans, IRAs, self-employed plans like SEP-IRAs, and Keogh plans. The key to defending retirement accounts from IRS seizure is to understand that the IRS "stands in your shoes".
This means that if you cannot get to the retirement money, the IRS cannot get to it either. Many retirement plans allow access to funds only at separation from service, retirement, death or disability.
Thus, if you're still employed, you likely have no ability to withdraw the retirement money. Therefore, the IRS has no ability to seize it.
This may also apply to the company contributions to your 401(k) plans. However, the amount you personally deposited from your paycheck, as well as vested company contributions, may still be subject to seizure because you have access to these funds.
For more information, review Internal Revenue Manual 5.11.6.2, which governs IRS seizures of retirement accounts.
Default and foreclosure isn't a good idea
Never default on your taxes. Doing so will trigger tax liens. It will have a huge negative impact on your credit score, as well as your ability to borrow money in the future.
As far as a foreclosure on a home, it's generally (but not always) the case that the IRS will not foreclose on a home to collect taxes. Most tax courts will make provision for "reasonable living accommodations", which means that you must be allowed to have a residence for you and your family to live in. Again, be sure to consult with an attorney or tax advisor if you find yourself in this situation.
General guidelines on loan forgiveness
As a general guideline, you should pay as little as possible and have as much left over as possible to take full advantage of student loan forgiveness. The consultants at Student Loan Planner® typically use debt to income of 1.5 or more if you are applying for forgiveness.
You should also establish a bank account and make monthly deposits to provide a cushion for future payments or unanticipated events. Finally, you may be able to postpone the year of forgiveness into one in which your tax bracket will be lower. Thus, further mitigating the potential student loan forgiveness tax bomb.
Hopefully, this article has given you a better understanding of the tax consequences of loan forgiveness and provided you with a few guidelines and strategies. As always, manage your money wisely and plan ahead for contingencies.