Buying a house is one of the biggest decisions you'll make. As a physician, dentist, veterinarian or other professional with graduate training, you'll have a much easier time qualifying for a variety of doctor loan options than your less-educated peers.
Physician mortgage loans — also called doctor mortgage loans — started with a focus on Medical Doctors (M.D.) and Doctors of Osteopathic Medicine (D.O.), but now banks offer this kind of loan to a wider population than ever before.
Physician loans can be a great product if you itemize your tax returns, have a lot of student loan debt you need to pay back, or believe you can earn more in investing than paying down 4% to 5% debt. Here's what you should know before using one to buy your next home.
Characteristics of physician loans
Here are four key ingredients of a physician home loan:
Required down payment is well below 20% of the house's purchase price

for borrowers. Some banks will even do 100% financing with no money down.

Relaxed income documentation.

Many banks with physician loan programs accept signed offer letters as much as three months ahead of your start date. For 1099 or self-employed physicians, banks often require fewer years of tax returns than with conventional mortgages.

No private mortgage insurance (PMI),

even though your down payment can be very low.

Easy treatment of student loans.

Physician mortgage loan programs expect you to have a lot of student debt. They generally use your actual monthly payment under Income-Based Repayment (IBR), Pay As You Earn (PAYE) or Revised Pay As You Earn (REPAYE). By contract, other lenders sometimes take 1% of the loan amount and use that in the debt-to-income (DTI) calculation of what you can afford.
What's the catch? Physician loans usually have higher interest rates than conventional loans where you put down 20% of the purchase price.
If you're looking for an easy place to compare doctor mortgages all at once, we suggest Credible to see what you could qualify for.
I think we're in the seventh inning of an economic boom. Credit underwriting standards reflect that. In 2010 and 2011, getting a mortgage was much more difficult because banks were reeling from the financial crisis. We'll see why physician loans right now are offering better terms than they have in many years.
Physician loans as a loss leader
We've had one of the longest economic expansions in history from 2009 to 2019. Perhaps because of this, the physician mortgage market offers interest rates that in some cases are almost the same as what you'd get with a conventional offering. We're in a risk on credit environment.
For example, in the student loan refinancing market, First Republic bank offers unbelievably low rates — as low as 1.95% in certain areas. That's because they want to sell you a mortgage, banking, possibly financial advice and other services. The student loan refi is the loss leading gateway product to get you into the ecosystem.
Some banks use doctor loans for the same purpose. They're looking to attract a lifelong relationship with medical professionals instead of maximizing profit on one transaction. Of course, you don't have to use all their products. The bank is just hoping you might.
Even if you don't fall into a physician mortgage loan with rates almost as low as a conventional, it still might make sense because of the other features listed above.
Doctor loans: More than just for physicians
If you're in any of the following professions, you could qualify for a doctor mortgage:
Physician
Dentist or Dental Specialist
Veterinarian
Optometrist
Certified Registered Nurse Anesthetists (CRNA)
Nurse Practitioner
Attorney
Podiatrist
It's called a physician mortgage because that's the group that banks marketed this kind of mortgage to when it first started. It should really be called a grad school professional mortgage these days.
Banks have gradually figured out that having a multi-year professional degree makes you a far lower risk for default compared to the population at large. That's why many have expanded their physician mortgage programs to other professions.
Dentists will have the easiest time qualifying, as banks lump you in with M.D.s and D.O.s. Some banks want to only work with board-certified veterinary specialists, although others extend the program to anyone with a Doctor of Veterinary Medicine (D.V.M.).
Other professions tend to be bank by bank. Some will have good programs for a CRNA with a high salary and others won't lend but might have options for podiatrists. I'd expect banks will continue to expand access to this mortgage type for other professions in the coming years and may have fewer restrictions.
What options exist besides physician loans for buying a house?
Physician mortgages are just one way to borrow for a house. Here are some other options.
Conventional:

Not insured or guaranteed by the government; hence, the requirements tend to be more stringent. Primarily this means having a 20% down payment. Conventional mortgages have limits on how much you can borrow for a maximum loan amount. In high cost of living areas, this limit can be as high as $822,375 in 2021. These limits can pose problems for some high-income professionals.

Federal Housing Administration (FHA):

You need 3.5% for a down payment. This is a popular program for first time homebuyers, but you can qualify even if it isn't your first house. Credit score limits are very low, at only a 580 minimum. In contrast, most physician mortgages require over a 700 credit score. FHA loans have an upfront 1.75% charge plus PMI, which can easily add 0.5 to 1% to your mortgage rate.

U.S. Department of Veterans Affairs (VA):

If you're eligible for a VA loan, it's likely going to be your best option. Rates compare favorably with conventional mortgages, and there's no PMI. Down payment requirements are low as well. You're only eligible if you're active duty or a veteran.
I think physician loans are going to generally be better than FHA ones. VA should beat them on everything, but most people can't use that kind of mortgage. Conventional has a rate advantage, but a lower purchase price limit and the higher down payment requirement.
Now that we've covered some different kinds of mortgages, let's take a look at how physician mortgage loans can save you money if you have student loan debt.
How to use a physician loan to save money on your student debt
Pretend you have $200,000 of student loans and earn $200,000 a year as a dentist. You're married to a physician assistant (PA) who paid off all her loans already and earns $120,000 a year. You just found out you're expecting your first child, so you decide the time is right to buy a house for the family.
You find the perfect place for $500,000, but it would take you a while to save $100,000 for a down payment. Assume you could get there within a year. The 30-year conventional mortgage rate is 4.5%. You use a comparison shopping tool for doctor loans and find a 4.75% loan for 0 percent down. I used a mortgage calculator from Bankrate.com to compute the numbers below.
| | | |
| --- | --- | --- |
| | Doctor Loan ($500k at 4.75%) | Conventional ($400k at 4.5%) |
| | | |
| First Year Monthly Interest | | |
The vast majority of a payment in the first year on a 30-year mortgage goes to the interest and not the principal. This is because of how amortization tables work.
That means with the physician mortgage, you would pay $23,748 in interest in Year 1 versus $18,000 in Year 1 with the conventional mortgage.
Why would you want to pay $5,748 in extra interest for the physician mortgage?
Keep in mind that in this example, the dentist needs to eventually pay off his student loan. Assuming he refinanced his loan to a 4.5% rate, he pays $9,000 of student loan interest in the first year.
He could use the $100,000 of capital for a down payment on his mortgage, or he could use it to pay down his student debt. Clearly he'd save about $1,000 by using it for student debt instead.
Big benefits of physician loans if you deduct mortgage interest
However, the math is different if our dentist itemizes his taxes. The new standard deduction is $24,000 for a married couple. With $23,748 of mortgage interest, the max $10,000 deduction for state and local property taxes, plus a charitable contribution of $10,000, this couple would easily be in itemizing territory.
That means the mortgage interest on the physician mortgage would be fully deductible.
Instead of a 30-year mortgage at 4.75%, you'd have to use the after-tax cost instead because the debt is fully deductible. Assuming a 24% federal rate and 6% state income tax rate, the real cost of the mortgage is 3.325%.
That's significantly cheaper than the original interest rate. Clearly, the dentist and PA couple would be better using a doctor loan because of the tax benefits and using the $100,000 down payment to pay down student loans instead.
Furthermore, instead of going with a 10-year fixed rate and getting 4.5%, the dentist might be able to do a 5-year fixed rate on $100,000 and get 3.5% from going with a shorter term or by using the refinancing ladder approach.
The takeaway should be that physician loans are a no-brainer if you have student loan debt to repay. That's because most professionals with mortgages in the $200,000 to $750,000 range will be writing off the mortgage interest on their taxes. That makes student debt far more toxic with its non-deductibility.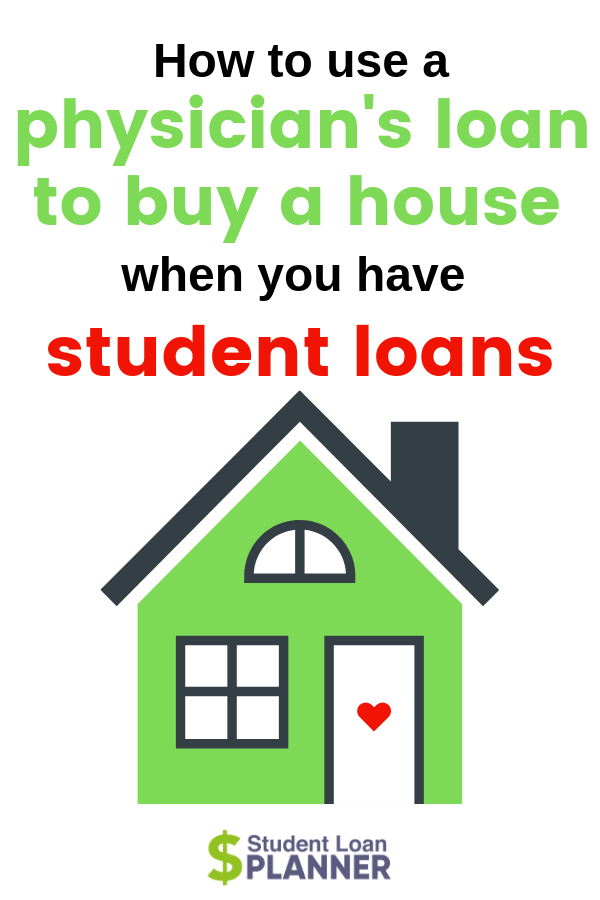 Rules for buying a home when you've got high student debt from professional school
In terms of when to buy a house, my general advice is that you want to feel like your career is in a good place and that you'll be in the home for at least five years.
It's a lot easier to cast a wide net for an opportunity when you have geographic flexibility, and renting gives you that.
But when you're settled, it can make sense to buy a home.
Here are a few tips:
Limit purchase price to no more than two times your household income (less than that if you want to hit financial freedom in your 30s or 40s).
If your monthly rent is less than 0.5% of the purchase price, the local market is telling you to rent and not buy. This happens sometimes in expensive area.
Don't refinance your student loans within a month of buying a house. One guy had to refi his student loans from a 10-year to a 15-year because his debt-to-income ratio wasn't where it needed to be to qualify for the mortgage he wanted.
Mortgage rates will typically be lower than student loan rates, particularly if you're itemizing mortgage interest.
Also, the student loan interest deduction is a joke, and it phases out quickly. Student loan interest is far more expensive than pretax mortgage interest if you're still itemizing on your taxes.
It can be rational to do a low- or no-down payment mortgage if you pick an intelligent purchase price relative to your income.
That's the sweet spot for a doctor mortgage if you also have student loans.
Examples of physician mortgage loan programs
Here are a few banks that offer physician mortgage programs:
Citizens Bank
KeyBank
First National Bank
loanDepot
BancorpSouth
BBVA
Bank of Montreal
Cadence Bank
Fifth Third Bank
Flagstar Bank
Fulton Mortgage Company
Horizon Bank
Huntington
IberiaBank Mortgage Company
NBT Bank
Regions Financial Corporation
Simmons Bank
SunTrust Bank
TIAA Bank
University Federal Credit Union
U.S. Bank
Bank of America
Wells Fargo
SunTrust Bank physician loan: Good option in the Southeast
SunTrust Bank lends in 13 states with its SunTrust Mortgage Doctor Loan Program. Their footprint is mainly in the Southeast. That makes sense because of their huge operations in Atlanta and how many of my classmates went to work there. (I went to the University of Florida for undergrad.)
Here's the full list:
Alabama
Arkansas
Delaware
Washington D.C.
Florida
Georgia
Maryland
Mississippi
North Carolina
South Carolina
Tennessee
Virginia
West Virginia
You can get up to $750,000 as a resident or fellow with no down payment. Attending physicians can get up to $1.5 million with a little more money down.
Bank of America physician loan: Example of product seeking a banking relationship
I've seen some examples of physicians getting a Bank of America physician loan. They ask for 5 percent down up to $1 million, then 10 percent down up to $1.5 million.
Big banks might be slower and offer less personalized customer service, but they often have good rates to make up for it. So they could be worth a look as well in your comparison shopping.
You might find a Wells Fargo physician loan with a similar 5 percent down payment with comparable terms.
Usually big banks are going to want you to have a banking relationship. You might also get a reduction in mortgage lender fees if you have a bank account open with them.
Physician mortgage loans can encourage dangerous overspending if you're not careful
Seeing a doctor buy an expensive home is perhaps one of the most common stereotypes in the personal finance world. One big selling point for physician mortgage loans is their high lending cap. To be honest, that scares me a bit because you could use them to make a dangerous financial decision.
When we see budgets that are a wreck, the typical reason is either a mortgage or car payment. If you like living without the constraints of a budget, it's simple. Live in a house less than two times your income and drive paid off cars. Then you can drink Starbucks lattes until your liver fails.
If you limit your purchase price and make use of the capital you would've spent on a down payment to get out of student debt or max your retirement account, physician loans can be a great idea.
Comparison shop physician loan options if you're ready to buy
You should only check to see what your rate could be on a physician mortgage if you're ready to buy within the next six months. Please feel free to comparison shop other sources as well besides the ones mentioned on this site. It's not meant to be an exhaustive list, but hopefully it's a great starting point.
If you're being responsible with your home purchase, then buy the house of your dreams! I don't believe that buying a home counts as an investment. It's something you do when you can't rent what you want for less than 0.5 percent of the purchase price and you plan to live somewhere for longer than five years.
If that's you, then compare away! Feel free to share your experience (good or bad) and questions in the comments below.