SoFi and Earnest are financial companies that provide numerous services, including private student loans and student loan refinancing. The companies have similarities like fixed rates and variable rates, rate quotes that won't affect your credit score, and a 0.25% autopay discount.
However, a few differences exist between the two that sets each apart from the other. Here, we review two of the best student loan refinancing lenders to help you decide which company can better serve your student loan refinancing needs.
SoFi vs. Earnest: Lender Comparison
Let's explore SoFi vs. Earnest student loan refinance to help you find the refinancing option you need.
Note that refinancing with either private lender will cause federal student loan borrowers to lose eligibility for a variety of benefits. Examples include federal Income-Driven Repayment plans, forbearance and deferment, and loan forgiveness programs like Public Service Loan Forgiveness (PSLF).
Before you decide to refinance your federal loans, make sure that you've carefully weighed the benefits and drawbacks.
Earnest student loan refinance
Earnest comprises a team of design, math, finance and technology professionals who use data science and a streamlined platform to bring customers a low-cost, personalized financial experience. The Earnest student loan refinance division helps borrowers save money over the course of their loan repayment. Consider the pros and cons of refinancing through Earnest.
Pros
Diverse application process.

Earnest looks at more than just your credit score to get your rate estimate — other factors include your savings, education and earning potential.

Personalized repayment term.

If you're approved for student loan refinancing, Earnest allows you to set your preferred monthly payment amount based on your budget. It offers 180 repayment options ranging from five to 20 years.

Skip payments option

. Borrowers can request to skip one payment every 12 months when unexpected events impact their budget.

Flexible payment options.

You can increase your payment at any time to pay off your loan faster and make additional or early payments without prepayment penalties. You also can opt to make payments biweekly instead of monthly.

In-house servicing.

Earnest does not work with third parties. It manages student loans in-house, so you'll always deal with Earnest when discussing your account.
Cons
Minimum credit score.

You must have a minimum credit score of 680 to qualify for Earnest student loan refinancing.

Location restrictions.

Earnest does not lend in Kentucky or Nevada. The company does not offer variable-rate loans in Illinois, Minnesota, New Hampshire, Ohio, Tennessee or Texas.

No cosigner option.

Earnest currently does not offer a cosigner option for student loan refinancing, but it is working on allowing this feature in the future.
SoFi student loan refinance
SoFi is one of the most recognized names in the student loan refinancing industry. More than 250,000 people have refinanced their student loan through SoFi, totaling approximately $18 billion in student loans. SoFi also offers personal loans, investing, credit cards, banking, and other personal finance products. Compare the pros and cons of refinancing through SoFi.
Pros
No hidden fees.

SoFi does not charge application or origination fees. It also does not apply prepayment penalties.

Cosigners are allowed.

You may add a cosigner when you apply for student loan financing with SoFi to help strengthen your profile.

Deferment is available:.

You may defer your student loan refinance payments if you return to graduate school half- or full-time, undergo disability rehabilitation, or serve on active military duty.

Additional benefits.

All SoFi members have access to free career coaching and financial advice.
Cons
Not all SoFi loans allow cosigner release. The good news is SoFi allows borrowers to add cosigners to their loans

. Borrowers with in-school loans disbursed after May 1, 2019, may apply for a cosigner release after they've made 24 consecutive, on-time, full principal and interest payments. SoFi does not offer a cosigner release option on all of their loans.

Limited payment flexibility

. While Earnest offers up to 180 different repayment terms, you only get five loan terms with SoFi (five, seven, 10, 15 or 20 years)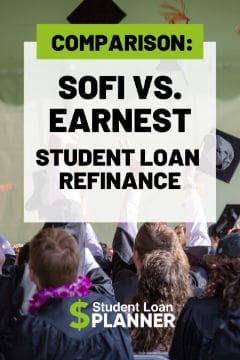 SoFi vs. Earnest: Borrower rating
Student Loan Planner® recently conducted a survey among borrowers who refinanced their student loans with Earnest, SoFi and six other lenders. Participants were asked to rate several different categories on a scale from 1 to 10 — a score of 1 indicates the participant had a highly negative impression of the lender, while 10 represents a highly positive impression of the lender.
SoFi vs. Earnest student loan refinance lender rating
Earnest and SoFi's overall lending ratings were similar, as were their marks in the other categories in questions including application experience, customer service and ease of website use.
Both Earnest and SoFi's lender ratings fell on the positive side. Their average scores in users' app experience, customer service and website experience were all better than 8.4 (out of 10).
Earnest and SoFi's average lender ratings were similar, but their place among the other six lenders that survey-takers refinanced their student loans with varied a bit more:
Earnest's ratings were good enough for a second-place finish in overall rating, app experience, and customer service. The lender scored third place for ease of website use. SoFi's lender ranking varied a bit more: overall rating (5), app experience (3), customer service (6) and ease of website use (2).
SoFi vs. Earnest: Like/dislike ratio
Survey participants' sentiment for SoFi and Earnest differed a lot more when it came to their like/dislike ratios. People who refinanced their student loans were asked which lender they liked the best of the eight as well as the least.
The number of borrowers who named a lender as most liked was divided by the number of people who said they liked that lender the least to determine each company's like/dislike ratio.
In January 2019, SoFi and Earnest had similar like/dislike ratios of 2.4 and 2.7, respectively. The gap widened a bit by the end of the year, however. In December 2019, Earnest saw a 4.5-point improvement its ratio, while SoFi's only increased by 0.4.
What caused such a significant jump in good will for Earnest and not SoFi? It could be because Navient acquired Earnest in 2017.
Having a parent company provides Earnest with more capital to work with, so it can offer lower rates. Plus, Earnest doesn't have to spend time raising funds and can focus on its customers.
Meanwhile, SoFi operates a number of different divisions and does not spend as much time or focus on student loan refinancing. Remember, Earnest finished second in customer service in the survey, while SoFi came in sixth out of eight companies.
SoFi vs. Earnest: Borrower profile
It's interesting and can be helpful to look at what people who refinance their student loans earn as their salary and what they do for a living. Those factors could give you some insight into which lender you may want to refinance your student loan with based on what people in your salary bracket and/or profession are doing.
Here are a few takeaways from our survey regarding participants' salary and profession as it pertains to who they refinanced their student loans with:
Almost half (45%) of Earnest's borrowers earned between $100,000 to $200,000 annually.
SoFi borrowers' income breakdown was more balanced across the board. Four out of five salary brackets comprised between 20% to 25% of participants. Only the below-$50,000 threshold had less (7%).
Thirty-one percent of physicians refinanced their student loans with SoFi compared to 15% who used Earnest. That makes sense because SoFi doesn't cap how much borrowers can refinance — medical student loan debt can get high.
Thirty-three percent of lawyers, however, refinanced their student loan through Earnest.
Earnest and Sofi borrower occupations were even among physician assistants (29%) and dentists (about 20%).
Overall borrower feedback
Our survey participants also had the opportunity to provide extended thoughts along with their lender ratings. Many of our respondents who most recently refinanced their student loans through SoFi or Earnest had a positive experience.
Feedback for SoFi
Reduced interest rate and term plan and referral bonuses — some of the lowest rates.
Reasonable minimum monthly payments helps ease cash flow pressures.
Good customer service, such as a representative taking time to explain what "over financing" a loan meant.
Feedback for Earnest
Easy, straightforward process and user-friendly website.
Good customer service — reps respond quickly and provide clear answers.
Gave consideration other lenders wouldn't despite borrower's low income and lack of payment history.
Final verdict on SoFi vs. Earnest student loan refinance
If you want to refinance your student loans to a lower interest rate or more attractive term, both SoFi and Earnest are strong options.
But the questions is which lender is better for you. Both lenders have advantages — any disadvantages they have are relative to your student loan refinancing needs and preferences.
SoFi might be better for you if:
You need a cosigner.

Earnest does not currently offer a cosigner option. Just remember SoFi does not offer cosigner release for all loans — you'll have to reapply to see if you qualify on your own.

You're refinancing more than $500,000.

SoFi lets your refinance your student loans up to your total outstanding loan balance. So if you have a large loan amount, this can be a good fit.

You anticipate returning to school or go on active military duty.

SoFi offers loan deferment for borrowers in these circumstances.
Earnest might be a better for you if:
You won't need a cosigner.

If you have a solid credit history, refinancing with Earnest could be a viable option as there will be a credit check for your rate and approval.

You're seeking flexibility with your loan.

Earnest allows its clients to skip a student loan payment once every 12 months in case you ever run into financial troubles. Earnest also offers biweekly automatic payments.

Your finances are in order.

Earnest looks at other factors besides your credit score when deciding whether or not to accept your application for a refi loan. The lender will want to know if you have enough savings to cover at least two months of standard expenses and you spend less than you earn.
So if you're looking at the best student loan refinance companies, check out these two lenders. Before deciding, review your potential rate discount, repayment options and more.