Student loan refinancing can save you a ton of money in interest over the life of your loans and simplify your monthly payments. By refinancing, you can consolidate multiple loans into one new loan with the student loan refinance company of your choice.
But how do you choose the right student loan refinancing company? With so many competing lenders, it can be difficult to tell which ones offer the best terms and benefits.
To come up with our list, we compared refinancing lenders on a variety of factors such as interest rates, loan terms, payment flexibility, customer service, cash bonus offers and more.
Each lender's specific ranking was determined by its Student Loan Planner community rating.
We recognize that Student Loan Planner readers don't represent the entire student loan market. Readers of this site are more likely to have higher income, a graduate degree and owe a larger student loan balance than the average borrower. With so many of these lenders offering very similar terms and benefits, however, we felt this approach was the most objective way for us to rank them.
The best student loan refinance companies reviewed
In a December 2019 survey, Student Loan Planner asked borrowers to rate their experience with the lender they refinanced with most recently. Respondents gave lenders an overall rating, in addition to rating their application experience, customer service, and website.
Each of the student loan refinance companies below offers a strong blend of rates, terms and service — plus, none of them charge origination fees or prepayment penalties. Here's what you need to know about each lender.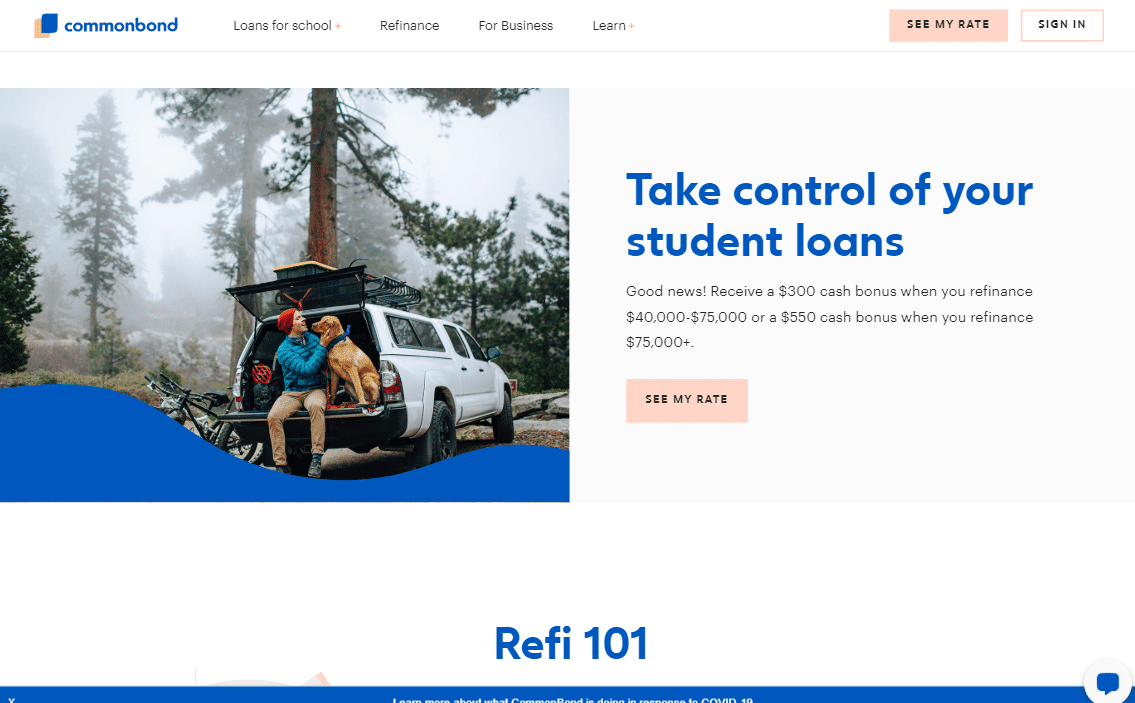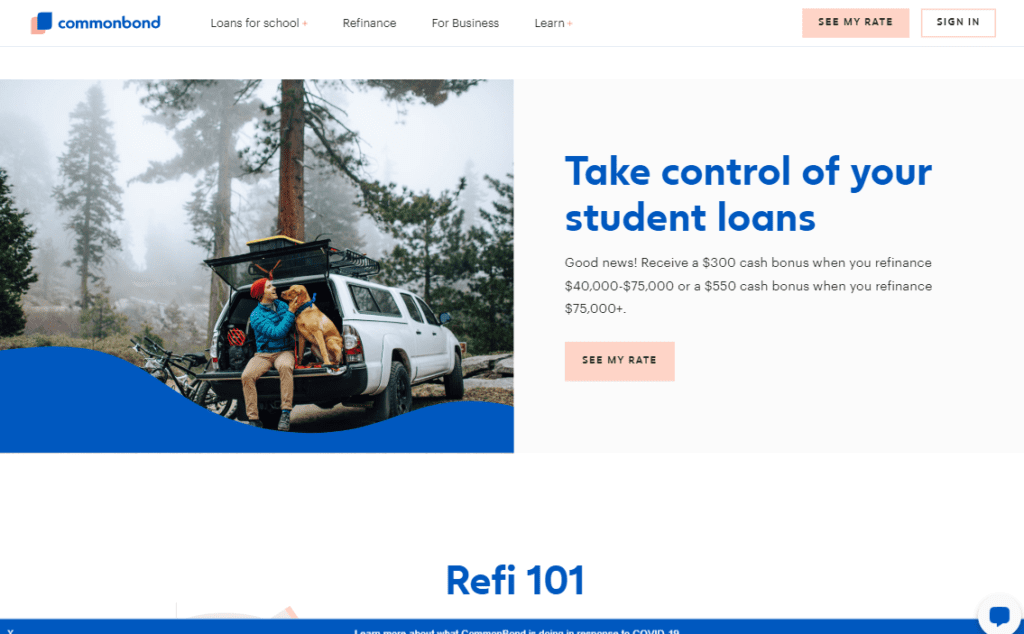 Out of the seven lenders on this list, CommonBond received the highest community rating in the overall category, scoring an 8.23/10. More impressively, the company also ranked No. 1 in each subcategory (customer service, application experience and website ease-of-use).
One of the things that really sets CommonBond apart is its unemployment protection. Private lenders that offer hardship forbearance (not all do), tend to offer a maximum of 12 months. But Commonbond doubles that standard by offering up to 24 months of forbearance over the life of your loan.
Like most lenders, CommonBond offers variable and fixed-rate loans and has a third type of loan, called a "Hybrid" loan. With a 10-year Hybrid loan, for example, you get a fixed rate for the first five years and a variable rate for the last five.
There's one more positive thing about CommonBond. Each time someone takes out a loan, the company makes a donation to Pencils of Promise, which creates schools and provides teachers to kids in Ghana.
Read our full CommonBond refinancing review.
Pros
Up to 24 months of forbearance
Parent PLUS refinancing
Solid website and application experience
Death and disability discharge
Cons
Not currently available in Mississippi or Nevada
Non-graduate borrowers are not eligible for refinancing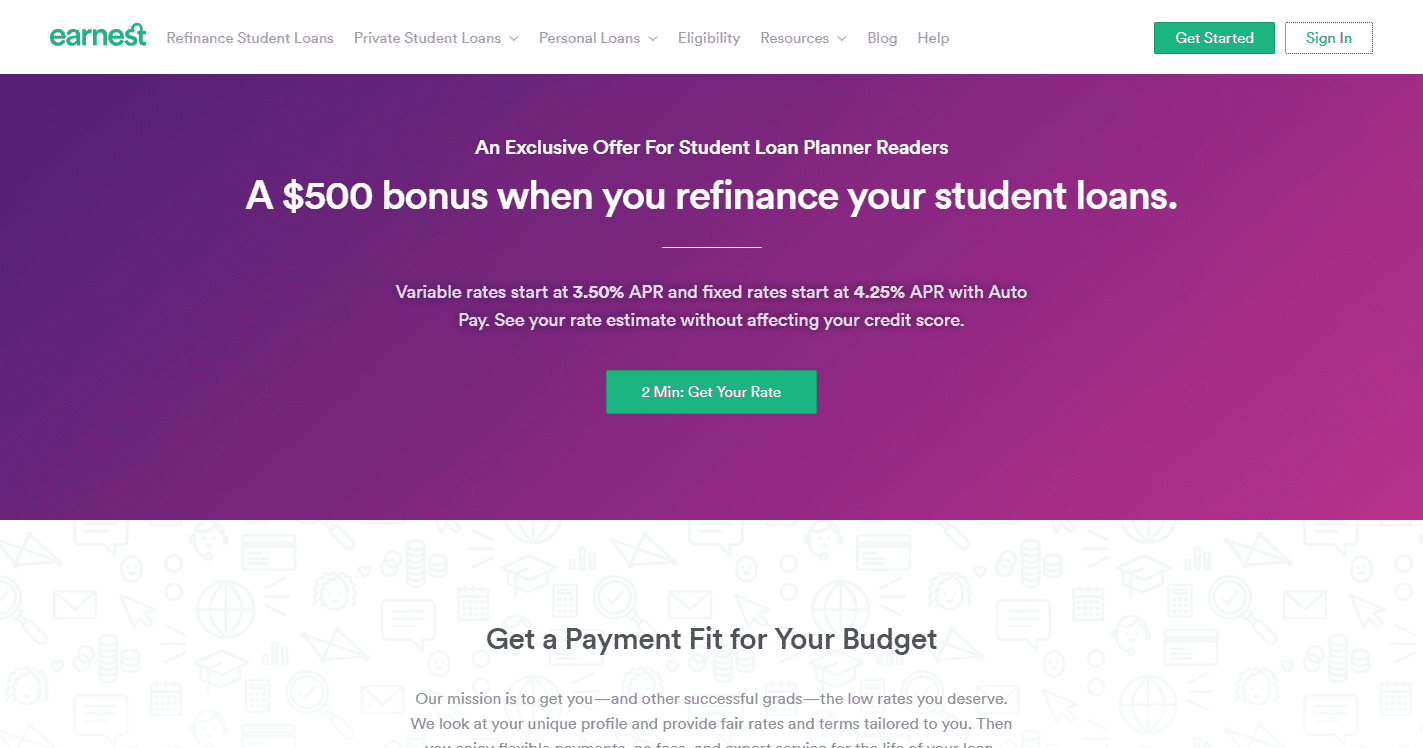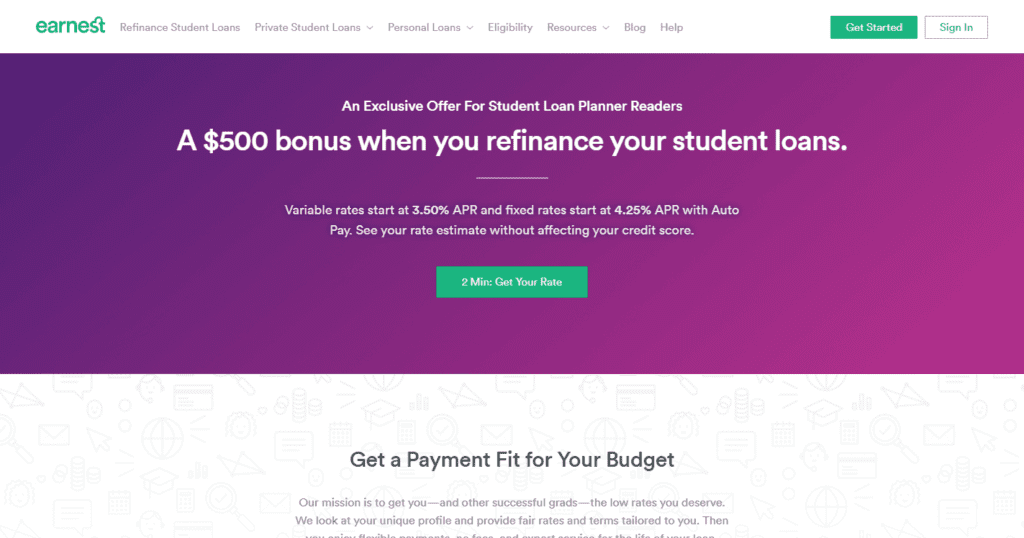 Coming in second on our list is Earnest. Twenty-two percent of respondents in the Student Loan Planner survey said they refinanced with Earnest, the highest percentage of any lender. And even with its higher volume, the lender still earned a strong community rating of 7.92/10.
Where Earnest really stands out from the crowd is the level of payment flexibility it offers its borrowers. Student loan refinance companies typically offer four or five repayment terms on loans, and some have even fewer options. But with Earnest's "Precision Pricing," borrowers can choose up to 180 different terms.
Here's how it works: Earnest begins by asking you the monthly payment you'd like. Then, it offers you terms in one- to three-month intervals between five and 20 years. The goal is to help you find the exact monthly payment that works for your budget.
Earnest looks at more than just your credit score when evaluating your application. It also considers factors like your savings habits and even your career path. It's refreshing to find a lender that realizes there are more ways than just a credit score to assess risk. And the company's comprehensive underwriting process could help you qualify for a lower rate.
Read our full Earnest refinancing review.
Pros
Up to 180 different repayment terms
Up to 12 months of forbearance in addition to academic and military deferment
Underwriting process looks beyond your credit score
Can skip one payment every 12 months
Cons
No cosigners allowed
Not available in Delaware, Kentucky and Nevada.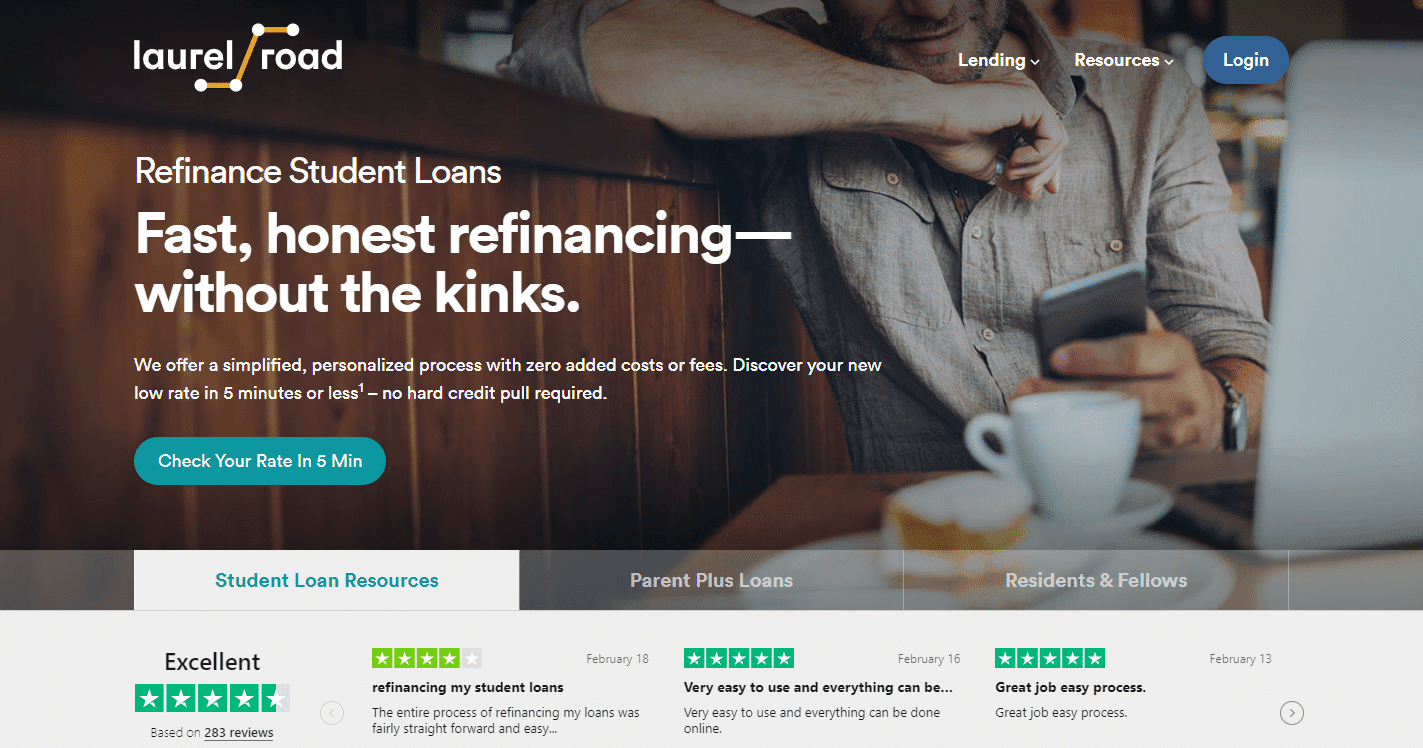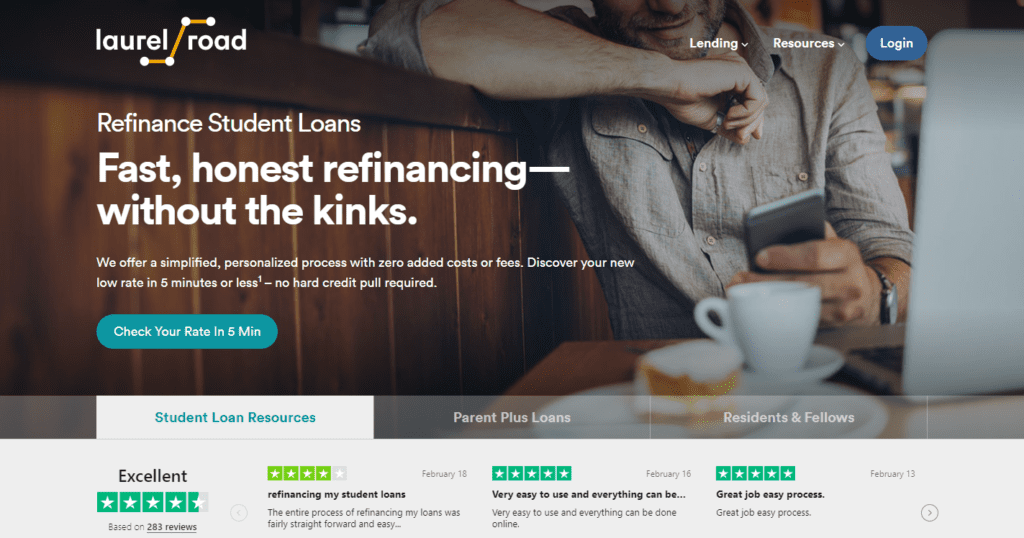 Laurel Road is a strong student loan refinancing option for medical professionals. The lender offers an exclusive repayment plan for residents and fellows. Once you're matched to a program, you'll only pay $100 per month throughout the duration of your residency or fellowship.
Laurel Road offers repayment terms of 5, 10, 15 and even 20 years on its loans. Borrowers can receive up to 12 months of forbearance if they lose their job or experience other economic hardships. And Laurel Road does allow Parent PLUS refinancing.
In Student Loan Planner's refinancing survey, readers ranked Laurel Road No. 3 in the overall category, with a rating of 7.81/10. Readers rated the company lower in each of the subcategories, however. Laurel Road ranked No. 4 in app experience and No. 5 for both its customer service and website.
These ratings could mean that although Laurel Road offers competitive interest rates, it's less polished in other areas. And that makes sense when you realize that Laurel Road is one of the companies on this list that's an actual bank, not just an online lending platform.
Read our full Laurel Road refinancing review.
Pros
$100 monthly payments for medical residents and fellows
Parent PLUS loan refinancing
Up to 12 months of forbearance
Death and disability forgiveness
Cons
$28 late fee (or 5% of the late payment, whichever is less)
Only available to four-year and graduate degree recipients and associate's degree graduates from select professions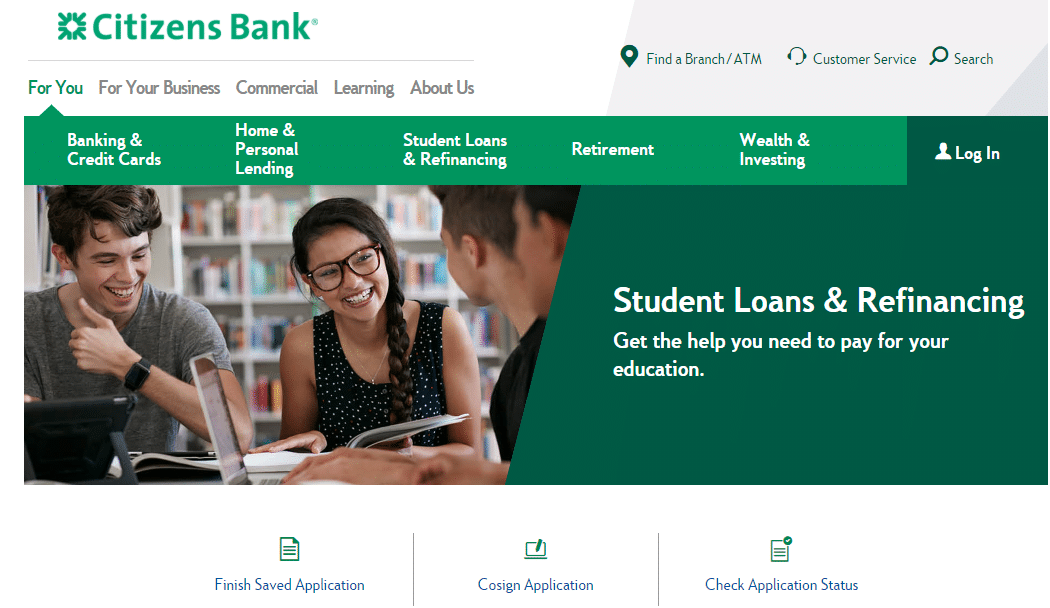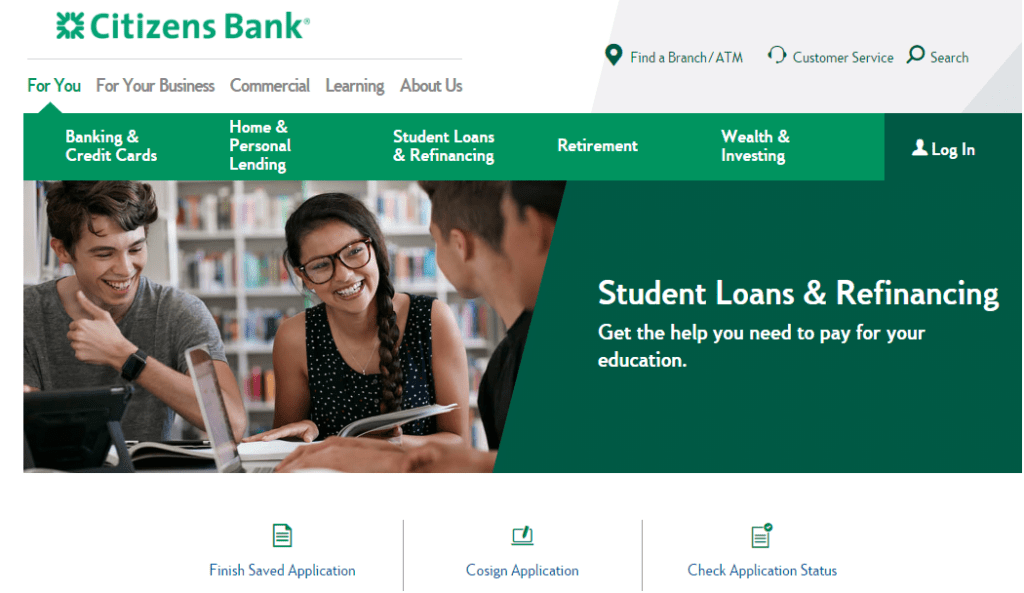 Citizens Bank could be a great choice if you make less than $50,000 per year. In Student Loan Planner's survey, this bank was by far the most popular lender with borrowers at that income level.
With five of the seven lenders on this list, less than 10% of Citizens Bank borrowers had an income below $50,000. But 28% of borrowers who said they refinanced with Citizens Bank came from that income level. So if your income falls near that amount, Citizens Bank could be one of your best shots to refinance your student loans to a lower rate.
Citizens Bank also stands out for its available discounts. Many student loan refinance companies offer a 0.25% interest rate discount when you sign up for autopay. But Citizens Bank offers two 0.25% discounts — one for being an existing Citizens Bank account holder and another for enrolling in autopay — for a total potential discount of 0.50%.
Unlike some banks, Citizens Bank may consider refinancing for non-graduating students. It has a minimum loan amount of $10,000, however, which is higher than many of its competitors.
Read our full Citizens Bank refinancing review.
Pros
Will consider borrowers with lower incomes
Up to 0.50% of available interest rate discounts
Parent PLUS refinancing
Cosigners are allowed, and cosigner release is possible after 36 payments
Cons
$10,000 loan minimum
Can't transfer Parent PLUS loan to child's name
5. SoFi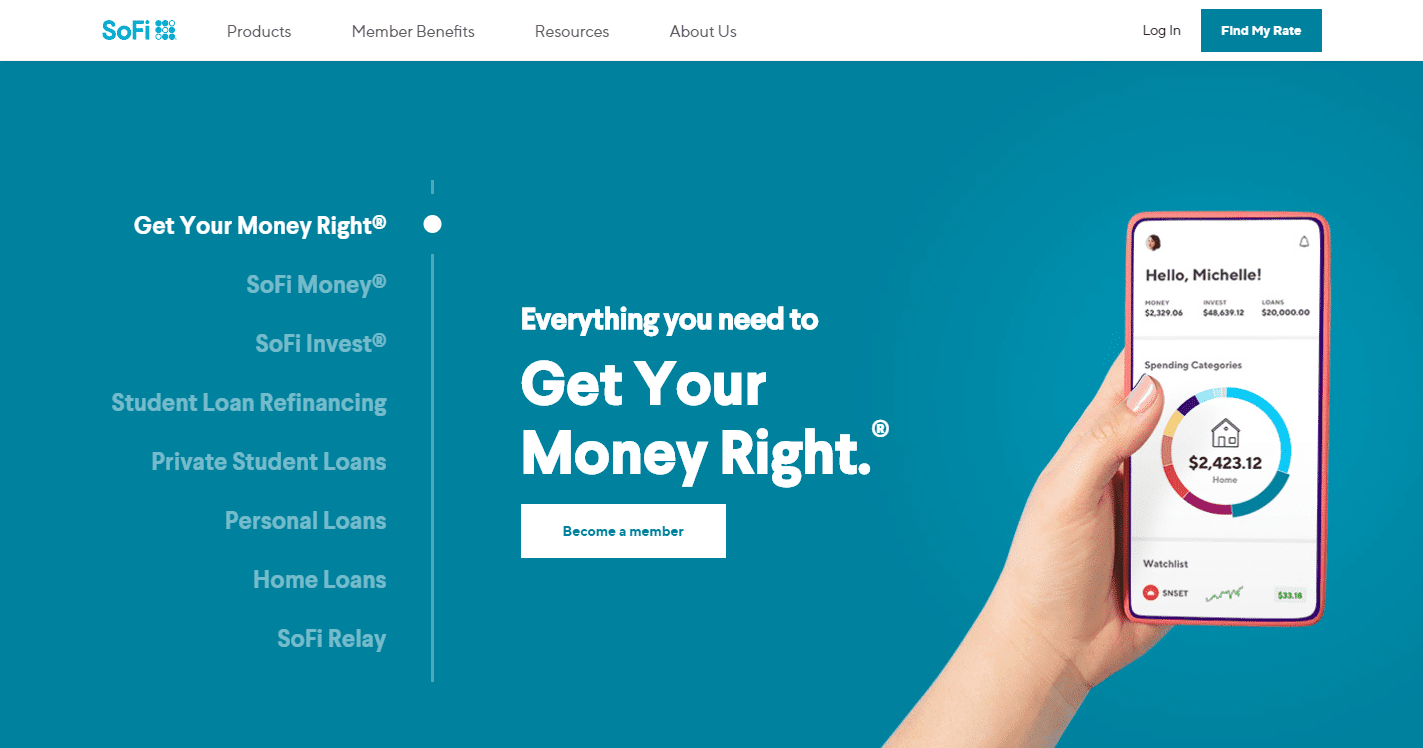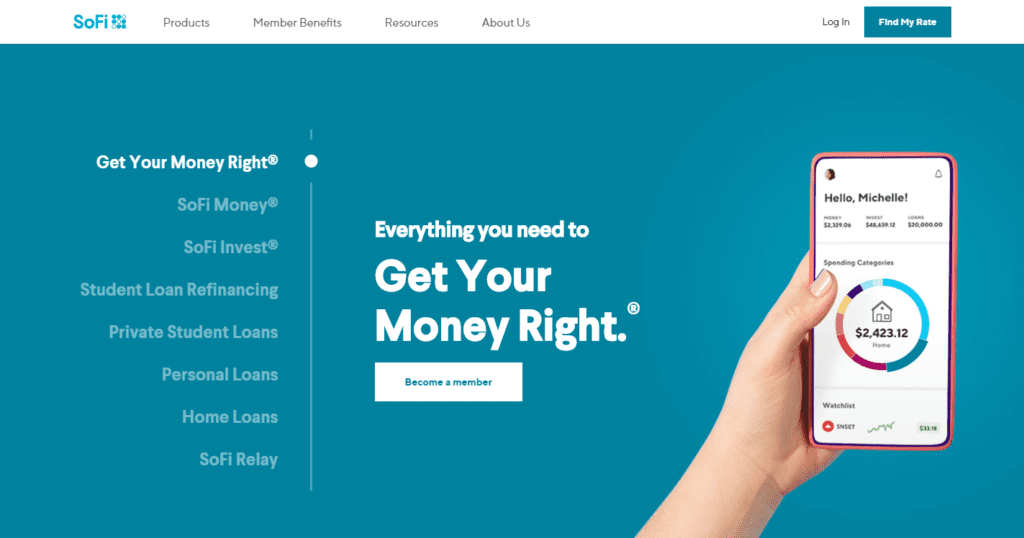 When SoFi first launched as an online lender, student loan refinancing was its claim to fame. But today it has a full suite of financial products, including home loans, personal loans, a robo-advisor platform, high-yield cash accounts and more.
Although student loan refinancing is no longer SoFi's sole focus, it may still offer you a competitive rate. Like Laurel Road, SoFi offers lower payments for medical residents and Parent PLUS refinancing. It also provides free career coaching services to its members.
In our survey, SoFi earned an overall rating of 7.69/10. In terms of the percentage of survey respondents who refinanced with the lender most recently, SoFi came in second, right behind Earnest, at 20%. But while SoFi tied with Earnest on its website rating, borrowers liked Earnest's customer service and application experience a bit more.
Read our full review SoFi refinancing review.
Pros
Lower payments for medical residents and fellows
Up to 12 months of forbearance
Available in all 50 states
Free career coaching
A full suite of sister financial products
Cons
No cosigner release
Loan servicing outsourced to MOHELA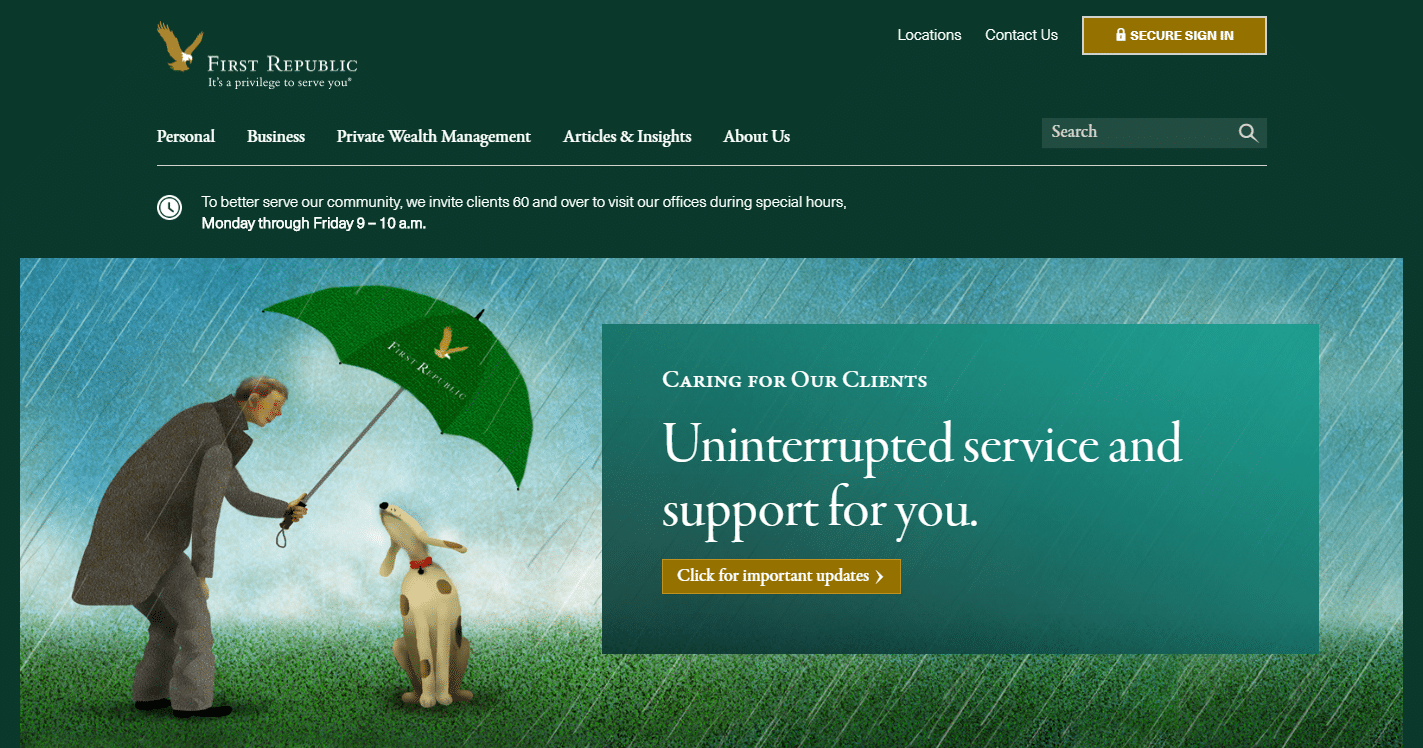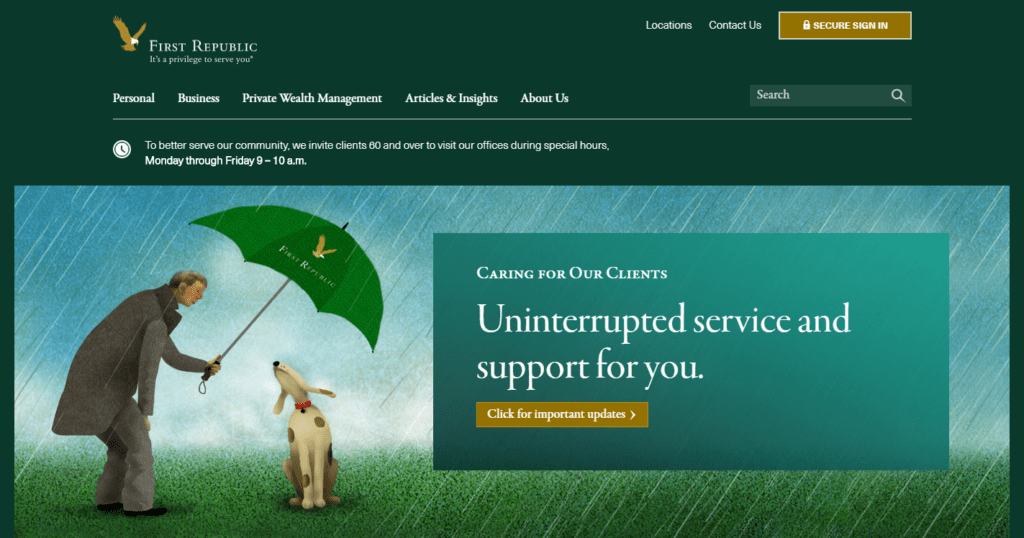 With First Republic Bank, you could earn an interest rate discount of up to 0.75%. To qualify for a discount of 0.50% discount, you'll need to keep at least 10% of your student loan balance in a First Republic checking account for 12 months or longer. If you keep at least 20% of your loan balance in your First Republic account, you can earn an extra 0.25% discount.
Additionally, First Republic offers an additional discount of up to 2% if you pay off your loan within four years. First Republic's rates are often some of the lowest available even before discounts are taken into account. But if you qualify for the extra reductions, it could make First Republic Bank rates nearly unbeatable.
To qualify for one of those highly competitive rates, however, you'll need to be near a First Republic branch location. That means you'll most likely need to be located in one of the following areas:
New York City
California (Los Angeles, Newport Beach, Palm Desert, Palo Alto, Santa Barbara, San Diego, San Francisco)
Boston
Portland, Ore.
Greenwich, Conn.
Palm Beach, Fla.
First Republic's limited availability will be a non-starter for a large portion of the U.S. population. If you happen to live near one of its branches, check its rate offers. According to our survey, its application experience can be a little rough, but the lender earns an impressive customer service rating of 8.62/10.
Pros
Interest rate discounts of up to 0.75%
Up to an additional 2% discount when loans are fully repaid within four years
Borrowers are assigned a dedicated banker
Cons
Limited availability
No hardship forbearance periods
High minimum loan amounts ($40,000 for bachelor's degree borrowers and $25,000 for graduate degree borrowers)
Read our full review of First Republic.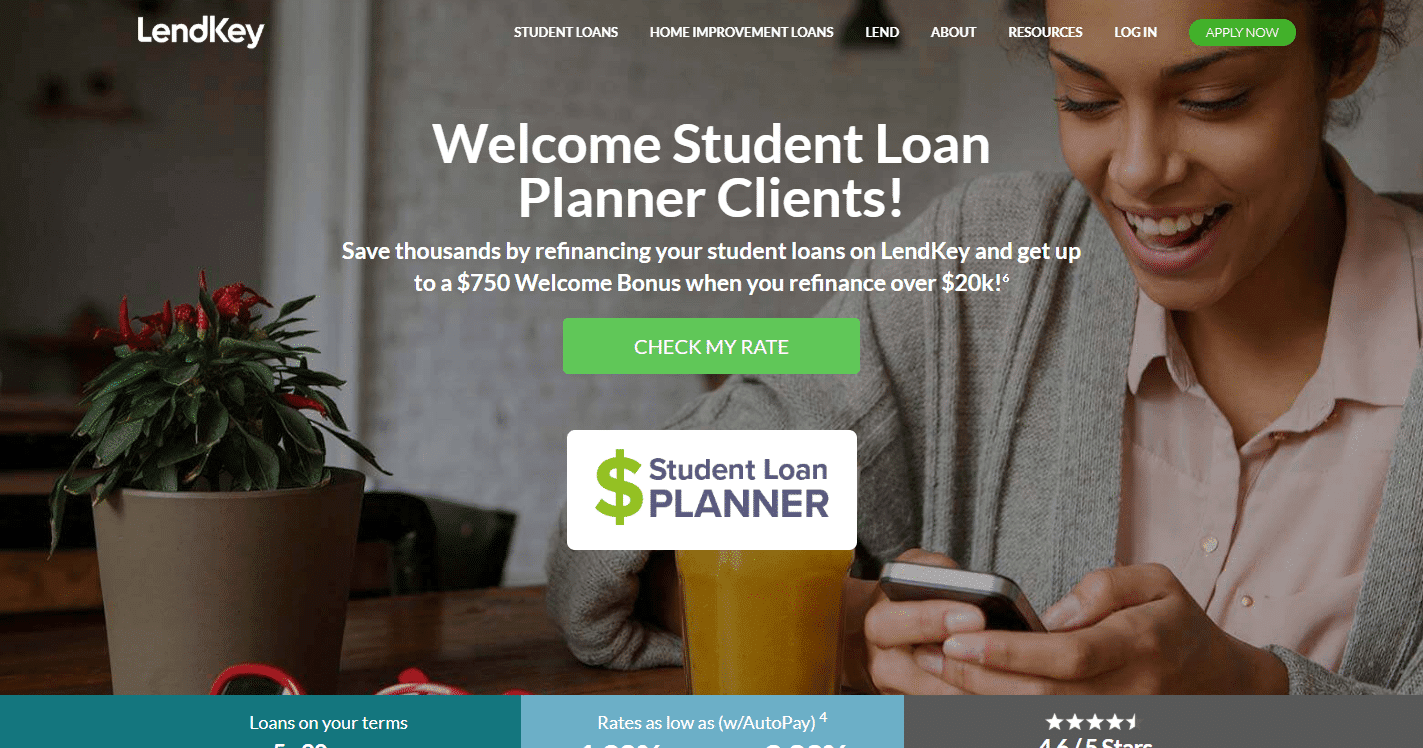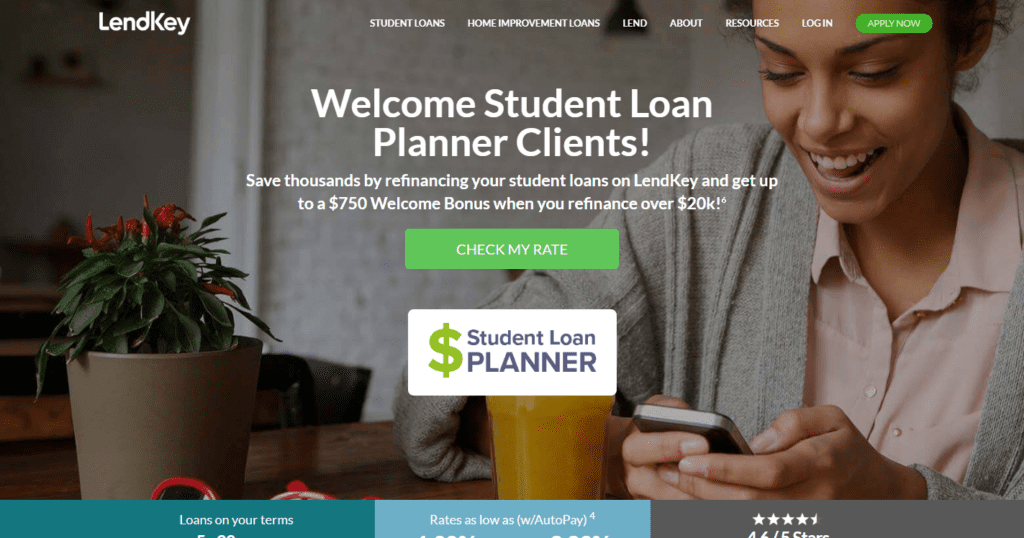 Rather than underwriting loans themselves, LendKey is a marketplace that connects borrowers with lenders. And LendKey sets itself apart from other lender marketplaces by filling its platform with hundreds of nonprofit credit unions and community banks.
Borrowers will be happy to learn that none of LendKey's partners charge origination fees. And LendKey's platform lenders can offer up to 18 months of forbearance. But keep in mind that many of the top student refinancing companies from this list aren't part of LendKey's network. To qualify for some of the loans on its platform, you may need to join a credit union.
In Student Loan Planner's refinancing survey, LendKey received higher ratings in customer service, app experience and website than in the "Overall" category. This difference indicates that your customer experience could suffer a bit once LendKey passes the application to the partner credit union or bank.
Yet LendKey earned a significantly higher overall rating than Credible, another popular student loan refinancing marketplace. While Credible has partners that are available in all 50 states, LendKey is currently unavailable in Maine, Nevada, North Dakota, Rhode Island and West Virginia.
Learn more about LendKey loan details in our full review.
Pros
Connects borrowers with nonprofit credit unions and banks
Up to 18 months of forbearance
A popular choice with borrowers who earn below six figures
Cons
Some top refinancing lenders are missing from its platform
Loan limits of $160,000 for bachelor's degree grads and $250,000 for graduate degree borrowers
Not available in Maine, Nevada, North Dakota, Rhode Island or West Virginia
Best customer experience
In Student Loan Planner's refinancing survey, CommonBond was the clear winner in terms of customer satisfaction. It was the only student loan refinancing company to earn a rating of at least 9/10 in the customer service or application experience categories. And borrowers rate the lender at 8.93/10 for website experience as well.
But far fewer survey respondents had refinanced with CommonBond (7%) than Earnest (22%). Yet, Earnest still earned high ratings in every category. CommonBond may offer the best customer experience to borrowers who are able to qualify for its loans, but Earnest certainly isn't far behind and may appeal to a larger percentage of borrowers.
Best refinance company for high-income earners
First Republic could be one of your best options if you have a high income — if you happen to live near one of its branches. The lender seems to have a preference for six-figure income earners, as 90% of respondents who refinanced recently with First Republic had six-figure incomes.
Our survey results showed that CommonBond and Earnest prioritize high-income earners as well. Of the borrowers who refinanced with CommonBond, 62% were six-figure earners. And Earnest wasn't far behind, with 60% of its borrowers earning a six-figure income.
Best refinance for low-income earners
If you make less than six figures per year, you'll want to get a quote from LendKey. It seems to compete for the strongest for borrowers who earn less than $100,000. In Student Loan Planner's survey, only 16% of borrowers who had refinanced most recently with LendKey were six-figure earners.
For borrowers earning less than $50,000 per year, Citizens Bank and LendKey were both strong options. Twenty-eight percent of Citizens Bank borrowers and 19% of LendKey borrowers came from that income tier. No other lender on our list had over 10% of its borrowers come from the sub-$50,000 income level.
Survey data shows that SoFi was strong with mid-five-figure income levels, with 21% of its borrowers earning $80,000 to $100,000 per year. That made SoFi the second most popular student loan refinancing company for these borrowers. It still lagged behind LendKey, however, which had 35% of its borrowers hail from the $80,000 to $100,000 income tier.
Best payment options
When it comes to loan terms, Earnest offers the most flexibility. With its "Precision Pricing," borrowers have up to 180 repayment term choices, from 5 to 20 years. That's about as close to "name your own price" as you'll get in the student loan refinancing space.
In terms of forbearance, deferment and forgiveness, CommonBond and LendKey are two strong options. CommonBond offers up to 24 months of hardship forbearance in addition to academic deferment and death and disability forgiveness. LendKey has been known to forgive loans when borrowers die or are permanently disabled, and its partners can offer up to 18 months of forbearance.
Best refi option by profession
Our survey data indicates that SoFi and Earnest may put a heavier focus on borrowers from certain professions than other lenders. For example, SoFi received the highest percentage of borrowers from three different professions: physicians (31%), corporate employees (24%) and physical therapists (36%).
Earnest, on the other hand, won the largest percentage of lawyers (33%) and pharmacists (36%). Meanwhile, Laurel Road was by far the most popular lender with dentists, claiming 37% of borrowers from that profession. Laurel Road also tied with Earnest for refinancing the highest percentage of physician assistants (29%). Finally, Citizens Bank landed the highest percentage of nurses who participated in our survey.
None of these student loan refinancing companies will be the best choice for every member of a profession. But it's a good idea to at least get a quote from whichever lender ranked No. 1 for your particular profession.
Best parent loan refinance
If you're a parent who took out Parent PLUS loans to pay for your child's education, you'll be happy to know that it's definitely possible to refinance your loans. CommonBond, Earnest, SoFi, Citizens Bank and Laurel Road all allow Parent PLUS loan refinancing.
Parent PLUS loans come with much higher interest rates than other federal loans. So refinancing them to a lower rate could save a lot of money over the life of your loans. And with the exception of Earnest and Citizens Bank, each lender listed above lets you transfer the loan to your child's name if they meet lending requirements on their own.
Best bonuses from refinance companies
When using a referral link to refinance student loans, you can sometimes earn cash bonuses. Student Loan Planner has negotiated some of the best cash bonuses for each of the student loan refinance companies on this list.
Currently, you can receive a cash bonus of $1,000 or more for refinancing through Student Loan Planner.
Keep in mind though that these bonuses are tiered so that those refinancing the largest amounts get the biggest rewards. The primary factor that matters when refinancing is getting the lowest interest rate possible.
That said, you will be unlikely to find a better student loan refinancing bonus anywhere besides this site.
Best overall student loan consolidation companies
Based on our community rating, the best overall student loan consolidation companies are Earnest, Commonbond, and Laurel Road. CommonBond received the highest ratings in every survey category. But as we mentioned earlier, Earnest and Laurel Road served more people.
CommonBond borrowers only accounted for 7% of our survey respondents. Earnest, on the other hand, was responsible for 22% of all respondents, and Laurel Road claimed 20%. For these reasons, Earnest and Laurel Road may offer the best blend of rates, terms and attainability.
How to decide if student loan refinancing is right for you
If you're thinking about refinancing your student loans, there are three important questions to ask:
What kind of student loans do you have?
If you have private student loans, refinancing to a lower interest rate is a no-brainer. But if you have federal student loans, tread more carefully.
Federal student loans come with many benefits that you'll lose by refinancing with a private lender. First, you'll no longer qualify for Income-Driven Repayment. You'll also lose eligibility for federal student loan forgiveness programs, like Public Service Loan Forgiveness (PSLF).
If you work in the private sector and expect your income to grow over time, refinancing could be right for you. If you work in the public sector or are worried about your job stability, however, you may want to stick with federal student loans.
What's your credit score and debt-to-income ratio?
Check your credit before applying for refinancing. Typically, you'll need a credit score of at least 650 to qualify for refinancing. But to get the best interest rate offers, you'll probably need a score over 750.
Next, consider your debt-to-income ratio. Lenders equate higher debt-to-income ratios with increased risk. Generally, to give yourself a solid shot of getting approved for a refinance loan, you'll want to owe less than 1.5 times your income.
Is federal student loan consolidation a better fit?
It's also possible to combine multiple federal student loans into one new federal loan through the federal Direct Consolidation Loan program. This option may be good for borrowers looking to retain federal benefits or who don't want to undergo a credit check.
With a Direct Consolidation Loan, however, you won't be able to lower your interest rate or combine your private and federal student loans together. And, finally, you'll lose credit for any qualifying payments you've already made toward PSLF.
How to compare banks, refinancing, and consolidation?
Want to learn more about the pros and cons of refinancing? Read our full guide on refinancing student loans. You can also take the quiz below to see whether refinancing or pursuing federal student loan forgiveness would be a better choice for you. If you still need help, contact us! We would love to help you figure out the best repayment options so you can get out of student debt.