Editor's Note: Commonbond has exited the student loan refinancing market. It no longer provides private student loans or student loan refinancing. If you refinanced with Commonbond, your servicer will likely stay the same. None of the terms of your loan change. Check out other good options to refinance your student loans.
If you need to take out student loans to help pay for school or want to refinance existing student loans, CommonBond is a strong choice.
In Student Loan Planner®'s refinancing survey, our readers ranked CommonBond as the #1 lender for refinancing. Our respondents especially loved CommonBond's application process and customer service.
Keep reading for our full review of Commondbond's student loan options, including terms, benefits and eligibility requirements.
Note that the COVID-19 pandemic and federal relief measures have impacted many student loan borrowers. To learn more about your options and whether you should consider refinancing now, check out our guide.
CommonBond student loan refinancing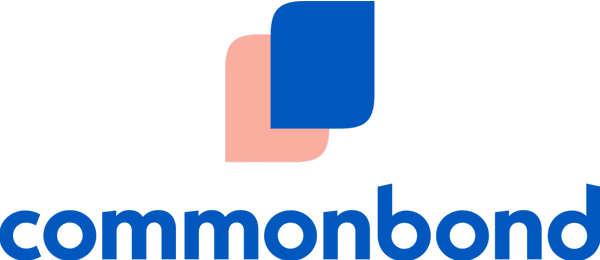 *Disclosures
$1,050 BONUS*For 100k+. $300 bonus for 50k to 99k.*
With CommonBond, you can refinance both federal and private student loans into one new loan with competitive rates and terms. Here's a quick snapshot of CommonBond's refinance loans:
Fixed rate: Yes
Variable rate: Yes
Hybrid rate: Yes
Loan terms: Flexible repayment options
Loan amount: $5,000 to $500,000 (lifetime maximum)
Fees: None
Forbearance: Yes
Death or disability discharge: Yes
Cosigner release: Yes
Pros and Cons
Pros
Generous forbearance: CommonBond offers up to 24 months of forbearance over the life of your loan, which is one of the longest forbearance periods we've seen from a private student loan lender.
Low fees: CommonBond doesn't charge an application or origination fee and there are no prepayment penalties. They do, however, charge a late payment fee of $10 or 5% of the unpaid amount (whichever is less) and a returned check fee of $5.
Parent Plus refinancing: CommonBond is one of the few lenders that not only allows parents to refinance Parent Plus Loans, but will also allow loans to be transferred to the child's name.
Death and disability discharge: In the unfortunate event of your sudden death or permanent disability, CommonBond will forgive your student loans and not pass the responsibility on to a cosigner.
Autopay discount: Borrowers will earn a 0.25% interest rate reduction after enrolling in auto-pay.
Cons
Availability: CommonBond is not currently licensed to lend in Mississippi or Nevada.
Graduation requirement: CommonBond will only consider refinancing the student loans of borrowers who have graduated from one of the 2,000+ Title IV accredited universities or graduate programs in their network.
No federal benefits and protections: If you refinance federal student loans, you'll lose eligibility for Income-Driven Repayment plans, Public Service Loan Forgiveness and other federal student loan benefits.
Eligibility requirements
To qualify for a CommonBond student loan refinance loan, you'll need to be a U.S. citizen; permanent resident; or H1-B, J-1, L-1, E-2, E-3 visa holder.
You'll also need to have earned at least a bachelor's degree from of of the more than 2,000 Title IV accredited schools in their network. If you meet both those criteria, CommonBond says that your credit history and other factors will need to be considered.
Also, be aware that low to moderate income earners may find it difficult to qualify for a student loan with CommonBond. In our Student Loan Planner® refinancing survey, 62% of respondents who said they had received a loan from CommonBond had an income of more than $100,000.
If you don't qualify for student loan refinancing on your own, CommonBond will allow you to add a cosigner to the loan. Working to raise your credit score and paying down other debts (like credit cards) will also improve your odds of qualifying without a cosigner.
Application process
In our recent Student Loan Planner® refinancing survey, respondents gave CommonBond a 9.07/10.00 rating for their application experience. That was the highest rating given to any lender. Here's how their application process works:
Before filling out a full application with CommonBond, you can check your rates by selecting "See my rates."
With this option, CommonBond will perform a soft credit check that won't hurt your credit score. If you like what you see, you can move forward and fill out the full application.
You'll need to provide personal information (including your social security number) as well as information about your income and student loan balance.
Once you've completed your application, CommonBond says you'll have a preliminary decision in minutes, after which you'll need to upload additional documentation. If you receive approval, CommonBond will make arrangements to pay off your current loans and finish the refinancing process.
CommonBond private student loans
CommonBond offers private student loans for undergraduates and graduate students. They also offer student loans for MBA, dental school and medical school students.
Fixed rate: Yes
Variable rate: Yes
Hybrid rate: No
Loan terms: Flexible repayment options
Loan amount: Up to $500,000 (lifetime maximum)
Origination fees: 2%
Forbearance: Yes
Death or disability discharge: Yes
Cosigner release: Yes
Pros and Cons
Pros
In-school payment flexibility: Depending on the type of loan you take out with CommonBond, you could have four in-school repayment options. These include full principal and interest, interest-only, fixed monthly payment or full deferment.
Cosigner release: Borrowers who have graduated and made at least 24 consecutive on-time payments may be able to remove cosigners from their loans.
Grace period: Each of CommonBond's private student loans come with a grace period of up to 6 months following graduation.
Forbearance: Up to 12 months of forbearance is allowed over the life of your loan.
No funding limit: You can borrow up to 100% of your full cost of attendance, including tuition, fees and living expenses.
Social impact: Whenever you borrow or refinance with CommonBond, they will cover the cost of one child's education through their Pencils of Promise partnership.
Cons
Fees on some loans: While there are no origination fees on undergraduate and graduate loans, CommonBond does charge a 2% origination fee on MBA, medical school and dental school loans.
Cosigner typically required: You'll need a cosigner in order to take out an undergraduate or graduate loan with CommonBond. They do make an exception for MBA students, but you'll need to be enrolled in one of a few select schools.
Eligibility requirements
To qualify for a CommonBond student loan, you'll need to be enrolled at least part-time in one of the 2,000+ schools in their network.
You'll also need to apply with a creditworthy cosigner, except for MBA students enrolled in one of 29 MBA programs.
Application process
Applying for a CommonBond student loan online is straightforward and simple.
During the application process, they'll ask for your personal information, then your cosigner's. Then they'll do a soft pull of your credit profile to show you your rate.
If you like what you see, you can move forward with submitting the full application which entails a hard credit pull.
If you're approved for a loan, CommonBond will check with your school to confirm your enrollment and verify the amount of your loan. Once they receive confirmation from your school, CommonBond will send the funds directly to them.
Read our full review of Commonbond's student loans.
Should you refinance with CommonBond or take out a CommonBond private student loan?
As mentioned earlier, our Student Loan Planner® refinancing survey results indicate that CommonBond tends to favor high-income borrowers. And Travis Hornsby, founder of Student Loan Planner®, said that matches up with what he's seen as a consultant.
"I've seen them offer less competitive interest rates to folks who have less than six figures in income," Hornsby said. "However, out of the national lenders, you should expect CommonBond to show up in the top three almost every time if you have six figures of debt and income."
Student Loan Planner® readers can also get a cash bonus of up to $1,050 by refinancing through our referral link.
When it comes to CommonBond's private student loans, the variety of repayment terms and in-school payment flexibility they offer is impressive. However, origination fees for MBA, medical school and dental school students are a bit of a bummer.
With interest rates currently at all-time lows, you'll probably want to avoid variable-rate loans or Commonbond's unique hybrid loan option. But if CommonBond is able to offer a fixed rate loan with a better APR than other lenders, it may be worth it to go with them. Just be sure to shop around with other top lenders first.